Supported by Bupa REDI for Change members
Getting enough exercise is important for your health. Studies have shown that people with learning disabilities don't get enough exercise. Together we will explore the barriers to exercise for those with learning disabilities and look at ways to set achievable goals. You might find this helpful if you have mild to moderate learning disability or care for someone with a learning disability.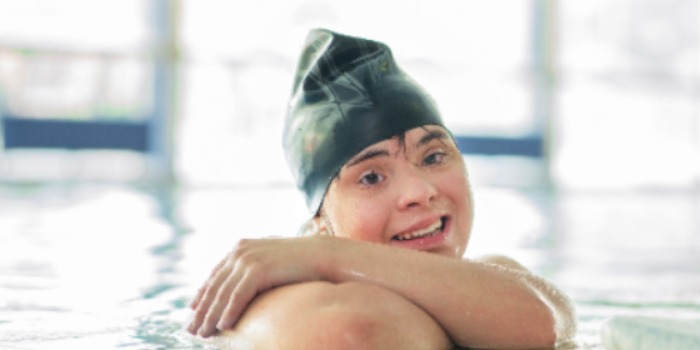 What is considered a learning disability?
There are 1.5 million people with a learning disability in the UK. A learning disability, also known as an intellectual disability, is when someone functions at a lower intellectual level. This begins to affect people before they are 18 and impacts their abilities in socialising and building skills. People with a learning disability tend to take longer to learn and develop new skills and to understand complicated information.
Usually if you have a mild or moderate learning disability you can still be independent in your daily life and at work or school. People with severe and profound learning disability may need more support and assistance.
What barriers are there for people with a learning disability?
People with a learning disability are often found to do less exercise. Unfortunately, there are barriers that can make it harder to exercise when you have a learning disability. These can include:
Lack of adapted or inclusive exercise programmes
High costs of transport
Lack of accessible transport
Sensory issues, such as music being too loud
But there are also more personal barriers. You might feel nervous about trying to exercise. The good news is that this is something you can change. Exercise and fitness can be something everyone can take part in.
Here are some ways to get more involved in exercise:
Go with someone you know (friends, family, or a carer)
Visit an exercise centre or gym before using it, so you feel comfortable getting there
Talk to a doctor about what your options are for doing exercise
Setting goals
To make it more likely that you stick to exercising, set a specific goal and start small. For example, "I will jog for 30 minutes per week on a Saturday". Then slowly increase your goal as you get more used to exercising. Research shows that we are more likely to follow through if we plan beforehand.
It also helps to find a type of exercise you enjoy. But in case you still find it hard to motivate yourself to do so, you can make it more enjoyable by trying out temptation bundling. This is when you combine doing something you don't enjoy with something you do enjoy at the same time. For example, listening to your favourite audio book or music while you are exercising.
What exercises can I do?
Even a small amount of exercise is good for you. But, to really benefit, you should try to do at least 150 minutes of exercise per week, which is two and a half hours in total. Exercises should be moderate intensity – which can include brisk walking or cycling. Or you could try to do at least 75 minutes of vigorous exercise per week which is one hour and 15 minutes.
To understand and measure intensity, try using the "talk test". For example, moderate exercise is an activity you can do and still talk but not sing. Vigorous exercise is an activity where you can only say a few words but need to pause for breath.
There are many ways to stay active with a disability. Exercises you might like to try out can be:
Brisk walking
Jogging
Dancing
Cycling
Swimming
It's also good to try strengthening exercises two times a week such as yoga or lifting weights. You don't have to go to a gym or fitness centre; you can do these at home if you prefer. Try searching on the internet for online classes. You might find it helpful to talk a doctor or health professional before trying out new exercises. They can advise you on what is best and how to avoid injury.
Light physical activity can also be good for you too, such as walking, cleaning and gardening.
What are the advantages of exercise?
If you're not getting enough exercise, you might be at risk of developing serious health conditions such as obesity. So, it's important to stay active as this can help you to be healthy. Exercise could help you with:
Losing weight
Becoming stronger
Movement and coordination
Balance
Flexibility
Exercising more can also help you to feel less stressed, and you might get a chance to meet and spend time with other people. As well as getting more exercise, you should also try to eat a well-balanced diet.
How can I find out more?
Mencap are a UK charity who support those with learning disabilities as well as their families and carers. Their website has information about exercise for people with learning disabilities.
Special Olympics Great Britain also provide information and run competitive sports events for people with learning disabilities.
Other places you can find information about getting active:
---
Do you know how healthy you truly are? Bupa health assessments give you a clear overview of your health and a view of any future health risks. You'll receive a personal lifestyle action plan with health goals to reach for a happier, healthier you.
Research and statistics. Mencap. mencap.org.uk, accessed July 2022
Dairo YM, Collett J, Dawes H et al. Physical activity levels in adults with intellectual disabilities: A systematic review. Prev Med Rep. 2016 Jun 8;4:209-19. doi: 10.1016/j.pmedr.2016.06.008
Learning disabilities. NICE Clinical Knowledge Summaries. cks.nice.org.uk, last revised April 2022
Intellectual Disability. MSD Manuals. msdmanuals.com, last revised February 2022
What is a learning disability? Mencap. mencap.org.uk, accessed July 2022
Jacinto M, Vitorino AS, Palmeira D et al. Perceived Barriers of Physical Activity Participation in Individuals with Intellectual Disability-A Systematic Review. Healthcare (Basel). 2021 Nov 8;9(11):1521. doi: 10.3390/healthcare9111521
Let's get active: A guide to physical activity and sport for people with a learning disability. Mencap Sport. Accessed July 2022
Rogers T, Milkman KL, John L et al. (2015). Beyond good intentions: Prompting people to make plans improves follow-through on important tasks. Behavioral Science & Policy, 1(2)
Kirgios EL, Mandel GH, Park Y et al. Teaching temptation bundling to boost exercise: A field experiment, Organizational Behavior and Human Decision Processes, Volume 161, Supplement, 2020, Pages 20-35
Physical activity for general health benefits in disabled adults: Summary of a rapid evidence review for the UK Chief Medical Officers' update of the physical activity guidelines. Public Health England. Published October 2018
Physical activity. World Health Organisation. Published November 2020
UK Chief Medical Officers' Physical Activity Guidelines. Department of Health and Social Care, Llwodraeth Cymru Welsh Government, Department of Health Northern Ireland and the Scottish Government. Published September 2019
Exercising from home. Scope. www.scope.org.uk, last reviewed 16 March 2022
WHO guidelines on physical activity and sedentary behaviour. World Health Organisation. Published November 2020
Hsu PJ, Chou HS, Pan YH, et al. Sedentary Time, Physical Activity Levels and Physical Fitness in Adults with Intellectual Disabilities. Int J Environ Res Public Health. 2021 May 10;18(9):5033. doi: 10.3390/ijerph18095033
About our health information
At Bupa we produce a wealth of free health information for you and your family. This is because we believe that trustworthy information is essential in helping you make better decisions about your health and wellbeing.
Our information has been awarded the PIF TICK for trustworthy health information. It also follows the principles of the The Information Standard.
Did you find our advice helpful?
We'd love to hear what you think. Our short survey takes just a few minutes to complete and helps us to keep improving our healthy lifestyle articles.
Legal disclaimer
This information was published by Bupa's Health Content Team and is based on reputable sources of medical evidence. It has been reviewed by appropriate medical or clinical professionals and deemed accurate on the date of review. Photos are only for illustrative purposes and do not reflect every presentation of a condition.
Any information about a treatment or procedure is generic, and does not necessarily describe that treatment or procedure as delivered by Bupa or its associated providers.
The information contained on this page and in any third party websites referred to on this page is not intended nor implied to be a substitute for professional medical advice nor is it intended to be for medical diagnosis or treatment. Third party websites are not owned or controlled by Bupa and any individual may be able to access and post messages on them. Bupa is not responsible for the content or availability of these third party websites. We do not accept advertising on this page.