A pressure sore is an area of damaged skin, which happens as a result of an intense long period of pressure. You're more likely to develop one if you aren't able to move around much. It's important to get pressure sores treated quickly to stop them getting worse and becoming infected. In this article I answer some common questions about pressures sores and share tips for treating and preventing them.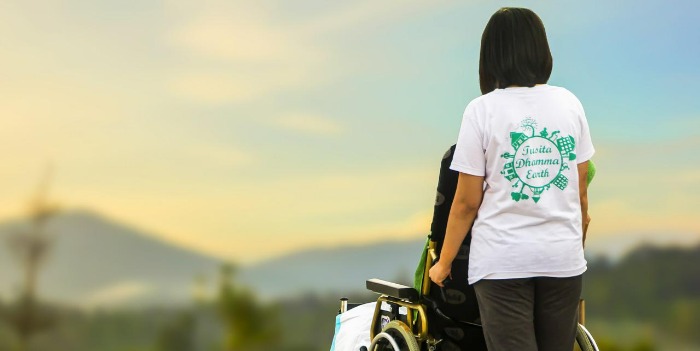 What does a pressure sore look like?
Pressure sores (also known as pressure ulcers or pressure injuries) most commonly develop on areas of your body where you have a bone close to the surface of your skin. These include your buttocks, the base of your spine, your heel, ankle and back of your head.
There are different stages of pressure sores. First of all, you may notice your skin:
becomes red or discoloured (this can appear differently with darker coloured skin)
feels different, including changes in sensation, temperature and how firm it is
As time goes on, you may develop a shiny blister across the skin. Your skin will start to break down. Eventually this can spread deeper, exposing the tissues underneath.
How do you get a pressure sore?
Pressures sores happen when there has been a long period of pressure on your skin, or a shorter period of intense pressure. This causes irreversible damage to your skin tissues. Changes can start to happen after as little as a couple of hours. Any hard surface – such as a mattress, bed rail or wheelchair – can cause this pressure. Friction from clothes or bedding and moisture can make things worse too.
Being less able to move is one of the most common reasons for developing pressure sores. If you can't move around easily, you won't be able to reposition yourself to prevent the pressure sore from forming. Pressure sores are more common as you get older. But anything that makes you less mobile – including illness, injury or disability – can cause them. You're also more likely to get them if you have a condition that causes a loss of sensation in part of your body.
How do you treat pressure sores?
If you develop a pressure sore, seek medical help straight away. Treatment for pressure sores may include the following measures.
1. Reducing the pressure
Your doctor or nurse will look at how they can reduce the pressure on the affected area straight away. This may involve simple repositioning. They may also suggest aids and supports that can help, such as a special type of mattress or seat cushion if you use a wheelchair.
2. Wound hygiene and healing
Your doctor or nurse may use creams and solutions to clean your wound, and dress it with bandages to protect it from infection. If there is dead or infected tissue, they may need to remove this too. If cleaning and dressing your wound is painful, your doctor can advise you on suitable painkillers to take. These may be over-the-counter painkillers, or they can prescribe stronger painkillers if needed.
3. Controlling any infection
Sometimes pressure sores get infected. This may cause pus coming from the ulcers, worsening or severe pain, a high temperature, and red or swollen skin. If there are signs of infection, your doctor may prescribe you antibiotics to take, or an antimicrobial cream to use.
4. Looking at your diet
A pressure sore can use up a lot of the energy and protein stores in your body. It's important to make sure you get enough calories and protein in your diet to aid healing. Your doctor may refer you to a dietitian, who can assess your diet. If needed, they will recommend changes to your diet or support.
5. Surgery
Your doctor may suggest surgery as an option if other measures aren't working. This might involve cutting out the affected area and having a skin graft.
How can you help prevent pressure sores?
If you have limited mobility, try to make sure you move position every few hours. You may need someone to help you. Specially-designed mattresses that use air or water, can help to prevent pressure sores. Supportive cushions can also be helpful for people who use wheelchairs.
Make sure you're getting a healthy, balanced diet too. If you smoke, try to stop, as smoking delays wound healing and makes infection more likely. If you're more likely to get pressure sores, you should check your skin regularly for signs, such as changes in skin colour.
---
Are you interested in learning more about your health? Discover more about our range of health assessments.
Pressure ulcer. BMJ Best Practice. bestpractice.bmj.com, last reviewed 22 July 2022
Zaidi SRH, Sharma S. Pressure ulcer. StatPearls Publishing. www.ncbi.nlm.nih.gov/books, last updated 3 June 2022
Pressure ulcers: prevention and management. National Institute for Health and Care Excellence (NICE). www.nice.org.uk, published 23 April 2014
Pressure injuries (pressure ulcers) and wound care. Medscape. emedicine.medscape.com, updated 29 April 2022
Nagle SM, Stevens KA, Wilbraham SC. Wound assessment. StatPearls Publishing. www.ncbi.nlm.nih.gov/books, last updated 4 July 2022
Anaesthesia explained. Royal College of Anaesthetists. www.rcoa.ac.uk, published January 2021
About our health information
At Bupa we produce a wealth of free health information for you and your family. This is because we believe that trustworthy information is essential in helping you make better decisions about your health and wellbeing.
Our information has been awarded the PIF TICK for trustworthy health information. It also follows the principles of the The Information Standard.
More discover articles...
Did you find our advice helpful?
We'd love to hear what you think. Our short survey takes just a few minutes to complete and helps us to keep improving our healthy lifestyle articles.
Legal disclaimer
This information was published by Bupa's Health Content Team and is based on reputable sources of medical evidence. It has been reviewed by appropriate medical or clinical professionals and deemed accurate on the date of review. Photos are only for illustrative purposes and do not reflect every presentation of a condition.
Any information about a treatment or procedure is generic, and does not necessarily describe that treatment or procedure as delivered by Bupa or its associated providers.
The information contained on this page and in any third party websites referred to on this page is not intended nor implied to be a substitute for professional medical advice nor is it intended to be for medical diagnosis or treatment. Third party websites are not owned or controlled by Bupa and any individual may be able to access and post messages on them. Bupa is not responsible for the content or availability of these third party websites. We do not accept advertising on this page.