Having positive relationships is good for our health and can increase our happiness. These aren't just the relationships we have with our partner, family, and friends. They're also the connections we make with colleagues, neighbours, and the other people we meet during our life. Here I'll explain why having strong relationships can boost your wellbeing and help you deal with life's challenges.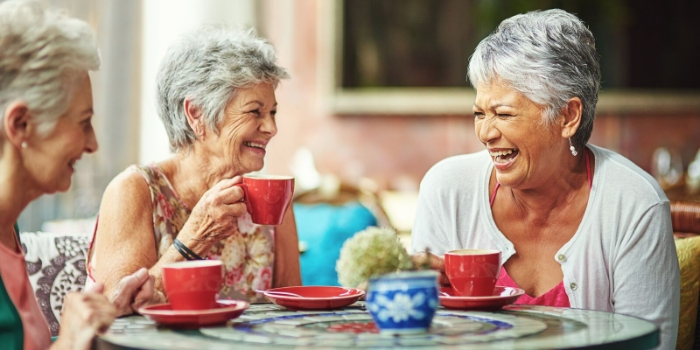 How relationships benefit our health
As humans, we're naturally sociable. We often need other people in our lives for practical and emotional support.
Feeling lonely or being socially isolated can have a negative effect on your physical and emotional health. But if you have strong social relationships, you may be happier and physically healthier than people who aren't as well connected. You may also live longer and have fewer mental health problems.
Having a strong social network helps you to know there are people who care for you, and who can help if you need their support. And they know you'll be there for them in tough times too. Your social network can help with the following.
Give you a strong sense of belonging and social identity.
Make you more likely to keep healthy habits, such as not smoking, drinking less alcohol, exercising more, or seeking health advice when needed.
Help you to access more information about your health, as well as health services.
Help you to cope during stressful times in your life.
The importance of positive relationships
Having positive relationships isn't about having a wide circle of friends and family. Having a few people to confide in can be better than having a large network of people you hardly chat to. It's the quality of your relationships that's important.
If your relationships aren't positive ones, you might feel lonely, even when in the company of family and friends.
People with stable relationships tend to be happier, healthier, and more satisfied with life. Being in an unhealthy relationship can have the opposite effect. Research shows that having unhappy or negative relationships can also make you feel lonely.
Social relationships and our mental health
Being involved in community life can be good for your mental health. And, getting to know some of the people who live in your local area may make you feel happier and supported. Getting involved in local groups, sports, clubs, and volunteering can boost your physical and mental health.
Many communities can be found online, through social media, networking sites, or support groups. It's easier now, more than ever, to connect with people you've never met. But while online friends can be supportive and enrich our lives, it's important to stay safe online too.
Changing times
Our relationships and social connections may change throughout our lifetime. It can be hard to spend time with family or friends when we're stressed. Or if we have caring responsibilities, work long hours, or have other commitments.
Some people feel more socially isolated as they get older. This may be after retirement, bereavement, or if you become less mobile. Your health can affect your relationships too. You may find it harder to keep in touch with family and friends if you're not feeling your best, physically or emotionally.
Building stronger relationships
If you'd like to feel more connected or find new friends, there are lots of things you can do. Below are some tips to help you build and maintain stronger relationships.
Be kind to yourself. How you feel about yourself can affect how you interact with others. If you look after your own physical and mental health, it can be easier to keep in touch with your loved ones.
Make more time. Set aside a specific time each day, week, or month to connect with family and friends to see how they are.
Find new ways to keep in touch. If you can't see each other face to face why not make use of technology? You could try using messaging apps, phone calls, or video chats.
Be there for them. When you're talking to your family and friends, concentrate on their needs by switching off any distractions, such as your emails or social media.
Share the fun stuff. Don't just get in touch when things aren't going well, as it's good to share positive news too.
Be ready to share. If you're struggling with life's challenges, talk about how you're feeling, so your loved ones can support you too.
Recognise negative relationships. If some relationships are making you unhappy, think about how you can resolve any issues so you can move forward.
Expand your network. Look for local volunteering opportunities, clubs that interest you, or groups for people with shared interests. And why not see if you can get to know some of your neighbours, if you don't already.
---
If you're worried about your mental health, our direct access service aims to provide you with the advice, support and treatment you need as quickly as possible. You'll be able to get mental health advice and support usually without the need for a GP referral. Learn more today.
Guide to investing in your relationships. Mental Health Foundation. mentalhealth.org.uk. Accessed July 2023
Loneliness. Mind. Mind.org.uk. Published June 2023
Together we can tackle loneliness. Loneliness UK report. Mental Health Foundation. mentalhealth.org.uk. Published May 2022
Relationships and community: statistics. Mental Health Foundation. mentalhealth.org.uk. Accessed July 2023
Allen KA, Kern ML, Rozek CS, McInereney D, Slavich GM. Belonging: A Review of Conceptual Issues, an Integrative Framework, and Directions for Future Research. Aust J Psychol. 2021 Mar 10;73(1):87-102. doi: 10.1080/00049530.2021.1883409. Epub 2021 Apr 30. PMID: 33958811; PMCID: PMC8095671
Valtorta NK, Kanaan M, Gilbody S, Hanratty B. Loneliness, social isolation and risk of cardiovascular disease in the English Longitudinal Study of Ageing. Eur J Prev Cardiol. 2018 Sep;25(13):1387-1396. doi: 10.1177/2047487318792696. Epub 2018 Aug 2. PMID: 30068233
Beutel ME, Klein EM, Brähler E, Reiner I, Jünger C, Michal M, Wiltink J, Wild PS, Münzel T, Lackner KJ, Tibubos AN. Loneliness in the general population: prevalence, determinants and relations to mental health. BMC Psychiatry. 2017 Mar 20;17(1):97. doi: 10.1186/s12888-017-1262-x. PMID: 28320380; PMCID: PMC5359916
Local action on health inequalities. Reducing social isolation across the Lifecourse. Public Health England. GOV.UK. Published September 2015
Measuring national wellbeing in the UK: international comparisons, 2019. Census 2021. Ons.gov.uk. Accessed July 2023
Amati V, Meggiolaro S, Rivellini G, Zaccarin S. Social relations and life satisfaction: the role of friends. Genus. 2018;74(1):7. doi: 10.1186/s41118-018-0032-z. Epub 2018 May 4. PMID: 29755134; PMCID: PMC5937874
Emotional abuse. Relate. Relate.org.uk. Accessed July 2023
Michalski CA, Diemert LM, Helliwell JF, Goel V, Rosella LC. Relationship between sense of community belonging and self-rated health across life stages. SSM Popul Health. 2020 Oct 12;12:100676. doi: 10.1016/j.ssmph.2020.100676. PMID: 33134474; PMCID: PMC7585135
Kindness matters guide. Mental Health Foundation. mentalhealth.org.uk. Accessed July 2023
Advocacy brief: social isolation and loneliness among older people. World Health Organization (WHO). Who.int. Published 29 July 2021
About our health information
At Bupa we produce a wealth of free health information for you and your family. This is because we believe that trustworthy information is essential in helping you make better decisions about your health and wellbeing.
Our information has been awarded the PIF TICK for trustworthy health information. It also follows the principles of the The Information Standard.
Did you find our advice helpful?
We'd love to hear what you think. Our short survey takes just a few minutes to complete and helps us to keep improving our healthy lifestyle articles.
Legal disclaimer
This information was published by Bupa's Health Content Team and is based on reputable sources of medical evidence. It has been reviewed by appropriate medical or clinical professionals and deemed accurate on the date of review. Photos are only for illustrative purposes and do not reflect every presentation of a condition.
Any information about a treatment or procedure is generic, and does not necessarily describe that treatment or procedure as delivered by Bupa or its associated providers.
The information contained on this page and in any third party websites referred to on this page is not intended nor implied to be a substitute for professional medical advice nor is it intended to be for medical diagnosis or treatment. Third party websites are not owned or controlled by Bupa and any individual may be able to access and post messages on them. Bupa is not responsible for the content or availability of these third party websites. We do not accept advertising on this page.