With summer finally here, salads are back on the menu. They are also a nutrient dense choice year-round. You might be bored of eating lettuce, cucumber, and tomato on repeat, but there are many interesting and delicious salad recipes out there. So here, I'll share why salads are so good for you, and how to find one you enjoy.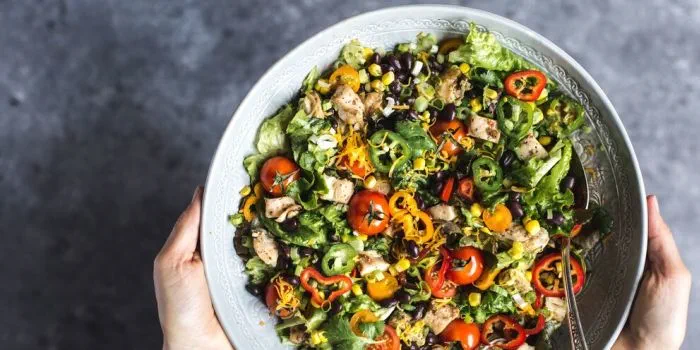 Why are salads good for us?
Salads may have a reputation for being boring, but they can offer us many nutritional benefits. Below are some of the main ones.
1. Helps you to meet your 5-a-day
Many of us struggle to get the recommended five portions of fruit and vegetables a day. This isn't surprising as many lunch options offer nothing more than a slice of tomato or a single piece of lettuce.
So, having a salad can be a great opportunity to include a wide range of fruits and vegetables to help you reach your daily target. Remember that a portion of fruit and vegetables is around 80g or what you can fit in the palm of your hand.
2. Helps you get more fibre
Many people in the UK also fall short of the recommended 30g per day of fibre. Fibre is important. It can help to normalise our bowel movements, reduce cholesterol levels, control blood sugar levels, and help us feel full for longer.
So, eating more salads can be a great way of boosting your fibre intake3. To increase the fibre in your salads, include wholegrains such as brown pasta, pulses such as lentils or chickpeas, and apples with the skin on.
3. May improve your gut health
Salads can contain several foods which are prebiotics. These are foods which act as fuel for healthy bacteria. It also provides a type of indigestible fibre, which can be beneficial for your gut health. Foods to consider including in your salad can be onions, garlic, kale, carrots, and asparagus.
4. Gives you a good source of protein
It's easy to think of salads consisting of only vegetables, but a well-balanced salad can also provide you with essential protein too. Protein is so important for us, not only for our muscle growth, but also for our immune function too.
Salads that contain a good source of protein are also more likely to keep you fuller for longer. This is because protein triggers the release of a satiety (fullness) hormone which can stop you from overeating. Sources of protein to include in your salads can be chicken, salmon, chickpeas, cheese, or eggs.
5. Can be a source of healthy fats
Healthy fats provide several benefits to the body. These include:
supporting optimal cholesterol levels
enhancing brain function
improving skin
maintaining healthy blood sugar levels
Adding nuts, seeds, avocado, or plant-based oils such as olive oil to your salads can be a great way of adding healthy fats to your diet.
How can I make my salads more interesting?
The key to an interesting salad is to aim for variety and flavour.
Try using rocket or spinach, instead of always using iceberg lettuce.
Experiment adding different combinations of colourful vegetables such as red onions, yellow peppers, grated carrots, radishes, and olives.
Remember that you can also add fruit into your salads too such as chopped apples or blueberries.
Try to vary your protein source as much as possible to make your salads more appealing.
Add extra flavour through toppings and dressings. For example, use herbs and spices to add flavour and variety such as garlic and chilli flakes, or a simple dressing such as olive oil, white wine vinegar and mustard. You can also add a squeeze of lemon or lime juice.
Add a variety of textures such as roasted seeds or pomegranate seeds.
Three dietitian approved salad recipes
1. Chicken salad with mango, lime and pomegranate
(Serves 2)
A refreshing and zesty summer salad, which you can tailor to your tastes. Chicken provides a great source of protein. The mango, pomegranate and lime creates a fresh flavour to keep things interesting.
Salad
Two chicken breasts.
One large handful spinach, roughly chopped.
One mango, peeled and chopped into chunks.
Handful of pomegranate seeds.
Two spring onions, chopped finely.
One avocado, peeled and sliced.
Dressing
One lime, zested and juiced.
Extra virgin olive oil.
One tsp chilli flakes.
Method
Cook the chicken by cutting into small chunks and adding to a frying pan with a splash of olive oil. Fry for about 10 minutes until it's no longer pink in the middle and the juices run clear. Season to preference. Leave to cool.
Roughly chop the spinach and combine with the spring onion, mango, pomegranate, and avocado. Add in the cold chicken.
Mix the lime zest and juice with olive oil and a few chilli flakes, depending on how spicy you like it. Drizzle over the salad.
2. Vegan sweet potato chickpea salad
(Serves 4)
This salad contains lots of fibre, has a rainbow of colours and is suitable for vegans. The chickpeas provide an excellent source of veggie-based protein. The fibre in the sweet potatoes is good for your digestive health.
Salad
Two large, sweet potatoes.
One 400g can chickpeas, drained and rinsed.
Two handfuls mixed leaves.
150g beetroot, cut into chunks.
Two avocados, cut into chunks.
One sweet red pepper.
One yellow bell pepper.
200g cherry tomatoes, cut in half.
One tsp paprika.
One tbsp chia seeds.
One tbsp flax seeds.
Dressing
Balsamic vinegar.
Extra virgin olive oil.
Salt and pepper to taste.
Method
Turn your oven on to 180C. Cut up the sweet potato into 1cm chunks, drizzle with olive oil and sprinkle with paprika. Put on a baking tray.
Drain and rinse the chickpeas. Drizzle with oil and sprinkle paprika. Put on the baking tray and bake alongside sweet potatoes for 30 minutes. The potatoes should be lightly browned and crispy when cooked.
Prepare the salad by combining the leaves, chopped beetroot, peppers and tomatoes. Add in the avocado.
Dress salad with balsamic and olive oil.
Leave the potato chunks and chickpeas to cool or add to salad whilst warm depending on preference. Sprinkle chia and flax seeds on top.
3. Salmon salad with a Mexican twist
(Serves 2)
Eating at least one portion of oily fish a week is good for your health. The wholegrain tortilla wraps can be substituted for gluten-free tortilla wraps if necessary – making this dish gluten free and coeliac friendly.
Salad
Two wholegrain tortilla wraps.
Two salmon fillets.
Half a tsp ground coriander.
Three tbsp Greek yoghurt.
One tsp paprika.
Two little gem lettuces, broken into leaves.
One 200g can sweetcorn, drained and rinsed.
300g pack cherry tomatoes cut into halves.
Handful of chopped coriander.
Dressing
Two tbsp olive oil.
One lime, zested and juiced.
Method
Heat your oven to 200C. Cut tortilla wraps into triangles and drizzle them with oil and ground coriander. Place on lined baking tray and bake for eight to 10 minutes until nice and crisp, turning halfway. Leave to cool. Set grill to high temperature.
Place salmon on a lined baking tray. Mix the yoghurt with paprika then spoon over the salmon. Put under the grill for eight to 10 mins. The fish should be black in places and flake easily into big chunks.
Prepare the salad while the salmon cooks. Combine the lettuce, sweetcorn, chopped coriander and tomatoes.
Mix olive oil and lime zest and juice for the dressing. Toss into the salad.
Serve on a plate, topping with the salmon pieces and tortillas.
Are we achieving 5 a day? British association of Dietitians. Bda.uk.com, accessed 6 June 2023
How to get five a day. British association of Dietitians. Bda.uk.com, accessed 6 June 2023
Fibre. British association of Dietitians. Bda.uk.com, accessed 6 June 2023
Calcuttawala F, Nutrition as a key to boost immunity against COVID-19. Clinical Nutrition ESPEN. 2022;49: 17-23. https://doi.org/10.1016/j.clnesp.2022.04.007
Davari D, Negahdaripour, Karemzadeh I et al. Prebiotics: Definition, Types, Sources, Mechanisms, and Clinical Applications. Foods. 2019; 8(3): 92. doi: 10.3390/foods8030092
Protein. British nutrition foundation. Nutrition.org.uk, accessed June 6, 2023
Fats explained. British heart foundation. Bhf.org.uk, last reviewed September 2021
About our health information
At Bupa we produce a wealth of free health information for you and your family. This is because we believe that trustworthy information is essential in helping you make better decisions about your health and wellbeing.
Our information has been awarded the PIF TICK for trustworthy health information. It also follows the principles of the The Information Standard.
Did you find our advice helpful?
We'd love to hear what you think. Our short survey takes just a few minutes to complete and helps us to keep improving our healthy lifestyle articles.
Legal disclaimer
This information was published by Bupa's Health Content Team and is based on reputable sources of medical evidence. It has been reviewed by appropriate medical or clinical professionals and deemed accurate on the date of review. Photos are only for illustrative purposes and do not reflect every presentation of a condition.
Any information about a treatment or procedure is generic, and does not necessarily describe that treatment or procedure as delivered by Bupa or its associated providers.
The information contained on this page and in any third party websites referred to on this page is not intended nor implied to be a substitute for professional medical advice nor is it intended to be for medical diagnosis or treatment. Third party websites are not owned or controlled by Bupa and any individual may be able to access and post messages on them. Bupa is not responsible for the content or availability of these third party websites. We do not accept advertising on this page.