Vaginal dryness can be uncomfortable and embarrassing. Unfortunately, it's more common around the time of the menopause. But there's lots you can do to help, so you don't have to suffer alone. Here, I'll explore what can help you to feel more comfortable during this time.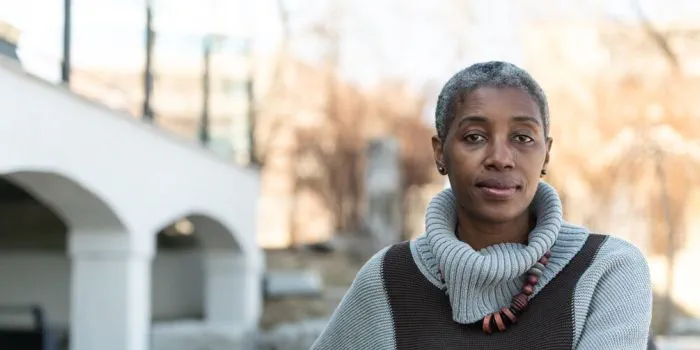 What causes vaginal dryness?
Vaginal dryness can be caused by many things including certain medications, breastfeeding, or cancer treatments. Vaginal dryness is also more common during the menopause. As you reach the menopause, your ovaries gradually stop making the hormone oestrogen. Oestrogen does many things, including helping to keep your skin hydrated and supple.
When your oestrogen levels drop, the walls of your vagina become thinner, drier, and less flexible. They're also more easily irritated. As part of this process your body also produces fewer vaginal secretions, so your vagina is less well lubricated. A lack of oestrogen can affect other areas such as your labia, clitoris, and bladder too.
All of this can impact your physical health and your enjoyment of sex. If vaginal dryness gets in the way of normal life, it can also affect your mental health, too. So, it's important to know that there are treatments available, and things you can do to help.
What does vaginal dryness feel like?
The symptoms of a dry vagina include:
soreness, for example when wearing jeans or sitting down
burning and/or itching
inflammation leading to redness and discharge
going for a wee more often
urinary tract infections (UTIs), especially after sex
pain, tearing or bleeding during sex
When you have vaginal dryness and urinary symptoms (such as needed to wee more often) during the menopause, it may be due to a condition known as genitourinary syndrome of the menopause. Here, the urinary symptoms result from the lack of oestrogen affecting your muscles around the bladder region. Treatment usually involves hormone replacement, as discussed below.
These symptoms can also be caused by something other than the menopause, so it's best to speak to your GP about what is happening. Try not to be embarrassed about talking to your doctor, and remember they are used to seeing all sorts of conditions. If you're able to get some help, it will be worth it.
Does vaginal dryness go away?
Vaginal dryness is thought to affect between half and three quarters of people who are either perimenopausal (the stage leading up to the menopause) or who have reached the menopause. Unlike most menopause symptoms, it's unlikely to go away on its own and tends to get worse with time if left untreated.
Is there a vaginal dryness cure?
Although there isn't a cure, there are lots of treatment options. If your doctor thinks your vaginal dryness is due to the menopause, they might suggest:
a vaginal moisturiser for use on a regular basis
water-based vaginal lubricants to use before you have sex
a hormone pessary, ring, cream or a gel that you apply to your vagina
hormone replacement therapy (HRT) as a general treatment for menopausal symptoms
Here are also some things that might be helpful to avoid.
Avoid wearing pants when you sleep.
Don't wear tight clothing around your crotch that makes you sweat.
Don't use douches (washing your vagina from the inside).
Avoid scented toilet paper, tampons, or pads.
Don't use perfumed soaps or creams near your vagina.
Don't insert moisturisers or lubricants not designed for vaginal use.
We know that vaginal dryness can be something that people avoid seeing doctors about because of embarrassment. But, don't let fear put you off from getting the support you need. Your doctor will be happy to help you with this common condition.
---
If you're experiencing menopause symptoms, you don't have to face them alone. With a Bupa Menopause Plan, you can discuss symptoms with a specially trained GP, get a personalised care plan based around your needs with access to 24/7 support via Anytime HealthLine.
Moral E, Delgado J, Carmona F et al. The impact of genitourinary syndrome of menopause on well-being, functioning, and quality of life in postmenopausal women. Menopause 2018: 25(12): 1418-1423. doi: 10.1097/GME.0000000000001148
Kim HK, Kang SY, Chung YJ et al. The recent review of the genitourinary syndrome of menopause. J Menopausal Med. 2015;21(2):65-71. doi:10.6118/jmm.2015.21.2.65
Chidi-Ogbolu N, Baar K. Effect of estrogen on musculoskeletal performance and injury risk. Front Physiol 2019. 9:1834. doi:10.3389/fphys.2018.01834
Don't ignore vaginal dryness and pain. Harvard Health Publishing. www.health.harvard.edu, published March 2019
Naumova I, Castelo-Branco C. Current treatment options for postmenopausal vaginal atrophy. Int J Womens Health. 2018; 10:387-395. doi:10.2147/IJWH.S158913
Vaginal dryness. Women's Health Concern. www.womens-health-concern.org, reviewed September 2020
Ghandi J, Chen A, Dagur G et al. Genitourinary syndrome of menopause: an overview of clinical manifestations, pathophysiology, etiology, evaluation, and management. AJOG 2016; 215(6): 704-711
About our health information
At Bupa we produce a wealth of free health information for you and your family. This is because we believe that trustworthy information is essential in helping you make better decisions about your health and wellbeing.
Our information has been awarded the PIF TICK for trustworthy health information. It also follows the principles of the The Information Standard.
More discover articles...
Did you find our advice helpful?
We'd love to hear what you think. Our short survey takes just a few minutes to complete and helps us to keep improving our healthy lifestyle articles.
Legal disclaimer
This information was published by Bupa's Health Content Team and is based on reputable sources of medical evidence. It has been reviewed by appropriate medical or clinical professionals and deemed accurate on the date of review. Photos are only for illustrative purposes and do not reflect every presentation of a condition.
Any information about a treatment or procedure is generic, and does not necessarily describe that treatment or procedure as delivered by Bupa or its associated providers.
The information contained on this page and in any third party websites referred to on this page is not intended nor implied to be a substitute for professional medical advice nor is it intended to be for medical diagnosis or treatment. Third party websites are not owned or controlled by Bupa and any individual may be able to access and post messages on them. Bupa is not responsible for the content or availability of these third party websites. We do not accept advertising on this page.