At some point over the past few years, you've probably heard about a new COVID-19 variant. Or perhaps you've read about a new strain of swine flu in the news. But what is a variant, and how does it differ from a strain? And why are some variants more newsworthy than others? Here, I explain what these different terms are and what they mean for our health.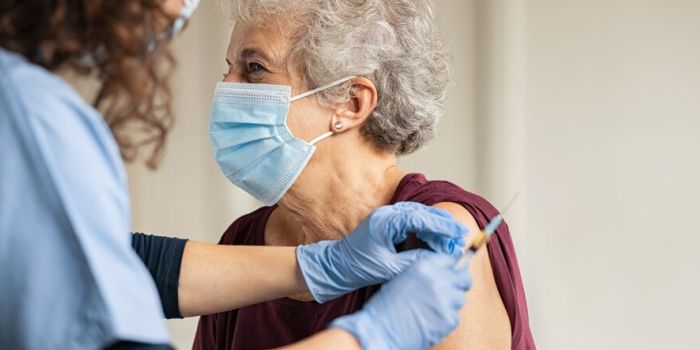 What is a variant?
We come into contact with viruses every day. They can cause common illnesses such as the common cold, flu, and COVID-19. But did you know that viruses naturally change over time (evolve)? When that happens, they can develop new properties.
A variant describes a virus that has changed in some way from its original version. For example, a coronavirus variant is a different form of the virus to the one that was originally identified (SARS-CoV-2).
Sometimes, the term variant is used to describe a virus that has evolved to infect humans, when it previously only infected animals. Swine flu and bird flu evolved in this way.
Recently, the first human case of a strain of swine flu (H1N2) made the news. This is the first time this strain of flu has been detected in a human in the UK. Research is ongoing into how this person was infected, and to assess the potential spread of this variant.
Why do variants exist?
For a virus to survive, it needs to make copies of itself so it can spread and infect other people. The virus does this by using the cells of the person it's infected (the host). For example, when the rhinovirus (a common cold virus), enters your body, it uses tools (structures) in your cells to copy itself.
During this process, a virus may not make exact copies of itself, and 'mutations' can occur. These change the genetic makeup of the virus. When at least one mutation occurs, a new variant is produced.
What's the difference between a strain and a variant?
The terms 'strain' and 'variant' are sometimes used to describe the same thing. But they're slightly different.
Sometimes, a new variant has properties that are very different to the virus it evolved from. These properties can help establish the variant – this means that the variant can survive and continue to infect people.
Once a variant is established, it may be referred to as a strain, rather than a variant.
Why are variants important?
All viruses mutate because it helps them to survive. Most of the time, these mutations don't have much of an effect. But sometimes, mutations can affect the properties of the virus, such as how:
easily it spreads
severe the disease it causes is
easy it is to detect
effective treatment is
effective vaccination is
It's because of these changes that you might hear about variants being discussed on the news, especially variants of SARS-CoV-2. The World Health Organization (WHO) tracks and names variants of concern to help experts prioritise monitoring and research of COVID-19.
As well as changing how the disease spreads, variants may make existing vaccines less effective. Vaccines train your immune system to recognise and remove certain viruses. But if the virus has changed a lot, your body might no longer be able to recognise it. Sometimes, vaccines need to be updated to be effective against new variants.
This is why annual flu vaccinations are available – the influenza virus (which causes flu) mutates regularly, and different strains can circulate each year. The previous year's vaccine may not protect against the strains in a new season, so flu jabs are offered yearly. Even if the strain is the same, your immunity might need to be boosted every year.
What is a variant of concern?
A variant becomes a variant of concern when its changes can impact our health and wellbeing. This means it could spread more easily, cause more severe disease, or make current vaccines less effective. These changes could affect many people, which is why they're monitored.
Various agencies, including WHO and the UK Health Security Agency, monitor which coronavirus variants are circulating.
Five different variants of concern have previously been identified for coronavirus:
Alpha
Beta
Gamma
Delta
Omicron
You might have heard other names in the news, such as Eris and Pirola. These are also variants of coronavirus. Although they are not currently thought to be variants of concern, they're being monitored. These variants are most closely related to the Omicron variant of coronavirus.
If you're at higher risk of illness from flu or COVID-19, vaccination can help protect you and limit the spread of the virus. This is particularly important when there are variants of concern circulating, and in the winter months, when flu season begins.
---
Here at Bupa we understand how important your family is. So with our family health insurance you can rest assured knowing that eligible treatment and support is available to you and your loved ones when you need it.
Variant. Merriam-Webster. merriam-webster.com, accessed 15 September 2023
SARS-CoV-2 variant classifications and definitions. Centers for Disease Control and Prevention. cdc.gov, updated 1 September 2023
Tracking SARS-CoV-2 variants. World Health Organization. who.int, last updated 17 August 2023
Virus - the cycle of infection. Britannica. britannica.com, accessed 15 September 2023
Rhinovirus (RV) infection (common cold). MedScape. emedicine.medscape.com, updated 18 August 2023
Blaas D, Fuchs R. Mechanism of human rhinovirus infections. Mol Cell Pediatr 2016;3:21. DOI:10.1186/s40348-016-0049-3
Louten J. Virus replication. Essential Human Virology 2016:49-70. DOI:10.1016/B978-0-12-800947-5.00004-1
What is a variant? An expert explains. Wellcome Trust. wellcome.org, published 29 November 2021
Looi M-K. Covid-19: Scientists sound alarm over new BA.2.86 "Pirola" variant. BMJ 2023;382. DOI:https://doi.org/10.1136/bmj.p1964
Dyer O. Covid-19: Infections climb globally as EG.5 variant gains ground. BMJ 2023;382. DOI:https://doi.org/10.1136/bmj.p1900
SARS-CoV-2 variants of concern as of 7 September 2023. European Centre for Disease Prevention and Control. ecdc.europa.eu, last updated 12 September 2023
COVID-19 variants identified in the UK – latest updates. UK Government. gov.uk, last updated 14 September 2023
Viruses and evolution. History of Vaccines. The College of Physicians of Philadelphia. Historyofvaccines.org, accessed 15 September 2023
Types of vaccine - introduction. University of Oxford. vaccineknowledge.ox.ac.uk, last updated 30 April 2021
How flu viruses can change: "drift" and "shift". Centers for Disease Control and Prevention. cdc.gov, last reviewed 12 December 2022
Flu vaccine. University of Oxford – key vaccine facts. vaccineknowledge.ox.ac.uk, last updated 1 September 2023
What's the difference between mutations, variants and strains? Royal Australian College of General Practitioners. racgp.org.au, published 17 February 2021
Vaccines and immunization: what is vaccination? World Health Organization. who.int, published 30 August 2021
Flu and COVID autumn vaccine programmes brought forward. UK Government. gov.uk, published 30 August 2023
The flu vaccination: who should have it and why (winter 2023 to 2024). UK Government. gov.uk, updated 11 September 2023
Lewis-Rogers NL, Seger J, Adler FR. Human Rhinovirus Diversity and Evolution: How Strange the Change from Major to Minor. J Virol 2017;91:e01659-16. DOI: 10.1128/JVI.01659-16
The difference between flu and COVID-19. Centers for Disease Control and Prevention. cdc.gov, last reviewed 28 September 2022
UKHSA detects human case of influenza A(H1N2)v. UK Government. gov.uk, published 27 November 2023
About our health information
At Bupa we produce a wealth of free health information for you and your family. This is because we believe that trustworthy information is essential in helping you make better decisions about your health and wellbeing.
Our information has been awarded the PIF TICK for trustworthy health information. It also follows the principles of the The Information Standard.
More discover articles...
Did you find our advice helpful?
We'd love to hear what you think. Our short survey takes just a few minutes to complete and helps us to keep improving our healthy lifestyle articles.
Legal disclaimer
This information was published by Bupa's Health Content Team and is based on reputable sources of medical evidence. It has been reviewed by appropriate medical or clinical professionals and deemed accurate on the date of review. Photos are only for illustrative purposes and do not reflect every presentation of a condition.
Any information about a treatment or procedure is generic, and does not necessarily describe that treatment or procedure as delivered by Bupa or its associated providers.
The information contained on this page and in any third party websites referred to on this page is not intended nor implied to be a substitute for professional medical advice nor is it intended to be for medical diagnosis or treatment. Third party websites are not owned or controlled by Bupa and any individual may be able to access and post messages on them. Bupa is not responsible for the content or availability of these third party websites. We do not accept advertising on this page.