During the winter months you may notice your skin is drier, feels rougher, itchy, or flaky. This is because cold weather and indoor heating can cause moisture loss. Our skin can also be irritated by soaps and frequent washing. But there are ways to protect your skin. In this article, I give some tips to help you have healthy skin in the winter.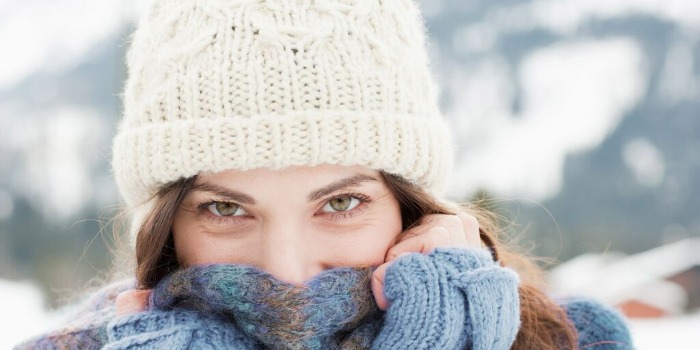 What are common winter skin issues?
Winter skin problems can include dry, flaky, itchy or cracked skin and chapped lips. These are all caused by moisture loss from your skin. During winter our skin is more likely to dry out because of the cold weather. Also, while indoor heating keeps you warm it reduces humidity (water in the air) and this leads to dry skin.
If you have an existing skin condition such as eczema or psoriasis you may notice your condition gets worse in winter. The clothes you wear can be a factor too, as wool or flannel can irritate your skin, leading to 'winter itch.' This can make your skin itchy and uncomfortable.
How can I improve my skin in winter?
You can avoid winter skin problems such as dry skin by making sure your skin keeps its moisture. Here are eight skin care tips for winter.
1. Skincare
Moisturisers (emollients) such as creams and ointments can help smooth and hydrate your skin. Creams and ointments are more effective and less irritating than lotions. Look for certain ingredients in your moisturiser such as Hyaluronic acid and Glycerin. These are known as humectants and attract moisture to skin. They're particularly good for the face as they allow the skin to breathe, and don't cause acne.
Another ingredient is Ceramide, which occurs naturally within your skin barrier, so it can replenish and protect your skin against harsh winter environments.
Other hydrating components to look for in a moisturiser, particularly for the body, are Jojoba oil, Dimethicone, Shea and Cocoa butter.
Overnight treatment is also a great way to boost the hydration of your skin. Using your cream or ointment and wearing cotton socks and gloves can significantly improve the skin's protective barrier, and appearance.
2. Check the products you use on your skin
Make sure your cleanser puts moisture back into the skin and doesn't remove it. Vitamin C and retinoid serums can irritate your skin particularly in the winter months.
Exfoliants such as Alpha hydroxy acids, Beta hydroxy acids and Salicylic acid can also irritate your skin.
And, skin care products containing alcohol can also cause irritation and dryness. You should try and avoid perfumed products too, as these can strip away natural oils.
We should be using SPF all year round. Harmful UV rays can stress the skin's moisture barrier as well as cause skin ageing. Dermatologists recommend no less than SPF30. Apply to skin after moisturising. And, don't forget to protect your lips with a hydrating lip balm, preferably including a sunscreen.
3. Have shorter baths or showers
Contact with water irritates your skin. Also, the harder the water, the more of a drying effect it has on the skin. If you're in the bath too long, the water can strip away your skin's protective oily layer.
So, try to keep your baths and showers as short as possible. Gently pat dry the skin and moisturise straight after to lock in the hydration.
4. Wash hands with lukewarm water
Regularly washing your hands properly is important to prevent spreading illnesses. When washing your hands, try using lukewarm water as hot water can wash away natural oils. Rinse your hands thoroughly, and dry and moisturise straight after.
If you wash your hands a lot because of your job, it's good to keep a small tube of moisturiser nearby. This way, you can regularly hydrate your skin and it will prevent dryness particularly in the winter months.
5. Stay hydrated and eat well
Drinking water boosts our skin moisture levels. We know that if we're dehydrated our skin will have the appearance of more fine lines as well as feeling dry. We often don't feel particularly thirsty during winter, but central heating can make us more dehydrated.
And, drinking tea and coffee to keep warm can add to this. This is due to the diuretic effect of caffeine which stimulates your bladder to produce pee (urine) more quickly than usual.
Eating foods that contain water can keep your skin hydrated. So try to eat foods like cucumber, tomato, spinach, broccoli, watermelon, apples, citrus fruits and berries.
6. Use a humidifier
In the winter, the low humidity (water vapour in the air) leads to skin dryness. A humidifier could help to keep your skin hydrated. These are machines that are filled with water to release moisture in the air to make it less dry.
7. Wear gloves
Gloves can protect your hands if you are doing any physical tasks such as cleaning or gardening, to prevent damage from any chemicals you use. Also wearing fabric gloves when you go outside can protect them from the cold air.
8. Wear clothes that let your skin breathe
Certain fabrics such as wool and flannel can irritate your skin. Try wearing smooth fabrics such as cotton or silk layers which will allow your skin to breathe.
By following these tips, you should find your skin feels better during winter. However, if your skin becomes very itchy, looks infected, becomes painful to the touch or you develop a rash, see a GP for advice.
---
Do you know how healthy you truly are? Bupa health assessments give you a clear overview of your health and a view of any future health risks. You'll receive a personal lifestyle action plan with health goals to reach for a happier, healthier you.
Dry skin in winter: what cold weather can do to your skin. Patient. patient.info, last updated October 2021
Weber TM, Kausch M, Rippke F et al. Treatment of xerosis with a topical formulation containing glyceryl glucoside, natural moisturizing factors, and ceramide. J Clin Aesthet Dermatol. 2012 Aug;5(8):29-39
How to care for your hands. British Association of Dermatologists. skinhealthinfo.org.uk, last updated September 2019
What to do about dry skin in winter. Harvard Health. health.harvard.edu, published February 2011
Fawkes N, Tselenti E, Shah N, et al. A Survey to Identify Determinants That Influence Self-Perceived Sensitive Skin in a British Population: Clues to Developing a Reliable Screening Tool for Sensitive Skin. Clin Cosmet Investig Dermatol. 2021 Sep 8;14:1201-1210. doi: 10.2147/CCID.S317970
Your winter skin survival kit. American Academy of Dermatology Association.aad.org, last updated May 2021
Sethi A, Kaur T, Malhotra SK, Gambhir ML. Moisturizers: The Slippery Road. Indian J Dermatol. 2016 May-Jun;61(3):279-87. doi: 10.4103/0019-5154.182427
Emollients factsheet. National Eczema Society. eczema.org, last reviewed June 2023
Acne – Prevention. BMJ Best Practice. bestpractice.bmj.com, last reviewed July 2023. https://bestpractice.bmj.com/topics/en-gb/101/prevention
A Dermatologist's Guide to Healthy Winter Skin. Columbia Irving Medical Center. cuimc.columbia.edu, published February 2023
Nighttime is the Perfect Time to Moisturize Your Hands and Feet. Piedmont HealthCare Moorseville Dermatology. mooresvilledermcenter.com, accessed August 2023
Skin health: Food Fact Sheet. British Association of UK Dieticians. bda.uk.com, published April 2020
Contact dermatitis. British Skin Foundation. britishskinfoundation.org.uk, accessed August 2023
Fluid (water and drinks) and hydration: Food Fact Sheet. British Association of UK Dieticians. bda.uk.com, published January 2023
About our health information
At Bupa we produce a wealth of free health information for you and your family. This is because we believe that trustworthy information is essential in helping you make better decisions about your health and wellbeing.
Our information has been awarded the PIF TICK for trustworthy health information. It also follows the principles of the The Information Standard.
More discover articles...
Did you find our advice helpful?
We'd love to hear what you think. Our short survey takes just a few minutes to complete and helps us to keep improving our healthy lifestyle articles.
Legal disclaimer
This information was published by Bupa's Health Content Team and is based on reputable sources of medical evidence. It has been reviewed by appropriate medical or clinical professionals and deemed accurate on the date of review. Photos are only for illustrative purposes and do not reflect every presentation of a condition.
Any information about a treatment or procedure is generic, and does not necessarily describe that treatment or procedure as delivered by Bupa or its associated providers.
The information contained on this page and in any third party websites referred to on this page is not intended nor implied to be a substitute for professional medical advice nor is it intended to be for medical diagnosis or treatment. Third party websites are not owned or controlled by Bupa and any individual may be able to access and post messages on them. Bupa is not responsible for the content or availability of these third party websites. We do not accept advertising on this page.