A visit from the Tooth Fairy can be an exciting time for many children and can be nearly as much fun for parents, you can get as creative as you like in your role as the tiny tooth collector.
It's also a great way to add a touch of magic when it comes to keeping your child's teeth clean and healthy on a day-to-day basis.
However, we know that sometimes being the Tooth Fairy is not the easiest task, so we've come up with a step-by-step guide to bring the Tooth Fairy to life, no glitter required (unless you want to)!
Your seven-step guide to your child's first tooth falling out
Step 1 - To Tooth Fairy or not?
Not all children get excited about the thought of a visit from the Tooth Fairy. Try to gauge their feelings a while before their first tooth shows any sign of wobbling, so you can plan ahead and make the experience enjoyable.
It could be that they don't like the idea of a fairy coming into their bedroom and stealing their teeth when they're asleep. If this is the case there are plenty of ways you can work around it. For example, if your child is worried about creatures coming into their room, tell them that the Tooth Fairy could visit another part of the house, or they could even leave the lost tooth outside in a designated Tooth Fairy box.
If it's the idea of the Tooth Fairy that your child finds frightening, remember they don't even have to be a fairy. They could be a creature they've thought of themselves, or even something more like a superhero.
Step 2 - Be prepared for that first wobble
Teeth have a habit of falling out at random times that aren't easy to plan for. Put together an emergency kit that contains a spare gift or money, as well as note paper and a pen to write any notes from the Tooth Fairy. That way you can be prepared for any wobbly moments.
Step 3 - The first visit from the Tooth Fairy
It's common for lost teeth to be left under the pillow, but you could also leave it in a glass of water or even in a special pillow or box that's just for the Tooth Fairy – search for 'Tooth Fairy pillow' online if you need a bit of inspiration.
Add that little bit of extra magic and leave a sign that the Fairy's been to visit by sprinkling glitter on the window sill or near where the child has left their tooth. If you really want to get creative, write them a little Tooth Fairy letter or certificate!
Step 4 - What happens to all those teeth?
This is a surprisingly common question asked by children. Don't worry about getting caught out – we've got some ideas to get you started:
The Tooth Fairy uses the really white shiny teeth to build fairy castles (only the really white ones though).
Once the Tooth Fairy has collected a tooth, they fly up into the night sky and set them there as stars.
The Tooth Fairy takes the baby tooth, shines it up and makes it bigger, then sets it back in your mouth as a grown-up tooth.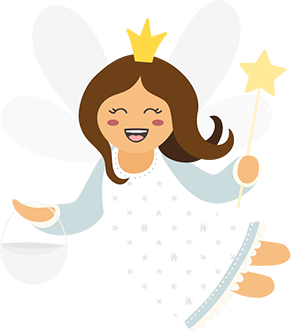 Step 5 - What's a tooth worth?
According to our recent national dental survey, the average amount the Tooth Fairy leaves behind is a very generous £4*.
It's best to be consistent, give your child something extra special to celebrate their first or last tooth, but otherwise it's best to keep to the same thing to avoid disappointment. Remember your child has over 20 baby teeth to lose over a period of up to seven years, so the cost can add up! It doesn't have to be money either, a small present would work just as well.
Step 6 - Tooth Fairies do forget…
All is not lost if you forget a Tooth Fairy visit, or if you don't have anything to hand to leave out for your child.
Explain that even Tooth Fairies need to go on holiday sometimes. Get your little one to write a note to the Tooth Fairy, or maybe you could help them find a different place to leave their tooth – somewhere that's easier for the Tooth Fairy to find.
Step 7 - Not just a flying visit
The Tooth Fairy can be a great help when it comes to establishing good dental habits. Write notes to your children from the Tooth Fairy saying that they need teeth to be as clean and shiny as possible before they can collect them.
You could even leave something extra along with the Tooth Fairy's gift, like a cool new toothbrush, to encourage your child to keep those good dental habits going long after the Tooth Fairy visits.
Book your child's free NHS check-up
Remember to book your child's regular check-ups as recommended by your dentist.
You don't have to pay a penny, as kids go free on the NHS until they reach 18, or 19 and are still in full-time education.
Find your local NHS practice
*Bupa Dental Care National Survey 2018
Bupa Dental Care is a trading name of Oasis Dental Care Limited. Registered in England and Wales No: 00478127. Registered office: Bupa Dental Care, Vantage Office Park, Old Gloucester Road, Hambrook, Bristol, United Kingdom BS16 1GW.
Oasis Dental Care Limited has a number of trading names including Bupa Dental Care. For a list of all our different trading names please follow this link.