If you have moles on your skin you should be checking them regularly. But do you know what changes you should be looking for?
We've created a simple guide to help you check your moles, so you can feel more confident checking your skin at home.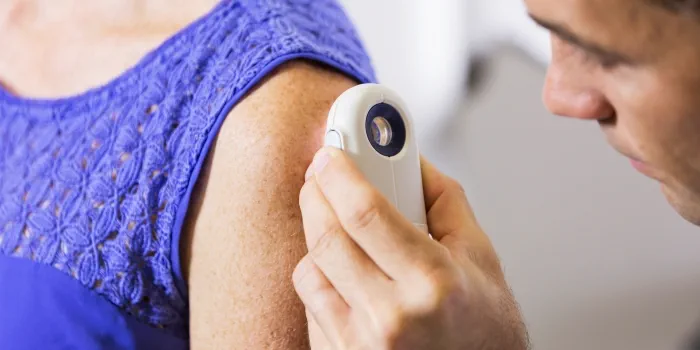 Why should you check moles regularly?
It's important to check your skin and moles regularly. New moles or marks on your skin, or changes to an existing mole could be a sign of a type of skin cancer called melanoma. Melanoma is the fifth most common type of cancer in the UK. The good news is, the earlier it's spotted and treated, the better the outlook is.
Am I at risk of skin cancer?
Most people know that getting sunburn increases the chances of getting skin cancer. But studies suggest you are more at risk of skin cancer if you:
have fair skin that burns easily, particularly if you also have fair hair and lots of freckles
expose your skin to the sun, either over long periods or for short intense periods like while on holiday
use sunbeds
have lots of moles – having more than 100 moles on your body increases your risk of skin cancer
have large moles (most melanomas are at least 6mm wide)
have people in your family who have had skin cancer
are taking medicines that affect your immune system
How do I check my moles?
It's a good idea to check your skin once a month. The better you get to know your skin, the more likely you are to see any changes.
Stand in a well-lit room.
Use a full-length mirror and a hand mirror to check your body all over.
Make sure you check hard to see places such as your back, buttocks and scalp. If you have a partner, they can check moles in these places for you as well.
Check the less obvious places too, like your underarms, in between your fingers and the soles of your feet.
Track the size and shape of your moles by taking photographs of them next to a ruler.
Mark on the photographs which area of your body each picture is from to help you track any changes over time.
What should I look for when checking my moles?
You're looking for new moles, or changes in the size, colour or shape of an existing mole. There's a useful way of remembering what to look for called the 'ABCDE' rule. It stands for:
A

–

Asymmetry. Do both halves of the mole look the same?
B – Border. Is the edge of the mole uneven or blurred?
C – Colour. Is the mole a mix of different shades or colours?
D – Diameter. Is it bigger than 6mm from side to side?
E – Evolution. Has the mole changed or grown?
There are a few other important things to look out for like itching, bleeding or crusting. If a mole starts to bleed and you haven't injured it then you should get it checked by your doctor as soon as you can.
I'm worried about a mole, what should I do?
If you're worried about any of your moles then you should always get them checked by a doctor. You can make an appointment to see your GP, and if needed, they can refer you to a clinic at your local hospital. Or you may choose to have your moles checked privately.
Whether you have 2 or 200 moles, it's important to take care of your skin. Always stay in the shade in the middle of the day. Wear a long-sleeved top, trousers, hat and sunglasses. Remember to always use a high protection sunscreen, and keep checking those moles too!
---
Even healthy people become unhealthy sometimes. Health insurance can help you get prompt access to the treatment and support you need to help you get back on the road to recovery. Learn more with our useful guide to understanding health insurance.
The British skin foundation. Checking your skin. Britishskinfoundation.org.uk. Accessed September 2022.
Cancer Research UK. Risks and causes of melanoma. Cancerresearchuk.org. Last reviewed 18 March 2020. Accessed September 2022.
Cancer Research UK. Melanoma skin cancer survival. Cancerresearchuk.org. Last reviewed 25 March 2020. Accessed September 2022.
British Association of Dermatologists. Melanoma in situ. Bad.org.uk. Last reviewed August 2021. Accessed September 2022.
Melanoma UK. How and where to look. Melanoma.org.uk. Accessed September 2022.
Melanoma UK. The 'ABCDE' rule. Melanomauk.org. Accessed September 2022.
The British Skin Foundation. How to stay safe in the sun. britishskinfoundation.org. Accessed September 2022.
About our health information
At Bupa we produce a wealth of free health information for you and your family. This is because we believe that trustworthy information is essential in helping you make better decisions about your health and wellbeing.
Our information has been awarded the PIF TICK for trustworthy health information. It also follows the principles of the The Information Standard.
More discover articles...
Did you find our advice helpful?
We'd love to hear what you think. Our short survey takes just a few minutes to complete and helps us to keep improving our healthy lifestyle articles.
Legal disclaimer
This information was published by Bupa's Health Content Team and is based on reputable sources of medical evidence. It has been reviewed by appropriate medical or clinical professionals and deemed accurate on the date of review. Photos are only for illustrative purposes and do not reflect every presentation of a condition.
Any information about a treatment or procedure is generic, and does not necessarily describe that treatment or procedure as delivered by Bupa or its associated providers.
The information contained on this page and in any third party websites referred to on this page is not intended nor implied to be a substitute for professional medical advice nor is it intended to be for medical diagnosis or treatment. Third party websites are not owned or controlled by Bupa and any individual may be able to access and post messages on them. Bupa is not responsible for the content or availability of these third party websites. We do not accept advertising on this page.