Making your own lunch can be both cheaper and healthier than shop bought options, but thinking about what to make day in, day out, can be a job in itself. So here I'll share some easy to make, nutritious and delicious options – one for each day of the working week.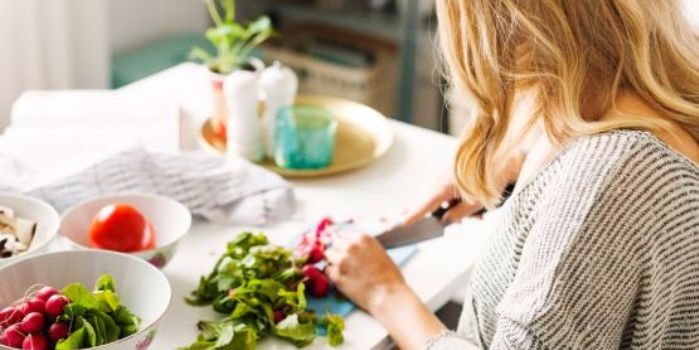 You can find the original recipes and their nutritional information by following the links under each one.
Monday
Salmon Niçoise
This is an omega 3 rich version of the traditional tuna niçoise, to provide you with a serving of your essential fatty acids.
Per serving: carbohydrate 23g, fat 19g, fibre 8g, protein 31g, salt 0.6g
Ingredients
One finely chopped red onion.
2 tbsp apple cider vinegar.
2 tbsp extra virgin olive oil.
12 black olives, quartered.
2 tbsp chopped dill.
400g small baby potatoes.
Two eggs.
320g fine green beans, trimmed.
Four salmon fillets.
Two lettuces.
Four tomatoes, cut into wedges.
Method
Mix together the onion, olives, and herbs in a bowl.
Boil the potatoes for 10 minutes. In a separate pan, boil the eggs and add the green beans for 5 minutes (use a steamer if you have one).
Meanwhile, poach the salmon for 8-10 minutes.
Make a dressing with the cider vinegar, olive oil, and dill.
Prepare the salad, add onion and herb mixture, potatoes, beans, salmon, and eggs, and pour dressing over.
Fresh salmon niçoise recipe | BBC Good Food
Tuesday
Pesto chicken salad
Get a source of both protein and fibre with this filling lunch recipe.
Per serving: carbohydrate 36g, fat 15g, fibre 6g, protein 44g, salt 0.6g
Ingredients
50g couscous.
2 tbsp pesto.
2 tbsp yogurt.
Two cooked skinless chicken breasts, shredded.
Small bunch of basil, leaves picked and torn.
Half of a cucumber, chopped.
Two sundried tomatoes in oil, drained and sliced.
Two little lettuces, leaves separated.
2 tsp toasted pine nuts.
Method
Put the couscous in a heatproof bowl and cover with 100ml boiling water. Stir in 1 tbsp pesto. Cover and leave for about 10 minutes.
Use a fork to fluff up the couscous and add the remaining pesto alongside the yoghurt, chicken, basil, and cucumber.
Spoon the couscous mixture into the lettuce leaves and scatter pine nuts on top.
Pesto chicken salad recipe | BBC Good Food
Wednesday
Tomato and black bean taco salad
Enjoy this filling plant-based lunch to get you through the midweek slump.
Per serving: carbohydrate 28g, sugars 9g, fibre 12g, protein 11g, salt 0.1g
Ingredients
One lime, juiced.
12g coriander, finely chopped.
Half tsp ground cumin.
One jalapeño pepper (deseeded if you prefer less heat), finely chopped.
2 tbsp rapeseed oil.
400g can black beans, drained and rinsed.
200g cherry tomatoes, halved.
One romaine lettuce, chopped.
One can sweetcorn, drained
One red pepper, finely chopped.
Four crunchy taco shells.
25g pumpkin seeds.
Method
Mix together the lime juice, coriander, cumin, jalapeno, and oil in a bowl.
Add in the beans, tomatoes, lettuce, sweetcorn, and red pepper. Crumble in the taco shells and add dressing. Scatter pumpkin seeds over the top and serve.
Tomato & black bean taco salad recipe | BBC Good Food
Thursday
Spicy halloumi and cauliflower rice
Providing you with a source of calcium, as well as plenty of fibre – enjoy this tasty, and quick to make midday meal. Per serving: carbohydrate 36g, fat 14g, fibre 7g, protein 14g, salt 1.1g.
Ingredients
One small head cauliflower (500g), broken into medium florets.
150g baby spinach.
1 tbsp rapeseed oil.
One red onion, sliced.
120g halloumi, cut into cubes.
One garlic clove, crushed.
One thumb-sized piece of ginger, finely grated.
1 tsp ground turmeric.
1 tbsp medium curry powder.
Two x 250g pouches brown basmati rice.
One red chilli, finely sliced.
Method
Bring a pan of salted water to the boil and cook the cauliflower for 5 minutes over a high heat, adding the spinach for the final 2 minutes. Drain and set aside.
Heat the oil in a frying pan and fry the onion on a medium heat for 5 minutes. Turn up the heat, add the halloumi, and cook for 5 more minutes.
Add garlic, ginger, turmeric, and curry powder and cool for 1 more minute.
Stir through the rice, cauliflower, and spinach to warm and scatter chilli over the top.
Spicy cauliflower & halloumi rice | BBC Good Food
Friday
Spicy chicken and avocado wraps
Celebrate the end of the working week with a zesty and fresh lunch.
Per serving: carbohydrate 32g, fat 16g, fibre 5g, protein 29g, salt 0.8g
Ingredients
One chicken breast, thinly sliced.
Squeeze of lime juice.
Half tsp mild chilli powder.
One garlic clove, chopped.
1 tsp olive oil.
Two wholemeal wraps.
One avocado, halved and stoned.
One roasted red pepper from a jar, sliced.
a few sprigs coriander, chopped.
Method
Mix together the chicken with lime juice, chilli powder, and garlic.
Heat oil in a frying pan, and fry the chicken until cooked.
Meanwhile, warm the wraps in a dry pan.
Squash half an avocado onto each wrap, then add peppers, chicken, and coriander.
---
Are you interested in learning more about your health? Discover more about our range of health assessments.
About our health information
At Bupa we produce a wealth of free health information for you and your family. This is because we believe that trustworthy information is essential in helping you make better decisions about your health and wellbeing.
Our information has been awarded the PIF TICK for trustworthy health information. It also follows the principles of the The Information Standard.
Did you find our advice helpful?
We'd love to hear what you think. Our short survey takes just a few minutes to complete and helps us to keep improving our healthy lifestyle articles.
Legal disclaimer
This information was published by Bupa's Health Content Team and is based on reputable sources of medical evidence. It has been reviewed by appropriate medical or clinical professionals and deemed accurate on the date of review. Photos are only for illustrative purposes and do not reflect every presentation of a condition.
Any information about a treatment or procedure is generic, and does not necessarily describe that treatment or procedure as delivered by Bupa or its associated providers.
The information contained on this page and in any third party websites referred to on this page is not intended nor implied to be a substitute for professional medical advice nor is it intended to be for medical diagnosis or treatment. Third party websites are not owned or controlled by Bupa and any individual may be able to access and post messages on them. Bupa is not responsible for the content or availability of these third party websites. We do not accept advertising on this page.