Research has shown that focusing on the present with some mindful movement can improve our wellbeing.
Mindful movement is a key practice in mindfulness based cognitive therapy (MBCT). It can help to improve concentration and focus. You can use mindful movement practices during your day to help bring your attention to the present moment.
Next time you head outdoors for a walk, why not try one of the guided mindful walking podcasts below?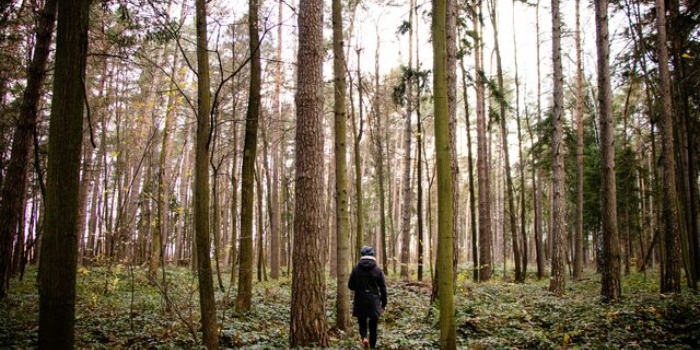 How do you meditate when walking?
Mindful walking is a form of mindful movement. It uses the everyday activity of walking as a mindfulness practice to help you become more aware of the sensations in your body. As you walk, focusing on your environment and the sensations in your body can help you to focus on the present. Some people like to think of it as meditation in motion!
How effective is walking meditation?
Research has shown that practising mindfulness while doing daily activities, like walking, may help to:
reduce anxiety
boost our mood
decrease stress
Mindful movement is also believed to improve our concentration, and may enhance our cognitive function (how well we process information and hold onto knowledge).
How can I use these podcasts?
We've created four versions of the podcast for you to choose from.
They differ by the amount of time between each part of the mindfulness practice. You might like to start with the guided mindful walking meditation with 30 second intervals. Then, work your way up to the full 15 minute practice, with 3 minute intervals.
It's a good idea to allow at least 15 minutes for this practice.
---
Are you interested in learning more about your health? Discover more about our range of health assessments.
Clark D, Schumann F and Mostofsky SH. Mindful movement and skilled attention. Front Hum Neurosci. 2015; 9: 297. doi:10.3389/fnhum.2015.00297
Gotink RA, Hermans KSFM, Geschwind N et al. Mindfulness and mood stimulate each other in an upward spiral: a mindful walking intervention using experience sampling. Mindfulness (N Y). 2016; 7(5): 1114–1122. doi:10.1007/s12671-016-0550-8
Crowley MJ, Nicholls SS, McCarthy D, Greatorex K, Wu J, Mayes LC. Innovations in practice: group mindfulness for adolescent anxiety - results of an open trial. Child Adolesc Ment Health. 2018 May;23(2):130-133. doi: 10.1111/camh.12214. Epub 2017 Mar 4. PMID: 32677331
Zhang D, Lee EKP, Mak ECW, Ho CY, Wong SYS. Mindfulness-based interventions: an overall review. Br Med Bull. 2021 Jun 10;138(1):41-57. doi: 10.1093/bmb/ldab005. PMID: 33884400; PMCID: PMC8083197
Lengacher CA, Reich RR, Ramesar S, Alinat CB, Moscoso M, Cousin L, Marino VR, Elias MN, Paterson CL, Pleasant ML, Rodriguez CS, Wang HL, Kip KE, Meng H, Park JY. Feasibility of the mobile mindfulness-based stress reduction for breast cancer (mMBSR(BC)) program for symptom improvement among breast cancer survivors. Psychooncology. 2018 Feb;27(2):524-531. doi: 10.1002/pon.4491
Kiely, K.M. (2014). Cognitive Function. In: Michalos, A.C. (eds) Encyclopedia of Quality of Life and Well-Being Research. Springer, Dordrecht. https://doi.org/10.1007/978-94-007-0753-5_426
About our health information
At Bupa we produce a wealth of free health information for you and your family. This is because we believe that trustworthy information is essential in helping you make better decisions about your health and wellbeing.
Our information has been awarded the PIF TICK for trustworthy health information. It also follows the principles of the The Information Standard.
Did you find our advice helpful?
We'd love to hear what you think. Our short survey takes just a few minutes to complete and helps us to keep improving our healthy lifestyle articles.
Legal disclaimer
This information was published by Bupa's Health Content Team and is based on reputable sources of medical evidence. It has been reviewed by appropriate medical or clinical professionals and deemed accurate on the date of review. Photos are only for illustrative purposes and do not reflect every presentation of a condition.
Any information about a treatment or procedure is generic, and does not necessarily describe that treatment or procedure as delivered by Bupa or its associated providers.
The information contained on this page and in any third party websites referred to on this page is not intended nor implied to be a substitute for professional medical advice nor is it intended to be for medical diagnosis or treatment. Third party websites are not owned or controlled by Bupa and any individual may be able to access and post messages on them. Bupa is not responsible for the content or availability of these third party websites. We do not accept advertising on this page.