Learning about what it means to be transgender may help you to understand your own experience, or that of a loved one. Finding books, podcasts, TV programmes and films that tell the stories of transgender people can be a great way to do this.
February is LGBT History Month, and for 2022 the theme is art. So here, with the help of the transgender community, we've pulled together a list of our favourite examples of transgender representation.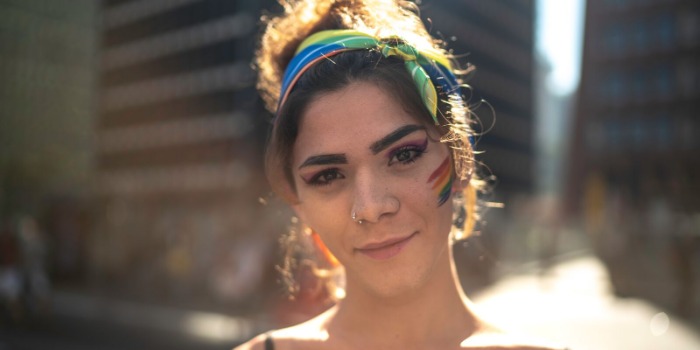 Representation and mental health
Seeing your own experience in art and culture can help you to feel happier and more included. And being comfortable with your identity can improve your wellbeing.
You might also find a community of people who enjoy the same things as you. For example, by joining an online group for people who enjoy a certain TV show or going to see a podcast live recording.
Supporting a transgender loved one
If somebody you love is transgender, you might be wondering how you can best support them. Learning about the lives of other transgender people might help you understand what it means to be transgender.
It can also help you understand some of the feelings and challenges your loved one might be having.
Please bear in mind that what you find most useful may be different from these lists. And personal tastes may differ.
Fiction books
Fiction books can be an accessible way to learn about what it means to be transgender, without having to read lots of facts. All the books on this list are written by transgender authors unless otherwise stated.
Detransition, Baby by Torrey Peters, 2021. The complicated lives of women in New York City and how they experience relationships, gender and motherhood.
Confessions of the Fox by Jordy Rosenberg, 2018. A novel that reimagines the famous historical thief, Jack Sheppard, as a transgender man.
The Passing Playbook by Isaac Fitzsimons, 2021. Aimed at teenagers and young people, this book tells the story of a transgender teenage boy trying to fit in at a new school.
Dreadnought by April Peters, 2017. Aimed at teenagers and young people, this book tells the story of a Danny, a transgender girl who becomes a superhero.
This Is How It Always Is by Laurie Frankel, 2018. A story about raising a transgender child and what happens when families keep secrets. Written by an author who is a parent to a transgender child.
Non-fiction books
It can be interesting to read about people you look up to or learn about the lives of famous transgender people. These non-fiction books cover a wide range of issues related to being transgender.
The Gender Games by Juno Dawson, 2017. This book is about Juno's own story, as well as the way we all view gender and how it impacts us.
Redefining Realness by Janet Mock, 2014. Janet's memoir talks about her personal journey of growing up as a multiracial transgender woman.
The Transgender Issue: An Argument for Justice by Shon Faye, 2020. This book is about how a range of social issues affect transgender people in the UK.
Where's the Mother? Stories from a Transgender Dad by Trevor Kirczenow, 2016. This memoir shares what it's like to be pregnant and raise a child as a transgender man.
Gender Euphoria edited by Laura Kate Dale 2021. A collection of personal stories from transgender, non-binary, and intersex writers.
TV programmes
We've included a range of TV shows here as well as the platform where they're available to watch at the time of writing. Ratings are provided by the BBFC.
Pose, 2018, BBC. A drama series that features several transgender actors set in the 1980s drag ball scene. Rated 15.
Orange is the New Black, 2013, Netflix. A drama series about a woman who gets sent to prison for a past crime. It features a large LGBTQ+ cast, including transgender actor Laverne Cox playing a transgender character. Rated 18.
Sense8, 2015, Netflix. A science fiction series created by the Wachowski sisters, who are both transgender, and featuring a large LGBTQ+ cast. Rated 18.
Euphoria, 2019, Now TV and Sky Atlantic. A drama series about a group of teenagers which explores sexuality and gender and features Hunter Schafer, a transgender actor. Rated 15.
She-Ra and the Princesses of Power, 2018, Netflix. A cartoon series about a group of superheroes called The Princess Alliance featuring a diverse LGBT+ voice cast. Rated PG.
Films
This is a list that features a wide range of movies including dramas, comedies and documentaries.
Boy Meets Girl, 2014. A love story about a transgender woman in a small American town. Rated 18.
Man Made, 2018. A documentary which follows four competitors in the world of transgender bodybuilding. Rated 13+.
A Fantastic Woman, 2017. An Oscar-winning film about a transgender woman who is mourning the death of her partner. Rated 15.
Disclosure, 2020. A documentary focusing on the experiences of transgender actors as well as the portrayal of transgender characters in film and television. Rated 15.
Moxie, 2021. A teen comedy-drama film about a group of girls who start a feminist zine to change attitudes at their school. Rated 12.
Podcasts
Podcasts can be a great way to learn about other people's experiences and opinions. All the podcasts listed here are available on Apple Podcasts and Spotify.
Marsha's Plate. Hosted by Diamond Stylz, Mia Mix and Zee who share opinions from a black, transgender perspective.
The Gender Rebels. A question-and-answer podcast hosted by partners Faith, a transgender woman, and Kathleen, a cis-gender woman.
Gender Reveal. Tuck Woodstock interviews transgender, non-binary people about their experience of gender.
The Way We Are. Munroe Bergdorf interviews guests about how their past has made them who they are.
She Said, They Said. The podcast from Mermaids, a charity which supports young people, and which talks about pop culture and current affairs as well as transgender issues.
If you have any additional recommendations please do leave a message in the survey on the right-hand side of this page. We won't be able to reply to individual messages, but we'd love to hear from you!
About our health information
At Bupa we produce a wealth of free health information for you and your family. This is because we believe that trustworthy information is essential in helping you make better decisions about your health and wellbeing.
Our information has been awarded the PIF TICK for trustworthy health information. It also follows the principles of the The Information Standard.
Did you find our advice helpful?
We'd love to hear what you think. Our short survey takes just a few minutes to complete and helps us to keep improving our healthy lifestyle articles.
Legal disclaimer
This information was published by Bupa's Health Content Team and is based on reputable sources of medical evidence. It has been reviewed by appropriate medical or clinical professionals and deemed accurate on the date of review. Photos are only for illustrative purposes and do not reflect every presentation of a condition.
Any information about a treatment or procedure is generic, and does not necessarily describe that treatment or procedure as delivered by Bupa or its associated providers.
The information contained on this page and in any third party websites referred to on this page is not intended nor implied to be a substitute for professional medical advice nor is it intended to be for medical diagnosis or treatment. Third party websites are not owned or controlled by Bupa and any individual may be able to access and post messages on them. Bupa is not responsible for the content or availability of these third party websites. We do not accept advertising on this page.