Cancer can develop at any age, but it is more common in older people. More than half of all cancers are diagnosed in people older than 50. Here, I talk about the common signs of cancer and how you can manage your risk of cancer as you grow older.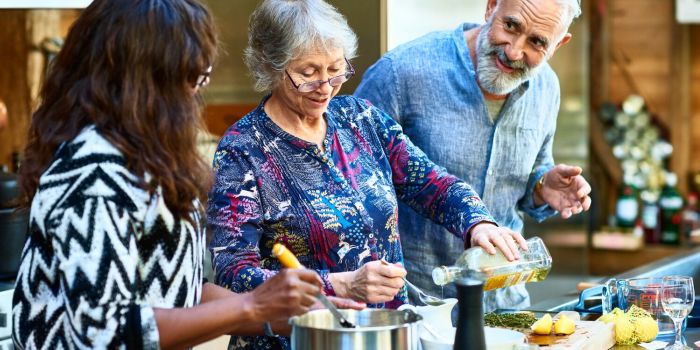 What is cancer and is it age-related?
Cancer is when abnormal cells in your body grow in an uncontrolled way. As you grow older, your risk of cancer increases. This is because the cells in your body are more likely to be damaged as you age.
Not all cancers happen due to age. Some people have a family history of a particular cancer. This means that their risk of developing cancer might be higher than for other people. It can also mean they develop cancer at a younger age.
At what age is cancer most common?
Age is the biggest single risk factor for cancer. Roughly half of all new cases of cancer are diagnosed in adults aged 50 to 74 years. This is the most common age group for cancer. A third of all new cases are diagnosed in adults aged 75 or older.
The most common cancers in adults older than 50 years are:
Young people can get cancer, but they are less likely to develop it than older people. Children younger than 15 years, and young adults aged 15 to 24 years, account for less than one percent of new cancer cases in the UK.
The most common cancers in these age groups are:
brain and spinal tumours
leukaemias
lymphomas
What are the symptoms of cancer?
As you grow older, your body will change, and it will feel different. But there are some key symptoms of cancer that you can look out for at any age. These include:
A new lump or swelling in any area of your body, for example in your breasts, testicles, neck, groin or armpit
Unexplained weight loss or loss of appetite
Changes in bowel habits
Unexplained or unusual bleeding – for example, finding blood in your pee, vomit, or poo (stool)
Changes to your skin, for example a new mole or damage that won't heal
These signs might not mean you have cancer, and not every person with cancer has symptoms. But it's important to speak to your GP if you have any of them, or if you notice other unusual changes in your body.
Once you reach a certain age, if you are registered with a GP, you will be invited to cancer screening. For people who do not have symptoms, screening is one way of detecting and treating cancer at an early stage. But if you do have symptoms, contact your GP instead of waiting for a screening invitation.
Whether you attend cancer screening is optional. In the UK, there are national programmes for bowel cancer screening and breast screening in older adults. Cervical screening (also known as a smear test) is also offered to women aged 25 to 64 years old.
What are the risk factors for cancer?
There are several risk factors that affect your chance of developing cancer. Older age is one of the main risk factors for most people. A family history of cancer is another risk factor. There are also lifestyle risk factors. These can be changed to lower your risk of cancer. For example, you can try:
Eating a healthy diet
Limiting your intake of alcohol
Exercising or being physically active
Protecting your skin from sun damage, for example by using sunscreen
Maintaining a healthy weight
Help and support
If you have questions or concerns about cancer, there are organisations that can provide further information.
---
Nobody likes to think about being diagnosed with cancer. But our health insurance gives you personal cancer care with support at every stage of your treatment for as long as you have a policy with us. Learn more about our health insurance.
Age and cancer. Cancer Research UK. www.cancerresearchuk.org, last reviewed 27 July 2021
Cancer incidence by age. Cancer Research UK. www.cancerresearchuk.org, accessed 10 June 2022
Signs and symptoms of cancer. Cancer Research UK. www.cancerresearchuk.org, last reviewed 30 October 2020
Cancer. World Health Organization. www.who.int, published 3 February 2022
Cancer Registration Statistics, England: 2015. Office for National Statistics. https://www.ons.gov.uk/, published 24 May 2017
What is cancer screening? Cancer Research UK. www.cancerresearchuk.org, last reviewed 28 September 2020
Causes and risk factors. Macmillan Cancer Support. www.macmillan.org.uk, reviewed 1 October 2018
Signs and symptoms of cancer. Macmillan Cancer Support. www.macmillan.org.uk, reviewed 30 June 2019
Can cancer be prevented? Cancer Research UK. www.cancerresearchuk.org, last reviewed 19 April 2022
Family history and inherited cancer genes. Cancer Research UK. https://www.cancerresearchuk.org, last reviewed 1 November 2021
About our health information
At Bupa we produce a wealth of free health information for you and your family. This is because we believe that trustworthy information is essential in helping you make better decisions about your health and wellbeing.
Our information has been awarded the PIF TICK for trustworthy health information. It also follows the principles of the The Information Standard.
More discover articles...
Did you find our advice helpful?
We'd love to hear what you think. Our short survey takes just a few minutes to complete and helps us to keep improving our healthy lifestyle articles.
Legal disclaimer
This information was published by Bupa's Health Content Team and is based on reputable sources of medical evidence. It has been reviewed by appropriate medical or clinical professionals and deemed accurate on the date of review. Photos are only for illustrative purposes and do not reflect every presentation of a condition.
Any information about a treatment or procedure is generic, and does not necessarily describe that treatment or procedure as delivered by Bupa or its associated providers.
The information contained on this page and in any third party websites referred to on this page is not intended nor implied to be a substitute for professional medical advice nor is it intended to be for medical diagnosis or treatment. Third party websites are not owned or controlled by Bupa and any individual may be able to access and post messages on them. Bupa is not responsible for the content or availability of these third party websites. We do not accept advertising on this page.