Are you finding it hard to make time for a face-to-face GP consultation? Virtual health care appointments can be a convenient way of getting the support you need. But sometimes it's hard to know when to book a virtual appointment and when you should really see a GP in person. Here, I'll reveal when to use virtual health care appointments, and how to get the most out of them.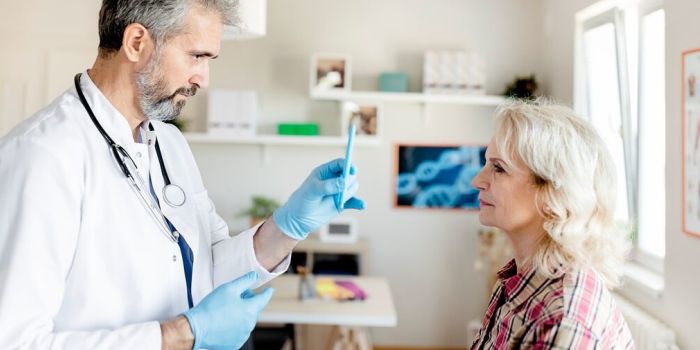 What type of virtual health care appointments are there?
There are two main types of virtual health care appointments which may be suitable for you, depending on your circumstances.
Telephone
Many GP practices have used telephone consultations for many years. They are useful when discussing test results and can be used by people who can't easily attend face-to-face appointments. This could be because of health issues or other restrictions. Studies show they can also be cost effective and save the NHS money.
You would usually have a telephone consultation to discuss a single health issue, so if you have a few health problems your GP will usually arrange a follow up consultation. This might either be face-to-face or by video.
Video consultations
Video consultations are now offered by several GP surgeries. These are confidential, just like any other type of GP. Instead of a face-to-face appointment, you will use the video camera on your mobile phone, computer, or tablet to speak to a doctor.
If you have been offered a video call, you will usually receive a text, letter or email confirming the time and date of your appointment.
When should you book a virtual health care appointment?
Virtual health appointments can be useful when a GP doesn't need to examine you face-to-face. This can be because you have a minor issue which you can explain thoroughly online or via the phone.
You may be able to upload photos prior to your appointment to help explain what has been going on. Or your GP may be able to look at certain problems such as skin conditions via a video link.
If appropriate GPs can prescribe, make onward referrals, or arrange further tests following a virtual health care appointment.
How can you prepare for your virtual health GP appointment?
To help you get the most out of your virtual appointment here are a few things that you can do.
Before your video consultation
Check that your internet connection works. You may need to do a speed check and re start your router.
Have some headphones handy in case there is a lot of background noise during your call. These can help you and your GP hear each other more clearly.
Find a quiet space where you feel comfortable discussing your health, and where your GP can see you clearly.
Make some notes in advance on what you want to talk about. Make a note of your symptoms, and how long you've had them for, including what makes them worse or better. Also write down any questions you may have – as this will help the doctor to advise you.
Have a list of any medicines that you are taking, and how often you are taking them. It may be helpful to have your medicine boxes next to you in case the GP needs to check them.
A little bit of preparation can go a long way in helping you to get the most out of your appointment.
During your video consultation
Start by telling your GP the most important issue you would like them to focus on. This means they can prioritise what matters most to you. Your GP might not have time to cover all your concerns in one appointment, but you can always book another appointment to cover these later on.
Remember that you can always ask the GP to explain something again, as its important you understand their advice. You could try taking a few notes during the call, so you can look back at them later. Or you could ask a friend or family member to write notes for you, if you are happy for them to listen to your conversation.
If you have internet troubles during your video call, you could try talking over the phone instead.
At the end of your online appointment, check you've covered everything you wanted to. Then discuss what will happen next, including any follow up appointments you might need. And make sure you know the best way to contact your GP if you have any more questions or concerns.
After your GP video consultation
When your appointment is finished, you may wish to consider writing down important points from the consultation, including what the GP has asked you to do. Remember to add any key dates in your diary, such as a blood test or a follow up appointment.
What to do in an emergency
If you are unable to get through to a GP, contact the NHS 111 online website. They will advise you on where and when to get help. But, if you, or someone you know, starts to feel seriously unwell call 999 immediately.
---
Bupa offers digital GP services through different routes to suit you. If you have Bupa health insurance you have unlimited access to Digital GP appointments through the Digital GP app (in partnership with Babylon). If you don't have health insurance, our remote private GP service is available to anyone who wishes to book a self-pay video appointment with a private GP via Bupa Health Clinics.
GP online consultations. NHS. www.nhs.uk , page last reviewed 25 April 2023
Video consultations. NHS. www.nhs.uk, page last reviewed 12 May 2023
Health at home. How to access NHS services online. NHS. www.nhs.uk, accessed 17 February 2023
Personal correspondence with Dr Elizabeth Rogers, Associate clinical director, Bupa Health Clinics May 2023
Using a telephone first approach may increase the total time GP's spend consulting. National institute for health and care research. evidence.nihr.ac.uk, accessed 5 June 2023
About our health information
At Bupa we produce a wealth of free health information for you and your family. This is because we believe that trustworthy information is essential in helping you make better decisions about your health and wellbeing.
Our information has been awarded the PIF TICK for trustworthy health information. It also follows the principles of the The Information Standard.
Did you find our advice helpful?
We'd love to hear what you think. Our short survey takes just a few minutes to complete and helps us to keep improving our healthy lifestyle articles.
Legal disclaimer
This information was published by Bupa's Health Content Team and is based on reputable sources of medical evidence. It has been reviewed by appropriate medical or clinical professionals and deemed accurate on the date of review. Photos are only for illustrative purposes and do not reflect every presentation of a condition.
Any information about a treatment or procedure is generic, and does not necessarily describe that treatment or procedure as delivered by Bupa or its associated providers.
The information contained on this page and in any third party websites referred to on this page is not intended nor implied to be a substitute for professional medical advice nor is it intended to be for medical diagnosis or treatment. Third party websites are not owned or controlled by Bupa and any individual may be able to access and post messages on them. Bupa is not responsible for the content or availability of these third party websites. We do not accept advertising on this page.