It's well known that smoking cigarettes is bad for your health. But that doesn't mean that quitting smoking is easy. There are lots of products available that claim to be better for you than traditional cigarettes.
But are they as healthy as we're led to believe? In this article, I explore e-cigarettes and other smoking alternatives, including any risks and safety issues.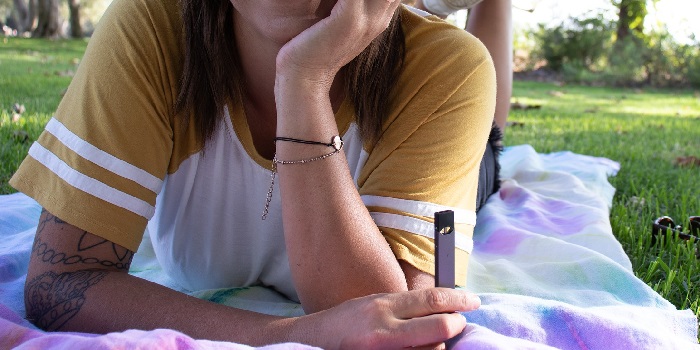 How does smoking affect your health?
Smoking increases your risk of developing many serious health problems. These include:
lung disease
arthritis
poor bone health
different types of cancer (such as lung, throat, mouth, liver and stomach)
In fact, smoking is the biggest cause of preventable illness and early death in England.
What other options are there to smoking?
If you want to quit smoking, there are lots of products available to help you to manage your cravings and reduce withdrawal symptoms.
E-cigarettes
E-cigarettes are battery-powered devices that deliver nicotine as a vapour. There are different types of e-cigarettes available, including:
vape pens
cigalikes
tank systems
mods
E-cigarettes allow you to inhale nicotine as a water-based vapour instead of smoke. Using an e-cigarette is often referred to as 'vaping'.
Shisha
Smoking shisha involves using coal or charcoal to heat up flavoured tobacco. Tobacco is a plant. Its leaves are dried and fermented to go into tobacco products. Tobacco contains nicotine, which can lead to addiction. This is why so many people who use tobacco find it difficult to quit.
When tobacco is heated with a shisha, it produces smoke. The smoke bubbles through a bowl of water and is inhaled through a long tube with a mouthpiece. It's common in Southeast Asian, Middle Eastern, and North African communities, and is becoming increasingly popular in the UK.
Smokeless tobacco
As the name suggests, smokeless tobacco products are not smoked. They're designed to be chewed, sucked or directly inhaled. It's often called spit tobacco, chewing tobacco or snuff.
Are smoking alternatives safe?
E-cigarettes
Research has shown that e-cigarettes can help you to quit smoking. E-cigarettes allow you to inhale nicotine (the addictive ingredient in cigarettes) without most of the harmful effects of smoking. The vapour contains no tar or carbon monoxide, which are harmful chemicals found in cigarettes.
Some of the harmful chemicals found in cigarettes (like metal particles and aldehydes) are still present in e-cigarette vapour. But they're produced at much lower levels, meaning the risk to your health is also lower.
E-cigarettes are still a relatively new product, so the long-term impact they could have on your health isn't known yet. But the UK has some of the strictest regulations for e-cigarettes in the world. This means that products must meet minimum safety and quality standards before you can buy them.
In the UK, e-cigarettes aren't available on prescription. This means you'll need to buy them online, or in a shop or pharmacy. Generally, they're much cheaper than cigarettes, so you're likely to save yourself some money too.
Shisha
Smoking shisha isn't a safer alternative to smoking cigarettes.
In an hour-long session, you can inhale the same amount of toxins as a cigarette smoker consuming over 100 cigarettes. Shisha is also addictive as it uses tobacco, which contains nicotine.
Smokeless tobacco
Smoking alternatives that use tobacco still carry a significant risk to your health.
Although these products aren't smoked, they contain cancer-causing chemicals (such as arsenic, nickel and nitrite) as well as addictive nicotine.
Research has found that smokeless tobacco causes heart disease and several cancers, such as mouth, oesophageal and pancreatic cancers.
Are smoking alternatives better for you than smoking?
Smoking alternatives that use tobacco aren't better for you than smoking cigarettes.
E-cigarettes offer a safer alternative to smoking, so you may want to try them to help you to quit smoking.
You're more likely to stop smoking successfully if you get professional support. You can ask your GP or pharmacist for advice, access online support, or use your local Stop Smoking Service.
---
Are you interested in learning more about your health? Discover more about our range of health assessments.
Smoking and tobacco: applying All Our Health. Public Health England. www.gov.uk, last updated 16 June 2020
Onor IE, Stirring DL, Williams SR et al. Clinical effects of cigarette smoking: epidemiologic impact and review of pharmacotherapy options. International Journal of Environmental Research and Public Health 2017; 14(10):1147. doi: 10.3390/ijerph14101147
How does smoking cause cancer? Cancer Research UK. www.cancerresearch.org, last updated 19 March 2021
Smoking. British Heart Foundation. www.bhf.org.uk, accessed June 2021
DeVito EE and Krishnan-Sarin S. E-cigarettes: impact of e-liquid components and device characteristics on nicotine exposure. Current Neuropharmacology 2018; 16(4):438–59. doi: 10.2174/1570159X15666171016164430
Shisha. British Heart Foundation. www.bhf.org.uk, accessed 21 June 2021
Shisha, betel leaf, paan and other tobacco. Cancer Research UK, www.cancerresearch.org last updated 12 May 2021
Health matters: stopping smoking – what works? Public Health England. www.gov.uk, last updated 17 December 2019
8 things to know about e-cigarettes. Public Health England. www.gov.uk, last updated 5 March 2020
Siddiqi K, Shah S, Abas SM et al. Global burden of disease due to smokeless tobacco consumption in adults: analysis of data from 113 countries. BMC Medicine 2015;13(194). doi: 10.1186/s12916-015-0424-2
Nicotine without smoke: Tobacco harm reduction. Royal College of Physicians. www.rcplondon.ac.uk, last updated 28 April 2016
Is vaping harmful? Cancer Research UK. www.cancerresearchuk.org, last updated 24 March 2021
About our health information
At Bupa we produce a wealth of free health information for you and your family. This is because we believe that trustworthy information is essential in helping you make better decisions about your health and wellbeing.
Our information has been awarded the PIF TICK for trustworthy health information. It also follows the principles of the The Information Standard.
More discover articles...
Did you find our advice helpful?
We'd love to hear what you think. Our short survey takes just a few minutes to complete and helps us to keep improving our healthy lifestyle articles.
Legal disclaimer
This information was published by Bupa's Health Content Team and is based on reputable sources of medical evidence. It has been reviewed by appropriate medical or clinical professionals and deemed accurate on the date of review. Photos are only for illustrative purposes and do not reflect every presentation of a condition.
Any information about a treatment or procedure is generic, and does not necessarily describe that treatment or procedure as delivered by Bupa or its associated providers.
The information contained on this page and in any third party websites referred to on this page is not intended nor implied to be a substitute for professional medical advice nor is it intended to be for medical diagnosis or treatment. Third party websites are not owned or controlled by Bupa and any individual may be able to access and post messages on them. Bupa is not responsible for the content or availability of these third party websites. We do not accept advertising on this page.