Being active is important for both children and adults. Exercising as a family can help children to form good habits early on – and may motivate you all to get moving. Read on to find out my top 10 ideas for having fun and getting active as a family this summer.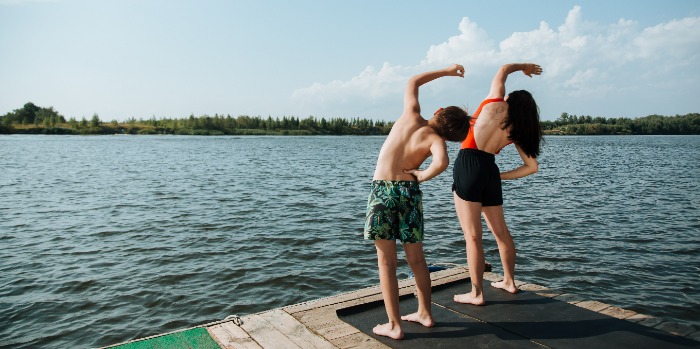 Why is getting active important for families?
Being active has important health benefits at any age. But childhood is a crucial time to get into good habits. The benefits you gain from being active in childhood can last a lifetime. Being physically active as a child can:
help build strong bones and muscles
maintain a healthy weight
improve mental wellbeing
help with social skills
Having positive experiences of being active at a young age can boost confidence too. And that can make children more likely to want to be active as they get older.
What are the benefits of exercising as a family?
Most people in the UK – both children and adults – don't currently get enough exercise for good health. Getting more active as a family is the best way to get your kids moving. And this can help you as parents to be more active too!
As a parent, you act as a role model for your children. When they see you being active – and especially if you're positive about it – they're more likely to want to take part.
Younger children in particular will rely on adults in the family to organise and create opportunities for activity. If you get children into active habits early on it will be easier for it to just become a way of life for your family.
Getting fit and active as a family can have a real benefit on your family relationships too. You may find you're spending more, quality time together. Having the whole family involved can help keep you motivated too.
The biggest factor for getting children to be more active is enjoyment. As a family, the key is to focus on having fun and trying new things. There's no need to worry about fitness or how good you are at a particular activity. And if you're all enjoying yourselves, chances are you're more likely to keep it up.
How much exercise do families need?
UK guidelines recommend children and young people aged 5 to 18 should do an average of at least 60 minutes of physical activity per day. This can be spread out across the day – it doesn't all have to be in one go. Ideally, they should be doing a range of different activities during this time.
Adults should aim for at least 150 minutes of moderate intensity, or 75 minutes of vigorous intensity activity throughout the week. That might be half an hour of brisk walking or cycling, five times a week.
Don't be disheartened if these targets feel hard to achieve at first. If you don't tend to be very active as a family, any increase in physical activity helps.
Start by thinking about some day-to-day ideas for getting more active, and limit the time you spend just sitting around. This might include things like walking to the shops rather than driving, and cutting down on screen time. Then you can start to build it up and try some other activities.
10 exercise ideas for families this summer
Here are my top 10 suggestions for ways to get active with your family this summer.
Get walking as a family. Whether it's a wander around your local town, a hike along a forest trail, or a stroll around your local park. Walking is one of the simplest ways to get moving. Pack a picnic, take a kite or turn it into a scavenger hunt to keep the children engaged.
Have some active games and toys at home. It doesn't have to be anything big or expensive. A skipping rope, hula hoop or basketball net can keep kids busy – and of course, they'll need you to show them how it's done.
Get family and friends together for a game in the park. Have a kickabout with a football, set up a game of rounders, or have some fun with a Frisbee. Summer is the perfect time to make the most of any green spaces around you.
Walk, jog or run as a family at your local Parkrun. These free, weekly events aren't just for adults. Many Parkrun locations run junior events for those aged four and up – a perfect way to get the whole family involved.
Cycling is a great way to get the whole family active. If you don't have bikes for everyone, you may be able to find a local park where you can hire them. Scooting or rollerskating are other options too.
Swimming is a great exercise for adults and children alike. If your kids aren't confident swimmers, just having a splash about in the water together can help to build their water confidence.
Try water sports as a fun and different activity. Look into hiring a canoe, kayak or paddleboard. Make sure everyone has a turn in doing some paddling!
Climbing can be a great activity to build up kids' muscle strength. From outdoor high ropes courses to indoor climbing walls. Most places have options for younger and older kids, as well as adults – making it a whole family event.
Get dancing. This is something you can do any time, any place – and with kids of any age. There are hundreds of online resources offering child-friendly dance routines. If you need some inspiration, try the This Girl Can Disney dance-alongs to get you started.
Racquet sports. See if you can hire a tennis court at your local park or set up a badminton net in your back garden. Racquet sports are a great way to get moving and you never know – you might have the next Andy Murray or Emma Raducanu in your family!
Muscle and bone strengthening activities for children and young people (5 to 18 years). A rapid evidence review. Public Health England. gov.uk, published January 2021
Wyszyńska J, Ring-Dimitriou S, Thivel D, et al. Physical activity in the prevention of childhood obesity: the position of the European Childhood Obesity Group and the European Academy of Pediatrics. Front Pediatr 2020;8: 535705. doi: 10.3389/fped.2020.535705
Active lives children and young people survey. Academic year 2021-22. Sport England. sportengland.org, published December 2022
Physical activity guidelines: UK Chief Medical Officers' report. gov.uk, published 7 September 2019
Physical activity: applying All Our Health. gov.uk, updated 10 March 2022
Children and young people. Working with families. Sport England. sportengland.org, accessed 4 July 2023
About our health information
At Bupa we produce a wealth of free health information for you and your family. This is because we believe that trustworthy information is essential in helping you make better decisions about your health and wellbeing.
Our information has been awarded the PIF TICK for trustworthy health information. It also follows the principles of the The Information Standard.
Did you find our advice helpful?
We'd love to hear what you think. Our short survey takes just a few minutes to complete and helps us to keep improving our healthy lifestyle articles.
Legal disclaimer
This information was published by Bupa's Health Content Team and is based on reputable sources of medical evidence. It has been reviewed by appropriate medical or clinical professionals and deemed accurate on the date of review. Photos are only for illustrative purposes and do not reflect every presentation of a condition.
Any information about a treatment or procedure is generic, and does not necessarily describe that treatment or procedure as delivered by Bupa or its associated providers.
The information contained on this page and in any third party websites referred to on this page is not intended nor implied to be a substitute for professional medical advice nor is it intended to be for medical diagnosis or treatment. Third party websites are not owned or controlled by Bupa and any individual may be able to access and post messages on them. Bupa is not responsible for the content or availability of these third party websites. We do not accept advertising on this page.