Are you one of the many people who have taken up walking as a way of keeping active? Not only is walking good for your physical and mental health, it's free, easy and convenient too. It can also be a great way to explore your local area and is better for the environment than driving or taking public transport. Here I'll explain the health benefits of walking and share my top tips for getting started.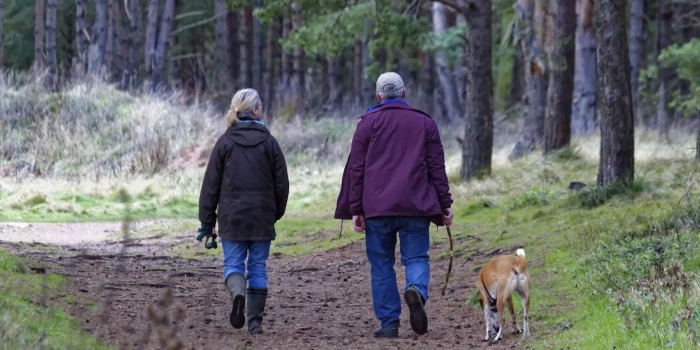 What are the benefits of walking?
As with most forms of physical activity, walking can have a whole host of benefits for both your physical and mental health.
Mental health benefits
Exercise releases feel-good hormones, and studies have shown it can:
improve your mood
reduce stress
manage anxiety
help you sleep better
increase your energy
help you to cope with difficult times
improve your confidence and self-esteem
reduce the risk of depression
Physical health benefits
As well as helping to look after your mental health, walking also helps to look after your physical health, by helping you to:
maintain a healthy weight
keep your muscles and bones healthy
increase your cardiovascular fitness
It can also reduce your risk of developing certain health conditions, including:
How much walking should I do?
The UK Department of Health recommends that adults get active every day. You should aim to do at least two and a half hours (150 minutes) of moderate intensity activity a week. You can break this down into sessions of 10 minutes or more and spread this out across the week. Moderate intensity means:
your breathing is faster
your heart rate is faster
you feel warmer
Walking can count towards moderate-intensity exercise - so long as it's brisk.
How to get started with walking for exercise
The good news is you don't have to climb mountains to feel the benefits of walking - any amount of physical activity is better than none. So, if you're new to walking, start slowly and gradually increase how much you're doing each week. Think about your daily routine and where you can include some walking. You could try:
taking a walk before work – especially if you're working from home and no longer commuting
walking to work, the station or bus stop if you need to travel to your place of work
using your lunch break to go for a stroll
going to the shops on foot rather than taking the car when picking up essential items
walking with someone from your household or bubble so you have someone to make sure you go for a walk
listening to music, podcasts or audiobooks while you walk
setting yourself a daily step goal and tracking your steps using a fitness tracker, app or pedometer
using a walking app to help you discover new routes in your local area
What should I wear for walking?
You don't need to buy any expensive gear to start walking, but the right clothing can help to make your walk more enjoyable.
Wear a good pair of shoes or trainers. Any pair will do, as long as they're comfortable, provide adequate support and don't rub or give you blisters.
If you're planning on walking through muddy fields or mountains, you may want to invest in a good-quality pair of walking boots.
Socks are also important as they will prevent blisters, the best socks don't bunch up in your shoes and should take sweat away from your feet.
Get some good windproof and waterproof layers to help you keep warm and dry.
If it's a sunny day, take some water, sunscreen, a hat and sunglasses to stay safe in the sun.
If you're walking in the early hours of the morning or evening when it's dark, wear reflective clothing so you can be clearly seen.
---
Are you interested in learning more about your health? Discover more about our range of health assessments.
Physical activity and your mental health. Mind. www.mind.org.uk, published March 2019
UK Chief Medical Officers' Physical Activity Guidelines. Department of Health and Social care. www.gov.uk, published September 2019
Physical activity: walking and cycling. National Institute for Health and Care Excellence (NICE). www.nice.org.uk, published November 2012
Top 10 benefits of walking. Cancer Research UK. www.cancerresearchuk.org, accessed 18 January 2020
Sun protection for outdoor sports. American College of Sports Medicine. www.acsm.org, accessed 18 January 2021
Physical activity. World Health Organisation. www.who.int, accessed 18 January 2021
Get active outdoors: Walking. Sport England. www.sportengland.org, accessed 18 January 2021
6 tips to help you keep a walking regimen on track. Harvard Health Publishing. www.health.harvard.edu, last updated January 2017
About our health information
At Bupa we produce a wealth of free health information for you and your family. This is because we believe that trustworthy information is essential in helping you make better decisions about your health and wellbeing.
Our information has been awarded the PIF TICK for trustworthy health information. It also follows the principles of the The Information Standard.
Did you find our advice helpful?
We'd love to hear what you think. Our short survey takes just a few minutes to complete and helps us to keep improving our healthy lifestyle articles.
Legal disclaimer
This information was published by Bupa's Health Content Team and is based on reputable sources of medical evidence. It has been reviewed by appropriate medical or clinical professionals and deemed accurate on the date of review. Photos are only for illustrative purposes and do not reflect every presentation of a condition.
Any information about a treatment or procedure is generic, and does not necessarily describe that treatment or procedure as delivered by Bupa or its associated providers.
The information contained on this page and in any third party websites referred to on this page is not intended nor implied to be a substitute for professional medical advice nor is it intended to be for medical diagnosis or treatment. Third party websites are not owned or controlled by Bupa and any individual may be able to access and post messages on them. Bupa is not responsible for the content or availability of these third party websites. We do not accept advertising on this page.