This year has been a tough time for lots of people, for lots of different reasons. COVID-19 has had a huge impact on the lives of everyone – and emerging research shows that children and young people are among those who may be most affected.
This information is to help you understand how your child may be feeling and offers a fun activity you can do with your kids to open up healthy conversations.
How have children and young people been affected?
Emotional and behavioural difficulties
One survey found that over a period of one month in lockdown, parents and carers noticed an increase in emotional and behavioural difficulties in children aged 4-10. They reported that children 11-16 seemed more restless and had attention difficulties.
Encouragingly though, adolescents themselves reported no change in their view of their mental health. In fact, they (and their parents and carers) reported that their emotional health had improved during lockdown.
Existing mental health conditions
Another survey asked questions to children and young people who had a history of mental health needs. It found that the pandemic had made their mental health much worse (32 per cent) or a bit worse (51 per cent).
Loneliness and depression
A rapid review of more than 60 studies has also looked at the potential impact that loneliness during COVID-19 has had on the mental health of young people. The findings suggest that those who have felt lonely during lockdown may be more likely to need help for depression in the coming years.
Studies and surveys are ongoing, but it's clear this is a variable picture – lockdown has been easier for some than others. And as changes to lockdown rules continue, it's important we keep the wellbeing of children and young people in sharp focus.
Chatter box cards activity
These chatter box cards are a fun activity for you and your children to do together. They are designed to encourage healthy conversations about mental wellbeing, which is more important now than ever before.
We've created these cards for primary school aged children (five years and older). There are a couple of suggested ways to play. For example, stick one of the cards up on the fridge each day and each family member must answer it by the end of the day. Another way to play is to take it in turns at the dinner table to pick a card for everyone to answer. You could also encourage your child to invent their own ways to play.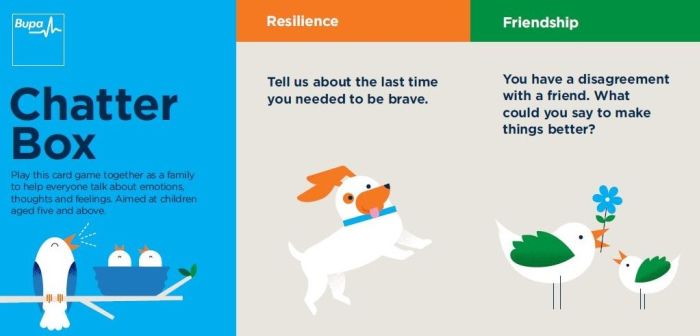 Download the cards here (PDF, 0.5MB).
The cards are divided into five themes.
Managing emotions
Gratitude
Friendships
Resilience
Just for fun!
Playing a game can be a great way to explore emotions and find out how your child is feeling. It can also help your child understand their feelings and feel open about them too.
Managing emotions
Act out an emotion you felt today.
What helps you feel calm?
Have you felt worried or scared this week? How did you react?
If you were feeling sad, would you rather talk about your feelings or do something to take your mind off it?
Gratitude
Look around the room and find something you are grateful for, explain why.
What was the best moment of today for you?
If you had to name just one thing you are grateful for, what would it be?
Friendships
Who did you like talking to this week? What made it good?
You have a disagreement with a friend. What could you say to make things better?
Name one way you helped another person this week.
What is one way you can make a new friend?
Resilience
Name something you achieved this week.
Think of someone who has acted like a leader recently. What did they do or say?
Your friend is having a hard time learning a new skill. What would you say to encourage them?
Tell us about the last time you needed to be brave.
Just for fun!
If you were an ice-cream flavour, what would you be and why?
If you were stranded on a deserted island and could take three things with you, what would they be and why?
If you and your family had your own reality TV show, what would you call it and why?
If you could be famous for something, what would it be and why?
If you could change one thing in the world, what would it be?
If you could create a video game, what would it be about and what would you call it?
What cartoon character would you most like to be and why?
If you had to give everyone in your family new names, what would they be and why?
Do a dance to express how you're feeling right now.
There's also some space for your child to create and draw their own cards too.
Report 04: Changes in children and young people's emotional and behavioural difficulties through lockdown. Co-SPACE Study. emergingminds.org.uk, updated 16 June 2020
Coronavirus: Impact on young people with mental health needs. Young Minds. youngminds.org.uk, accessed 24 June 2020
M. Loades et al. Rapid Systematic Review: The impact of social isolation and loneliness on the mental health of children and adolescents in the context of COVID-19. Journal of the American Academy of Child and Adolescent Psychiatry 2020. doi:10.1016/j.jaac.2020.05.009
Health information
At Bupa we produce a wealth of free health information for you and your family. We believe that trustworthy information is essential in helping you make better decisions about your health and care.
Legal disclaimer
This information was published by Bupa's Health Content Team and is based on reputable sources of medical evidence. It has been reviewed by appropriate medical or clinical professionals and deemed accurate on the date of review. Photos are only for illustrative purposes and do not reflect every presentation of a condition.
Any information about a treatment or procedure is generic, and does not necessarily describe that treatment or procedure as delivered by Bupa or its associated providers.
The information contained on this page and in any third party websites referred to on this page is not intended nor implied to be a substitute for professional medical advice nor is it intended to be for medical diagnosis or treatment. Third party websites are not owned or controlled by Bupa and any individual may be able to access and post messages on them. Bupa is not responsible for the content or availability of these third party websites. We do not accept advertising on this page.
For more details on how we produce our content and its sources, visit the 'About our health information' section.
^We may record or monitor our calls