If you're looking for a comforting meal without worrying about timings or lots of washing up, then give these one-dish dinners a go! Packed with flavour and easy to adapt, they're perfect for feeding the family with maximum taste and minimum effort. All the recipes featured here serve four people.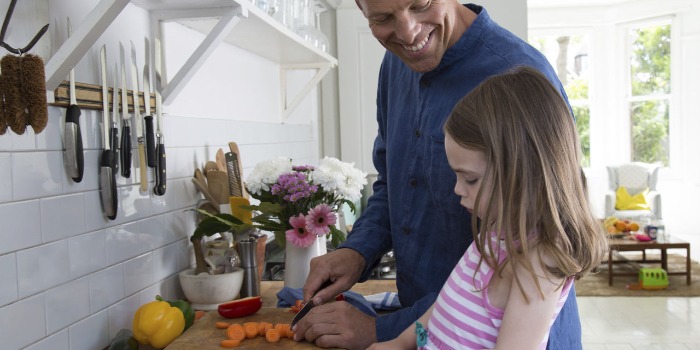 Veggie pasta traybake
This pasta bake is cooked in the oven to make sure the flavour of the sauce is absorbed by the pasta and vegetables. Topped with creamy goat's cheese, it's a real crowd pleaser.
Ingredients:
4 red peppers, chopped into chunks
300g mushrooms, chopped into chunks
3 tablespoons oil
4 cloves of garlic, peeled and squashed
Salt and pepper (to taste)
300g dried pasta
2 x 400g tins of chopped tomatoes
1 tin cannellini beans
1 jar pesto (any type is fine)
125g goat's cheese
Method:
Preheat the oven to 220°C (200°C fan/gas mark 7).
Put the peppers, mushrooms, oil, garlic, salt and pepper into a large roasting tin and mix so that the vegetables are coated in oil.
Put the tray into the oven and roast the vegetables for 20 minutes.
While they're cooking, cook the pasta in boiling water until it is tender but with some bite. This should take around 10 minutes.
Once the vegetables are ready, take the tin out of the oven and add in the pasta, beans and chopped tomatoes.
Mix in the pesto and then scatter the goat's cheese over the top.
Put the tray back into the oven for around 30 minutes, until the mixture is bubbling, and the cheese is golden.
Jambalaya
Jambalaya is a Creole dish of spicy rice with fish and meat. If you have extra vegetables in the fridge that need using up, you can add them in along with the peppers. If you don't eat pork, replace the chorizo by frying 2 teaspoons of paprika in a tablespoon of the oil instead.
Ingredients:
100g chorizo, chopped (if you're using it)
2 tablespoons oil
2 sticks of celery, plus leaves for garnish
1 medium onion, peeled and chopped
2 peppers (red or orange work best), chopped into chunks
2 cloves of garlic, peeled and chopped
1 tsp dried oregano
Pinch of mixed herbs
1 x 400g tin of chopped tomatoes
1.2 litres of reduced salt vegetable stock
1 teaspoon of hot sauce
Salt and pepper
300g basmati rice
200g sustainably sourced prawns, raw or cooked
Method:
Heat the chorizo in a pan without any oil.
Remove the chorizo from the pan and set it to one side.
Add the oil, onion and celery to the pan and stir fry until they soften, usually this takes around 5 minutes.
Add in the garlic, oregano, mixed herbs and chunks of pepper and stir.
Stir in the tomatoes, stock and hot sauce.
Bring everything to the boil and then simmer for 5 minutes.
Stir in the rice and cook for another 15 minutes.
Once the stock has been absorbed and the rice is tender and add in the chorizo and prawns. Make sure the prawns are cooked thoroughly.
Mediterranean sausage stew
This warming stew uses lots of tinned ingredients which can make it great for those days when the fridge is looking bare. This recipe uses vegetarian sausages, but you could also use traditional meat sausages. If you do, try to find ones that are low in fat.
Ingredients:
1 tbsp oil
4 cloves of garlic, peeled and chopped
Handful of pitted olives, chopped (optional)
8 vegetarian sausages, chopped into bitesize pieces
2 x 400g tins of chopped tomatoes
1 tin butter beans, drained
Black pepper
Method:
Heat the olive oil in a large saucepan over medium heat.
Add the garlic and the olives (if you're using them).
Stir them as they fry, making sure that the garlic doesn't brown.
Add the sausage pieces and stir to make sure they're coated in the oil.
Once the sausage pieces have browned slightly, add the tins of chopped tomatoes and beans and stir.
Add black pepper to taste.
Stir to mix everything together and then reduce a low heat.
Leave the pan uncovered on the heat until the tomato sauce is thick. This usually takes around 10-15 minutes.
Serve with leafy green vegetables like broccoli or spinach and some bread to soak up the sauce!
If you end up having some leftover, it works as a tasty filling for a baked potato too!
---
Are you interested in learning more about your health? Discover more about our range of health assessments.
About our health information
At Bupa we produce a wealth of free health information for you and your family. This is because we believe that trustworthy information is essential in helping you make better decisions about your health and wellbeing.
Our information has been awarded the PIF TICK for trustworthy health information. It also follows the principles of the The Information Standard.
Did you find our advice helpful?
We'd love to hear what you think. Our short survey takes just a few minutes to complete and helps us to keep improving our healthy lifestyle articles.
Legal disclaimer
This information was published by Bupa's Health Content Team and is based on reputable sources of medical evidence. It has been reviewed by appropriate medical or clinical professionals and deemed accurate on the date of review. Photos are only for illustrative purposes and do not reflect every presentation of a condition.
Any information about a treatment or procedure is generic, and does not necessarily describe that treatment or procedure as delivered by Bupa or its associated providers.
The information contained on this page and in any third party websites referred to on this page is not intended nor implied to be a substitute for professional medical advice nor is it intended to be for medical diagnosis or treatment. Third party websites are not owned or controlled by Bupa and any individual may be able to access and post messages on them. Bupa is not responsible for the content or availability of these third party websites. We do not accept advertising on this page.