Your body goes through a lot, both physically and mentally, during pregnancy and childbirth. If you're a keen runner and recently had a baby, you may wonder when you can start running again. Here, I look at some important factors to consider before dusting off your trainers.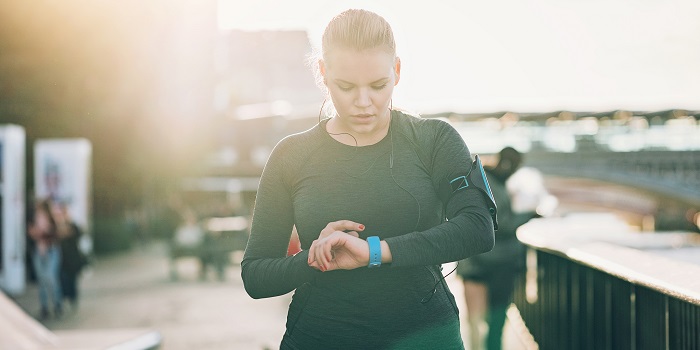 An overview of pelvic health
The term 'pelvic health' may not be a familiar one. But it's an important aspect of postnatal health, and something women who run should be aware of.
It refers to the function and wellbeing of your muscles, organs, nerves and connective tissue in your pelvic region.
Returning to running too soon after having a baby puts you at risk of the following conditions.
Musculoskeletal pain.
Urinary incontinence. This is when you pass urine without meaning to.
Bowel incontinence. This is when you pass faeces (poo) without meaning to.
Abdominal rectus diastasis. This is where your abdominal (tummy) muscles separate. This is a normal process during pregnancy, which usually happens during the second and third trimester. But, if your abdominal muscle don't recover after giving birth, it can cause issues, such as poor pelvic stability. You may notice a bulge in the centre of your abdomen, especially when you tense your muscles.
Pelvic organ prolapse. This is when one or more organs in your pelvis slip down from their normal position and bulge into your vagina.
When to return to running
There is a limited amount of research around returning to running after pregnancy. But a safe and timely return is extremely important.
It's generally recommended that you can return to exercise after six weeks of giving birth. But this depends on your childbirth experience. You will need to consider any complications or surgery you had, and your recovery.
It also depends on what type of exercise you return to. Running is a high impact exercise and puts pressure on your internal organs. Walking, Pilates and swimming may be better options in the earlier months following childbirth.
In fact, some research has shown that recovery time for pelvic tissues after pregnancy and childbirth is between four and six months.
If you've had a caesarean section, research shows that your abdominal fascia (connective tissue that separates your muscles and organs) can take over seven months to regain full strength. In many cases, it may have only regained up to 50 per cent of its original strength by your six week GP check-up.
Considering this, your return to running should take a slow and considered approach. In recent guidance, returning to running is not advised in the first three months after giving birth. This applies whether you gave birth vaginally or had a caesarean section. This should be longer if you have any symptoms of pelvic health issues.
Signs and symptoms of postnatal pelvic issues
The following symptoms could indicate issues with your pelvic health after pregnancy and childbirth.
Leaking urine or poo.
A sudden need to pee without warning, which is difficult to put off.
A feeling of heaviness or dragging in your pelvic area.
Pain during sexual intercourse.
Abdominal separation.
Lower back pain.
If you have any of these symptoms, whether running or not, seek medical advice.
Pelvic floor exercises
Your pelvic floor muscles form a sling across the base of your pelvis. They support your bladder, bowel and womb, keeping them in place so they work properly.
During pregnancy and birth, your pelvic floor is placed under stress. Because of this, it's important to strengthen these muscles after having a baby. Pelvic floor exercises are one of the best exercises you can do during and after pregnancy.
Exercising these muscles may reduce your chances of developing pelvic problems, such as incontinence, before and after you give birth.
Strengthening your pelvic floor muscles, as well as your abdominals and leg muscles, will ultimately help you return safely to running when you're ready.
Here's how to do them.
You can do them anywhere! Lying down in bed, sitting at your desk or driving in the car.
Find the right muscles. One way to do this is to imagine stopping yourself from passing wind and peeing. It should feel like an internal 'squeeze and lift'. Your thighs and buttocks should stay relaxed.
First, do some slow contractions. Hold the muscles for about five seconds, rest for four seconds and then repeat as many times as you can, up to a maximum of 10 times. Work up to holding the muscles for 10 seconds.
Next, do some fast contractions. Draw your pelvic floor muscles upwards quickly and hold this for a second. Repeat this up to 10 times.
Don't overdo it – listen to your body and take it at your own pace.
Running and breastfeeding
If you're breastfeeding, you'll need to consider a few things before you return to running.
Breastfeeding women have a slightly higher risk of injury during running. This is thought to be due to higher levels of hormones in your body that can cause joint laxity (loose ligaments around joints).
Time your breastfeeding so your breasts aren't overly full when you run. This will help your breasts feel more comfortable.
Wear a supportive sports bra. You can buy feeding sports bras.
Keep hydrated. Both exercise and milk supply (lactation) require extra fluid. Make sure you drink enough water before and after your run.
Physiotherapy assessment
I encourage all postnatal women to see a physiotherapist before returning to running. They will be able to assess your general physical health, as well as check your pelvic health.
They will give you advice about what you can do to improve your pelvic floor and abdominal function and strength. They will also guide you on how to build strength and stamina in your lower limbs. All these things will ultimately help you return to running safely.
Getting back to running
Once you feel ready to run, start at a slower pace and cover shorter distances. Gradually build up your pace and distance, and make sure you stop if you feel any discomfort.
Bupa has a walk to run 5km plan, which is the perfect programme to help you ease back into running, safely and gently. Be sure to stretch properly before and after a run.
Click on the image below to see the full training plan (PDF 0.2 MB, opens in a new window).
---
If you have a muscle, bone or joint problem, our direct access service aims to provide you with the advice, support and treatment you need as quickly as possible. If you're covered by your health insurance, you'll be able to get advice from a physiotherapist usually without the need for a GP referral. Learn more today.
Physiological changes in pregnancy. Patient – Professional Reference. patient.info, last checked 20 June 2016
Goom T, Donnelly G, Brockwell E. Returning to running postnatal – guidelines for medical, health and fitness professionals managing this population. Physiotherapy 2020; 107(1):e188–9. doi: 10.13140/RG.2.2.35256.90880/2
Ready, steady…GO! Ensuring postnatal women are run-ready! British Journal of Sport Medicine. blogs.bmj.com, published 20 May 2019
Blyholder L, Chumanov E, Carr K, et al. Exercise behaviours and health conditions of runners after childbirth. Sports Health 2016; 9(1)
Benjamin DR, van de Water AT, Peiris CL. Effects of exercise on diastasis of the rectus abdominis muscle in the antenatal and postnatal periods: a systematic review Physiotherapy 2014; 100(1):1–8. doi: 10.1016/j.physio.2013.08.005
Jessen ML, Öberg S, Rosenberg J. Treatment options for abdominal rectus diastasis. Front Surg 2019; 6:65. doi:10.3389/fsurg.2019.00065
Barber M. Pelvic organ prolapse. BMJ 2016; 354. doi.org/10.1136/bmj.i3853
Postnatal exercise: how soon can I start again after a baby? NCT. www.nct.org.uk, last reviewed April 2018
Shek K, Dietz, H. Intrapartum risk factors for levator trauma. BJOG: An International Journal of Obstetrics & Gynaecology 2010; 117(12):1485–92. doi: 10.1111/j.1471-0528.2010.02704.x
Stær-Jensen J, Siafarikas F, Hilde G, et al. Postpartum recovery of levator hiatus and bladder neck mobility in relation to pregnancy. Obstet Gynecol 2015; 125:531–9. doi: 10.1097/AOG.0000000000000645
Bø K, Artal R, Barakat R, et al. Exercise and pregnancy in recreational and elite athletes: 2016/17 evidence summary from the IOC Expert Group Meeting, Lausanne. Part 3-exercise in the postpartum period. Br J Sports Med 2017; 51(21): 1516–25. doi: 10.1136/bjsports-2018-099351
Yates A. Female pelvic floor 1: anatomy and pathophysiology. Nursing Times 2019; 115(5):18–21
Woodley SJ, Lawrenson P, Boyle R, et al. Pelvic floor muscle training for preventing and treating urinary and faecal incontinence in antenatal and postnatal women. Cochrane Database Syst Rev 2020; 5(5):CD007471. doi: 10.1002/14651858.CD007471.pub4
Physical activity for women after childbirth - infographic. UK Chief Medical Officer's. assets.publishing.service.gov.uk, published 2019
Pelvic floor exercises in women. British Association of Urological Surgeons. www.baus.org.uk, published September 2020
About our health information
At Bupa we produce a wealth of free health information for you and your family. This is because we believe that trustworthy information is essential in helping you make better decisions about your health and wellbeing.
Our information has been awarded the PIF TICK for trustworthy health information. It also follows the principles of the The Information Standard.
Did you find our advice helpful?
We'd love to hear what you think. Our short survey takes just a few minutes to complete and helps us to keep improving our healthy lifestyle articles.
Legal disclaimer
This information was published by Bupa's Health Content Team and is based on reputable sources of medical evidence. It has been reviewed by appropriate medical or clinical professionals and deemed accurate on the date of review. Photos are only for illustrative purposes and do not reflect every presentation of a condition.
Any information about a treatment or procedure is generic, and does not necessarily describe that treatment or procedure as delivered by Bupa or its associated providers.
The information contained on this page and in any third party websites referred to on this page is not intended nor implied to be a substitute for professional medical advice nor is it intended to be for medical diagnosis or treatment. Third party websites are not owned or controlled by Bupa and any individual may be able to access and post messages on them. Bupa is not responsible for the content or availability of these third party websites. We do not accept advertising on this page.