If you're starting to think about your goals for next year, you may find it helpful to reflect on the past 12 months. This can help you look at the behaviours you'd like to keep and the behaviours you'd like to change. It can help set you up for success towards a new health goal.
Here I'll share some tips and questions you can ask yourself to help you gain a clear vision for the year ahead.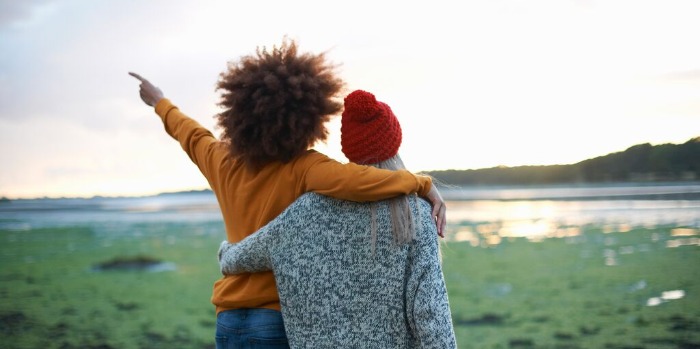 What is self-reflection?
Self-reflection means to assess, think and ask questions about yourself in a positive way. This can help you learn and make changes to how you do things in your life.
Why is self-reflection important?
Doing some self-reflection can help you achieve your goals in several ways.
Reflecting back and learning from your experiences:
increases your self-awareness, which helps your ability to understand and use your emotions in a positive way (emotional intelligence)
helps you to find meaning and purpose in your life, which is important for your mental wellbeing
can improve your performance in the future
can help you to set more realistic and achievable goals, which you're then more likely to be successful in
Reflecting on the past year
Here are some questions and prompts to help you look back over the last year. You could write your answers down, tell a friend or loved one, or just think about them in your head.
What are the things you're most of proud of this year? Think big and small.
What went well this year?
What could have gone better?
What has been the biggest challenge you've faced?
Is there a particular lesson you've learned this year?
What is one thing you'd like to leave behind this year?
What are three things you were grateful for over the last year? Feel free to write down more than three if you like!
How would you describe the last year in one word?
Think of five people who have brought you happiness and joy this year.
Looking forward to the year ahead
Now that you've reflected on the highlights and lessons from last year, turn your thoughts and intentions to the coming year.
Think of one word to describe how you want next year to be.
What's your sense of purpose for next year – what do you want it to mean for you?
Complete this sentence: By the end of X I will... (X could be the end of the year, or every month or set times throughout the year)
At the end of the year, how would you like to feel?
What do you see when you visualise yourself this time next year?
Applying what you've learned through self-reflection
Hopefully the questions and prompts will have got you thinking about what you'd like to achieve in the next 12 months. It's likely that you've identified a habit or goal you'd like to work towards. This might be changing an existing behaviour or developing a new one.
To help you make some positive changes, take a look at these final simple questions.
What are your three actionable next steps? Start small and make them easy to achieve.
How will you apply what you've learned from your reflections of the year just gone?
Are you ready to start thinking about any goals you will set? Remember to make them specific and achievable.
Making self-reflection a habit
Self-reflection is a good habit to have. Try a few simple steps to help you do it regularly.
Think of some key questions to ask yourself.
Set aside a time in the day to check in on these questions.
Commit to doing it by scheduling it into a specific time, for example for five minutes on a morning walk or commute.
Start small.
You can also incorporate other forms of self-reflection and awareness into your routine. For example, you could try:
journaling
practising gratitude
What's next?
Look out for our upcoming articles about:
taking action on a new goal
what to do if you have a setback
how to maintain your new goal for long-term success
---
Are you interested in learning more about your health? Discover more about our range of health assessments.
Self-reflection. The Open university. www.open.ac.uk, accessed 16 December 2021
Sutton A. Measuring the effects of self-awareness: construction of the self-awareness outcomes questionnaire. Eur J Psychol 2016;12(4):645-658. doi:10.5964/ejop.v12i4.1178
Reflecting on work improves job performance. Harvard Business School. hbswk.hbs.edu, published 5 May 2014
Di Stefano G, Gino F, Pisano G et al. Learning by thinking: overcoming the bias for action through reflection. K12Accountability. K12accountability.org, accessed 16 December 2021
Five ways to wellbeing. Mind. www.mind.org.uk, accessed 16 December 2021
About our health information
At Bupa we produce a wealth of free health information for you and your family. This is because we believe that trustworthy information is essential in helping you make better decisions about your health and wellbeing.
Our information has been awarded the PIF TICK for trustworthy health information. It also follows the principles of the The Information Standard.
Did you find our advice helpful?
We'd love to hear what you think. Our short survey takes just a few minutes to complete and helps us to keep improving our healthy lifestyle articles.
Legal disclaimer
This information was published by Bupa's Health Content Team and is based on reputable sources of medical evidence. It has been reviewed by appropriate medical or clinical professionals and deemed accurate on the date of review. Photos are only for illustrative purposes and do not reflect every presentation of a condition.
Any information about a treatment or procedure is generic, and does not necessarily describe that treatment or procedure as delivered by Bupa or its associated providers.
The information contained on this page and in any third party websites referred to on this page is not intended nor implied to be a substitute for professional medical advice nor is it intended to be for medical diagnosis or treatment. Third party websites are not owned or controlled by Bupa and any individual may be able to access and post messages on them. Bupa is not responsible for the content or availability of these third party websites. We do not accept advertising on this page.