As a population we're living longer. For many of us, this means we may be the main carer for a family member or loved one. Supporting your own health and wellbeing is one of the most important things you can do while caring for someone. It will also help you to feel more able to cope. In this article, I share six self-care tips for carers.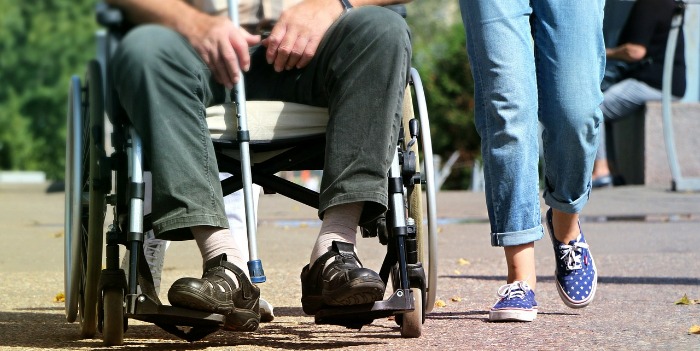 Six self-care tips for carers
Let's start by exploring what self-care means. Simply put, self-care means taking care of yourself so that you can stay healthy. If you don't look after yourself, you may become ill or feel exhausted. And you may not be able to help and look after others. With this in mind, here's a list of things you can do to look after yourself, when caring for someone else.
1. Take regular breaks
Carers often feel the responsibility burden heavily, and feel guilty for taking a break. You may find it hard to make time for yourself. But try not to feel bad for thinking about yourself. Taking regular time out may help you to cope. Even a short break, just an hour or two a week, may make you feel much better.
See if a friend or relative can come over to spend time with the person you're caring for, to give you a break. Depending on the needs of your loved one, you could explore short-term care support options for them. This may include day care or respite care.
2. Organise your time
It's important to plan your time carefully, thinking about different areas of your life, such as self-care, leisure, work and caring. Time away from your caring responsibilities will help you to:
boost your energy levels
be a better carer
Try to plan your activities based on your priorities. You can do this by getting help from people closest to you. Your community network can be a great source of support too. Or you may be able to organise regular carer support, even if it's just a couple of hours a day.
3. Invest in your physical health
No matter how busy you are, don't forget to look after your physical health. This won't just help you. It also means you can give your loved one the best care possible for longer. You can help yourself to keep healthy by:
If you're doing a lot of carrying and lifting, you need to take good care of your back. Try to maintain good posture, attend any relevant trainings and keep active. This may help to prevent, or ease, any aches and pains.
4. Boost your mental wellbeing
You may enjoy the challenges that being a carer brings. But it's also natural to feel angry, sad or mentally tired at times. So it's important to deal with your feelings and look after your mental health. You may find it helps to:
improve your sleep quality if you are not getting enough good sleep
share how you feel and ask for help when needed
attend local carer support groups
Speak to your doctor if you're finding it difficult to cope with your thoughts or feelings, or if they're affecting your everyday life.
5. Practice relaxation and mindfulness techniques
Try to find time to relax and focus on the here and now. This may help you to cope better with stressful situations. Have a go at these relaxation techniques.
Calming breathing exercises - sit in a quiet place and take deep breaths until you feel calmer.
Muscle relaxation – lie down, shut your eyes and tense then relax the muscles around your body, starting with your toes.
Guided imagery – shut your eyes and imagine being somewhere safe and restful.
Or why not practice some mindfulness? Mindfulness is a way of thinking, that helps you to focus on the present moment. This can help you to deal with negative thoughts more easily. Mindfulness has also been shown to benefit people with dementia and their carers. You can combine it with everyday activities, such as breathing, eating and walking.
6. Connect with friends and family
It's important to stay in touch with friends and family. They can help to provide emotional support, and may be able to help you in other ways too.
They may be able to care for your loved one while you take a short break or do other things.
Popping by for a coffee will give you, and the person you're caring for, the chance to socialise with other people.
If people you're close live far away, they may still be able to offer emotional support over the phone or online.
Get help from the wider community
Finally, it's worth thinking about the help you can get from the wider community. Charities such as Carers UK and Carers Trust are a great source of support and information. Both can help you to find the support you need in your local area.
If you take on caring responsibilities for a loved one, you'll also be entitled to a carer's assessment. This will be carried out by your local authority to identify your needs as a carer - this might include breaks from your role as a carer. It may also provide the chance for you to have some well-deserved 'you time'.
---
Are you interested in learning more about your health? Discover more about our range of health assessments.
Future of an ageing population statistics by area. Office for National Statistics. ons.gov.uk, accessed April 2023
Supporting yourself while caring for someone. Mind. mind.org.uk, accessed April 2023
Carers: looking after yourself. Alzheimer's Society. alzheimers.org.uk, accessed April 2023
Supporting adult carers. Review question: Introduction. NICE guideline NG150 evidence reviews. National Institute for Health and Care Excellence (NICE) nice.org.uk, published January 2020
Taking a break. Carers UK. carersuk.org, accessed April 2023
Respite care: having a break from caring. Age UK. ageuk.org.uk, last updated December 2022
Healthy diet. World health organisation. Who.int, published April 2020
Health matters: physical activity - prevention and management of long-term conditions. Public Health England, published January 2020
Looking after your body. Carers UK. carersuk.org, accessed April 2023
Caring for a person with dementia: a practical guide. 2: Taking on the caring role. Looking after yourself. Alzheimer's Society. alzheimers.org.uk, last reviewed February 2022
Alexander J. Scott et al. Improving sleep quality leads to better mental health: A meta-analysis of randomised controlled trials. Sleep Medicines Reviews. Volume 60, December 2021, 101556. doi.org/10.1016/j.smrv.2021.101556
Relaxation tips. Mind. mind.org.uk, published November 2021
Relaxation exercises. Mind. mind.org.uk, published November 2021
Mindfulness. About mindfulness. Mind. mind.org.uk, published November 2021
Paller KA, Creery JD, Florczak SM et al. Benefits of Mindfulness Training for Patients with Progressive Cognitive Decline and their Caregivers. Am J Alzheimers Dis Other Demen. 2015; 30(3): 257-267. doi: 10.1177/1533317514545377
Tackling loneliness. Carers Trust. carers.org, last revised February 2021
Apply for a needs assessment by social services. GOV.UK. gov.uk, accessed April 2023
Carer's allowance. GOV.UK. gov.uk, accessed April 2023
About our health information
At Bupa we produce a wealth of free health information for you and your family. This is because we believe that trustworthy information is essential in helping you make better decisions about your health and wellbeing.
Our information has been awarded the PIF TICK for trustworthy health information. It also follows the principles of the The Information Standard.
Did you find our advice helpful?
We'd love to hear what you think. Our short survey takes just a few minutes to complete and helps us to keep improving our healthy lifestyle articles.
Legal disclaimer
This information was published by Bupa's Health Content Team and is based on reputable sources of medical evidence. It has been reviewed by appropriate medical or clinical professionals and deemed accurate on the date of review. Photos are only for illustrative purposes and do not reflect every presentation of a condition.
Any information about a treatment or procedure is generic, and does not necessarily describe that treatment or procedure as delivered by Bupa or its associated providers.
The information contained on this page and in any third party websites referred to on this page is not intended nor implied to be a substitute for professional medical advice nor is it intended to be for medical diagnosis or treatment. Third party websites are not owned or controlled by Bupa and any individual may be able to access and post messages on them. Bupa is not responsible for the content or availability of these third party websites. We do not accept advertising on this page.