Testosterone levels can lower during menopause, which can reduce your sex drive. Taking testosterone can sometimes help. It's usually offered alongside other hormone replacement therapy (HRT). Your doctor may also offer testosterone if you've reached menopause early (premature menopause) or after surgery. Here, I explain how testosterone can ease menopause symptoms, and how it's taken.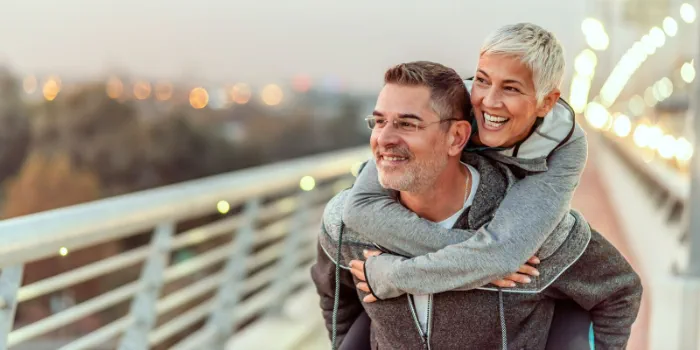 What happens to testosterone levels during menopause?
Testosterone is a hormone that everyone produces in their bodies. As we get older, we start to produce less. If you go through the menopause, either naturally or after having your ovaries removed, your testosterone levels will reduce. And, these changes to our hormones can have a big impact on how we feel.
Hormone replacement therapy (HRT) and testosterone are hormonal treatments for menopause. They work by replacing the hormone levels that have fallen in your body.
What are the symptoms of low testosterone in menopause?
Low testosterone during menopause can cause:
low sex drive (reduced libido)
tiredness
difficulty concentrating
Transgender men and people who identify as non-binary may also experience menopause symptoms.
Some symptoms like low sex drive or being less aroused can also be a symptom of other things. Changes in your relationship, other health problems and depression can all affect how you feel about sex.
If you're going through the menopause and any of these symptoms are affecting your day-to-day life, speak to your doctor.
How can I increase my testosterone during menopause?
Your doctor may prescribe testosterone as a gel or cream that you rub onto your skin to increase your levels.
There's also an implant available that contains testosterone, which goes under the skin. But, it's not commonly offered, and may only be available from a specialist.
It can take up to six months to feel the full effects of testosterone. But you might start to feel some benefits after three months. If you have any questions, speak to your pharmacist or doctor for advice.
Should I take testosterone for menopause?
Before trying testosterone, your doctor will usually offer hormone replacement therapy (HRT) first. This can help with lots of menopause symptoms. If HRT doesn't work for you alone, your doctor might suggest trying testosterone alongside HRT.
Some people can't take testosterone. If you've had hormone sensitive breast cancer in the past or have active liver disease, testosterone might not be right for you.
At the moment, testosterone isn't licenced to treat menopause symptoms. That means it's called an 'off-label' medicine for menopause. Some medicines can be prescribed to be used 'off-label' to treat a different condition that they were first licensed for. Because of this, you might need to see a specialist to have it prescribed.
What are the side effects of taking testosterone?
If you take the right amount of testosterone, you're unlikely to experience any side effects. But, they can include:
If you take testosterone, you'll usually have a blood test after two or three months. This is to check the amount of testosterone you're taking is right for you. You might need another blood test after six months. After this, you'll usually need a blood test once a year to check your testosterone is still at the right level.
For more information on whether taking testosterone might be a beneficial treatment for you, speak to your doctor.
---
If you're experiencing menopause symptoms, you don't have to face them alone. With a Bupa Menopause Plan, you can discuss symptoms with a specially trained GP, get a personalised care plan based around your needs with access to 24/7 support via Anytime HealthLine.
Menopause: diagnosis and management. NICE guideline NG23. nice.org.uk. Last updated 5 December 2019.
Scenario: Managing women with menopause, perimenopause, or premature ovarian insufficiency. NICE Clinical Knowledge Summaries. Cks.nice.org.uk. Last revised September 2022.
Testosterone replacement in menopause. The British Menopause Society. Thebms.org.uk. Published December 2022.
Menopause. Summary. BMJ best practice. Bmj.com. Last updated 13 January 2022.
The menopause. Women's Health Concern. Womens-health-concern.org. Published November 2022.
Glyde T. LGBTQIA+ menopause: room for improvement. Lancet. 2022 Nov 5;400(10363):1578-1579. doi: 10.1016/S0140-6736(22)01935-3. Epub 2022 Oct 18.
Premature Ovarian Failure. Management approach. BMJ best practice. Bestpractice.Bmj.com. Last updated 15 October 2020.
Testosterone. NICE. British National Formulary (BNF). Bnf.nice.org.uk. Accessed January 2023.
Off-label or unlicensed use of medicines: prescribers' responsibilities. Medicines and Healthcare products Regulatory Agency. Gov.uk. Published 11 December 2014.
Testosterone for women. Women's Health Concern. Womens-health-concern.org. Published February 2022.
About our health information
At Bupa we produce a wealth of free health information for you and your family. This is because we believe that trustworthy information is essential in helping you make better decisions about your health and wellbeing.
Our information has been awarded the PIF TICK for trustworthy health information. It also follows the principles of the The Information Standard.
More discover articles...
Did you find our advice helpful?
We'd love to hear what you think. Our short survey takes just a few minutes to complete and helps us to keep improving our healthy lifestyle articles.
Legal disclaimer
This information was published by Bupa's Health Content Team and is based on reputable sources of medical evidence. It has been reviewed by appropriate medical or clinical professionals and deemed accurate on the date of review. Photos are only for illustrative purposes and do not reflect every presentation of a condition.
Any information about a treatment or procedure is generic, and does not necessarily describe that treatment or procedure as delivered by Bupa or its associated providers.
The information contained on this page and in any third party websites referred to on this page is not intended nor implied to be a substitute for professional medical advice nor is it intended to be for medical diagnosis or treatment. Third party websites are not owned or controlled by Bupa and any individual may be able to access and post messages on them. Bupa is not responsible for the content or availability of these third party websites. We do not accept advertising on this page.