Ready meals can be a convenient and cheap option if you're low on time or on a budget. But do ready meals provide the nutrients your body needs to live well? A lot of ready meals are made from animal products. But there are also vegan and plant-based options available. Are these any healthier? In this article, I'll talk about the rise of vegan ready meals and whether they're healthy.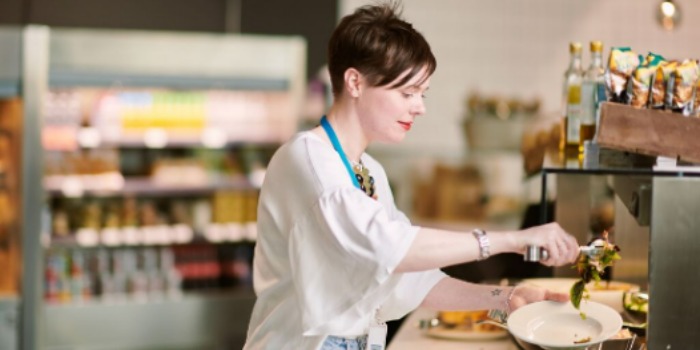 What are vegan foods?
Eating a vegan diet means that you don't eat any animal-containing products, such as meat, poultry, or fish. This also includes foods and ingredients that are produced by animals, such as dairy products, honey, and eggs.
This is different from a vegetarian diet, which can include these. But nowadays you can find cheese and milk products that are suitable for vegans.
If you are vegan, you still need to make sure you eat a healthy, balanced diet. You need to make sure to get enough of the following nutrients.
Calcium. Vegans don't drink milk from cows. You can get calcium from plant milks and yoghurts such as oat milk, soya milk, and soya yoghurt.
Protein. Meat and eggs are a source of protein, but vegans can get protein from beans, pulses, lentils, and meat replacements such as soya and tofu.
Omega 3 fatty acids. Fish is a source of omega-3. Vegans can get omega-3 from nuts and seeds such as walnuts, flaxseeds (linseeds), chia seeds, hemp seeds, and rapeseed oils.
Vitamin B12. This is naturally found in animal foods such as meat, fish, dairy products, and eggs. You can get vitamin B12 from fortified breakfast cereals and plant-based milks. Vegans are advised to take a vitamin B12 supplement.
What are ready meals?
Ready meals are pre-cooked products that you simply need to heat in a microwave or oven to eat. They can be chilled or frozen. Some ready meals can take only minutes to prepare.
In the UK, 86% of people eat ready meals, with 3 in 10 people eating one at least once a week. You may find it easier to eat ready meals than a meal cooked from scratch because:
ready meals are more convenient and take less time
ready meals are cheaper
you want to try something new, but don't want to invest time and money in buying ingredients
Are there healthy ready meals for vegans?
There are generally more ready meals containing meat on offer at supermarkets. But more vegetarian and vegan ready meals are becoming available. One in five ready meals are now plant-based or vegetarian.
Plant-based ready meals can also be cheaper than meat, fish, or vegetarian ready meals. But it depends on which retailer you go to, and some will have more choice for vegans than others.
Ready meals also contain a lot of calories. Eating foods high in calories may cause you to put on weight. Even vegetarian ready meals are often cheese-based, so will be relatively high in calories. Plant-based (vegan) ready meals tend to contain fewer calories than meat-based ready meals, so could be healthier for you.
Always try to check the labels on ready meals to see their nutritional content. Traffic light labelling can be a helpful way to make healthier choices. Green, amber, and red labels tell you how much fat, salt, and sugar are in foods.
For example, if the salt content is red, that means the food contains a high amount of salt. It's best to choose a ready meal with as many green labels as possible. These will contain the lowest levels of fat, sugar, and salt so you're not getting too much of something. It is also important to try to choose a ready meal that is balanced and contains foods from a range of food groups, including:
carbohydrates such as rice, pasta, potato, or noodles
protein such as soya, tofu, beans, or pulses
fruit or vegetables such as peas, peppers, or leafy greens
Do ready meals affect the environment?
The manufacturing process of ready meals leads to release of greenhouse gases. This causes rising temperatures involved in global warming. Ready meals are said to make up just over 15 per cent of the UK's total greenhouse gas emissions from the food and drink sector. This may be something to consider if you're worried about the environment.
One study found that ready meals made from as soy and seitan can reduce the impact the manufacturing process has on the environment. However, this is not always the case, some meat substitutes such as tofu may still have an environmental impact. A vegan diet is generally better for environmental sustainability.
If you're not vegan, you can still make your diet more sustainable by reducing the amount of red and processed meat you eat. Try swapping meat with plant sources of protein, such as beans, pulses, lentils, nuts, and seeds.
If you're vegan, there are now more plant-based ready meals available than ever. Even if you aren't vegan, consider choosing a vegan or plant-based ready meal. These could be healthier for you as they contain less calories and they can also be cheaper. But always check the labels on ready meals to check their salt and fat content.
In general, ready meals offer less nutritional value than a home cooked meal. If you want to try to move away from ready meals, see our helpful tips online for eating healthily if you don't like cooking.
---
Do you know how healthy you truly are? Bupa health assessments give you a clear overview of your health and a view of any future health risks. You'll receive a personal lifestyle action plan with health goals to reach for a happier, healthier you.
Vegetarian, vegan and plant-based diet: Food Fact Sheet. The Association of UK Dieticians. bda.uk.com, published April 2021
The Vegan Eatwell Guide. Vegan Society. vegansociety.com, published February 2020
Niklewicz A, Smith AD, Smith A, Holzer A, Klein A, McCaddon A, Molloy AM, Wolffenbuttel BHR, Nexo E, McNulty H, Refsum H, Gueant JL, Dib MJ, Ward M, Murphy M, Green R, Ahmadi KR, Hannibal L, Warren MJ, Owen PJ; CluB-12. The importance of vitamin B12 for individuals choosing plant-based diets. Eur J Nutr. 2023 Apr;62(3):1551-1559. doi: 10.1007/s00394-022-03025-4
Ready Meals 2021 Snapshot Survey. Eating Better. eating-better.org, published June 2021
Are ready meals ready for the future? Eating Better. eating-better.org, published July 2018
Looking at labels. British Nutrition Foundation. nutrition.org.uk, last reviewed September 2021
The Eatwell Guide. Public Health England. gov.uk, published September 2018
Schmidt Rivera XC, Azapagic A. Life cycle environmental impacts of ready-made meals considering different cuisines and recipes. Sci Total Environ. 2019;660:1168-1181. doi:10.1016/j.scitotenv.2019.01.069
Eating Patterns for Health and Environmental Sustainability. British Dietetic Association. bda.uk, published August 2020
About our health information
At Bupa we produce a wealth of free health information for you and your family. This is because we believe that trustworthy information is essential in helping you make better decisions about your health and wellbeing.
Our information has been awarded the PIF TICK for trustworthy health information. It also follows the principles of the The Information Standard.
Did you find our advice helpful?
We'd love to hear what you think. Our short survey takes just a few minutes to complete and helps us to keep improving our healthy lifestyle articles.
Legal disclaimer
This information was published by Bupa's Health Content Team and is based on reputable sources of medical evidence. It has been reviewed by appropriate medical or clinical professionals and deemed accurate on the date of review. Photos are only for illustrative purposes and do not reflect every presentation of a condition.
Any information about a treatment or procedure is generic, and does not necessarily describe that treatment or procedure as delivered by Bupa or its associated providers.
The information contained on this page and in any third party websites referred to on this page is not intended nor implied to be a substitute for professional medical advice nor is it intended to be for medical diagnosis or treatment. Third party websites are not owned or controlled by Bupa and any individual may be able to access and post messages on them. Bupa is not responsible for the content or availability of these third party websites. We do not accept advertising on this page.