Are you one of the many people who went vegan in January? With around 600,000 vegans living in the UK, the popularity of plant-based diets has grown massively in the last ten years. And if you want to keep Veganuary going, take a moment to consider the likely benefits it brings to your long-term health.
Studies have shown that switching to a more plant-based diet, with a wide range of fruit, vegetables and wholegrains, is linked to a lower risk of disease including Type 2 diabetes, cardiovascular disease and obesity. And cutting down on the amount of meat you eat can also help to reduce your carbon footprint, as animal-based foods are more harmful for the environment than plant-based foods.
So, whether you're looking to make a few small swaps to a more plant-based diet or just want some recipe inspiration, these three recipes will provide plenty of health benefits without compromising on flavour! They can be easily prepared in under an hour and are a great breakfast or lunch-time option for taking with you into work.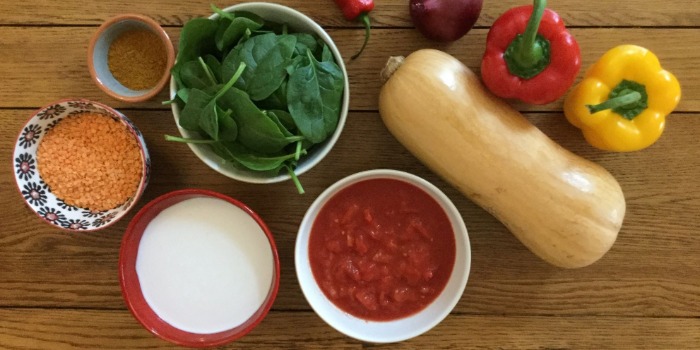 Veggie pasta
This vegan pasta is one of my favourite weeknight meals. It's very easy to make and is packed with colour and nutrients. It's also a great low-calorie recipe option.
Ingredients (serves 4)
1 onion
3 garlic cloves
1 aubergine
200g chestnut mushrooms
1 courgette
2 large carrots
2 cans chopped tomatoes
1 can chickpeas
Wholegrain pasta
Method
Heat a medium saucepan to medium heat and fry the diced onion and garlic with some olive oil until soft.
Roughly chop the aubergine, mushrooms, courgette and carrots, and add to the saucepan, heating for around five minutes, until they become soft.
Add in the chopped tomatoes and chickpeas, then leave to simmer for twenty minutes until the sauce starts to thicken and come together.
Cook pasta according to cooking instructions, then serve with sauce. Add vegan cheese as an optional extra if desired.
What are the recipe's health benefits?
Using a tomato-based sauce, with no added dairy such as cheese, butter or cream, means this recipe has less calories and can help you to maintain a healthy weight.
It's also a good option for cutting down on the amount of saturated fats you eat, which tend to be found in more animal-based foods such as fatty red meat, high fat dairy and processed foods. Saturated fats can also increase the amount of bad cholesterol (also known as 'LDL' cholesterol) in the blood, which increases the risk of heart disease.
The chickpeas are a healthy source of plant-based protein, which helps to both maintain and build your body cells, and to keep your muscles healthy.
Coconut vegan curry
As this recipe has plenty of vegetables it's a great source of vitamins, minerals and fibre, which can help you to maintain a healthy digestive system.
Ingredients (serves 4)
1 red onion
3 garlic cloves
1 red chilli
1 sweet red pepper
1 yellow pepper
1 butternut squash
Handful of spinach
200g mushrooms
100g lentils
1 can coconut milk
1 can chopped tomatoes
1 tbsp curry powder
Rice of your choice
Method
Heat pan over a medium heat with olive oil. Add diced onions, garlic and chilli and fry until soft. Then add in curry powder and fry for a further two minutes.
Add chopped vegetables to the pan and fry them until they start to soften.
Add in the coconut milk, chopped tomatoes and dry lentils with a dash of hot water. Allow to simmer for 45 minutes, adding more water if necessary, until the sauce becomes thick or as desired. Add spinach as you're cooking the rice (according to pack instructions).
Serve alongside rice of your choice.
What are the recipe's health benefits?
In this recipe, fibre is a key player which is very important for our digestive health and can help to prevent constipation. It may also help to reduce your risk of bowel cancer, which research has linked to diets rich in red or processed meats.
The lentils in this recipe are a cheap and low-fat source of fibre and protein, which count towards your recommended five daily portions of fruit and vegetables. They're also a great alternative source of protein for people who don't get protein by eating meat, fish or dairy products.
It's important to vary the sources of protein you're getting to ensure you get a range of different amino acids (the building blocks for protein) in your diet.
Chia pudding
This recipe can be used as a breakfast or dessert. Despite their small size, chia seeds are a rich and excellent source of important nutrients in your diet.
Ingredients (serves 1 or 2)
50g chia seeds
200ml coconut milk (or alternative milk of choice)
2 tbsp cocoa powder
½ tsp vanilla extract
Mixed berries and nuts to serve on top
Method
Mix all the ingredients, except the berries and nuts, in a large bowl. Then cover the bowl with cling film and leave it in the fridge for at least four hours or overnight.
Serve the pudding in smaller bowls, sprinkling mixed berries and nuts on top.
What are the recipe's health benefits?
Nuts and seeds are high in unsaturated fats and good for maintaining a healthy level of good cholesterol (known as 'HDL' cholesterol), which is beneficial for maintaining a healthy heart. As well has having other health benefits, chia seeds are an excellent source of omega-3 fatty acids, which may help to lower our risk of heart disease. They're also rich in antioxidants, which can help to keep our body cells healthy.
The berries also taste great in this recipe and contain a range of important nutrients including potassium, magnesium and calcium, as well as vitamins A, C, E and most of our B vitamins. As well as being a great diary-free alternative for the curry recipe, coconut milk works really well in this type of recipe. Plant-based milks like this can often have as much calcium and vitamin D as cow's milk if they're fortified, so checking food labels is important to help make sure you're getting enough to keep your bones and teeth healthy.
---
Do you know how healthy you truly are? Bupa health assessments give you a clear overview of your health and a view of any future health risks. You'll receive a personal lifestyle action plan with health goals to reach for a happier, healthier you.
Statistics. The Vegan Society. www.vegansociety.com, published 2019
Qian et al. Association Between Plant-Based Dietary Patterns and Risk of Type 2 Diabetes. A Systematic Review and Meta-analysisJAMA Intern Med. 2019;179(10):1335-1344. doi:10.1001/jamainternmed.2019.2195
Plant‐Based Diets Are Associated with a Lower Risk of Incident Cardiovascular Disease, Cardiovascular Disease Mortality, and All‐Cause Mortality in a General Population of Middle‐Aged Adults. American Heart Association www.ahajournals.org ,published 2019
Turner-McGrievy et al. A plant-based diet for overweight and obesity prevention and treatment. Journal of Geriatric Cardiology. J Geriatr Cardiol. 2017 May; 14(5): 369–374. doi: 10.11909/j.issn.1671-5411.2017.05.002
Poore & Nemecek. Reducing food's environmental impacts through producers and consumers. Science 01 Jun 2018: Vol. 360, Issue 6392, pp. 987-992. DOI: 10.1126/science.aaq0216
Effects of dietary fats on blood lipids. Open Heart British Medical Journal. www.bmj.com, published 2018
Poirier et al. Obesity and cardiovascular disease. Circulation vol. 113 issue 16. 2006 Feb 14;113(6):898-918. Epub 2005 Dec 27
Plant-based diet factsheet. The Association of UK Dietitians. www.bda.uk.com, accessed January 2020
Dietary fibre and risk of colorectal cancer. British Medical Journal. www.bmj.com, published 2011
Aykan. Red meat and colorectal cancer. Oncol Rev. 2015 Feb 10; 9(1): 288. Published online 2015 Dec 28. doi: 10.4081/oncol.2015.288
Heart Health. The Association of UK Dietitians. www.bda.uk.com, accessed January 2020
Calcium Food Fact Sheet. The Association of UK Dietitian. www.bda.uk.com, review date July 2017
Protein and amino acid requirements in human nutrition. Pg 13-15. World Health Organisation. www.apps.who.int, published 2007
The Eatwell Guide. GOV.UK. www.gov.uk , accessed January 2020
Healthy eating: Food fact sheet. The Association of UK Dietitians. www.bda.uk.com, accessed January 2020
Understanding your cholesterol levels. Patient info. www.patient.info, published September 2017
Healthy eating for vegans and vegetarians. British Nutrition Foundation. www.nutrition.org.uk, accessed January 2020
Phytochemical profile and nutraceutical potential of chia seeds (Salvia hispanica L.) by ultra high performance liquid chromatography. Journal of Chromatography A. Volume 1346, 13 June 2014, Pages 43-48. doi: 10.1016/j.chroma.2014.04.007
Chia seeds as a source of natural lipid antioxidants. Journal of the American Oil Chemists' Society. May 1984, Volume 61, Issue 5, pp 928–931
Fruit and vegetables. British Nutrition Foundation. www.nutrition.org.uk, accessed January 2020
Protein. British Nutrition Foundation. www.nutrition.org.uk, accessed January 2020
About our health information
At Bupa we produce a wealth of free health information for you and your family. This is because we believe that trustworthy information is essential in helping you make better decisions about your health and wellbeing.
Our information has been awarded the PIF TICK for trustworthy health information. It also follows the principles of the The Information Standard.
Did you find our advice helpful?
We'd love to hear what you think. Our short survey takes just a few minutes to complete and helps us to keep improving our healthy lifestyle articles.
Legal disclaimer
This information was published by Bupa's Health Content Team and is based on reputable sources of medical evidence. It has been reviewed by appropriate medical or clinical professionals and deemed accurate on the date of review. Photos are only for illustrative purposes and do not reflect every presentation of a condition.
Any information about a treatment or procedure is generic, and does not necessarily describe that treatment or procedure as delivered by Bupa or its associated providers.
The information contained on this page and in any third party websites referred to on this page is not intended nor implied to be a substitute for professional medical advice nor is it intended to be for medical diagnosis or treatment. Third party websites are not owned or controlled by Bupa and any individual may be able to access and post messages on them. Bupa is not responsible for the content or availability of these third party websites. We do not accept advertising on this page.