Knee pain is very common and is thought to affect 1 in 4 adults. It can be caused by several different things and there are lots of treatment options. So, what's the best way to treat your knee pain? Here, I describe some of the different causes and ways you can treat knee pain.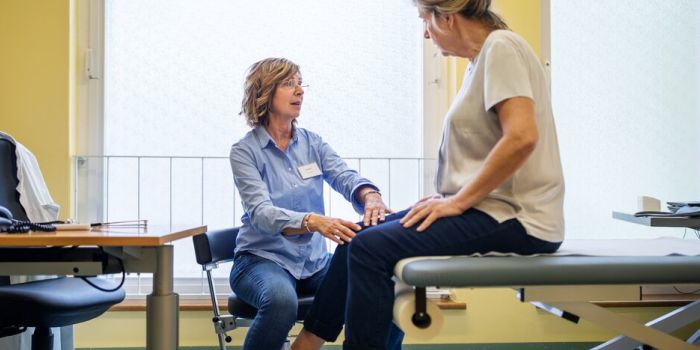 What causes knee pain?
Some causes of knee pain include:
Who can treat knee pain?
If your knee is sore, you may decide to see your GP. Your GP will examine both of your knees and ask about your history of knee pain, to try and work out what's causing the pain.
Your GP will usually refer you to another healthcare service, depending on what they suspect the problem may be. In some situations, they'll refer you to a specialist. If you have osteoarthritis, for example, they may refer you to a musculoskeletal clinic or physiotherapist.
Conservative treatment, including physiotherapy, is usually recommended as a first step to treat knee pain. This is because most people recover well using non-invasive therapy. But if your knee pain is severe, ongoing or affects your normal daily activities, you may be referred to a surgeon.
Which treatment is best for knee pain?
The best treatment for knee pain might be different for different people. For example, two people with the same knee injury may have very different levels of activity or pain thresholds. So, treatment options will differ, depending on what's best for each person.
Many knee injuries can be successfully treated with optimal loading, support for the joint, and physiotherapy. Ice can help ease pain, but it might not help with the swelling.
How can I treat knee pain?
The treatment and management options that you'll need for your knee pain will depend on what's causing it. The options are:
self-help
physiotherapy
medicines
surgery
Self-help for knee pain
If you have a minor injury, you may be able to manage it at home until the pain goes away. Your doctor or physiotherapist may recommend resting your leg and using ice packs. Try to avoid heavy lifting if this makes your pain worse. But heavy lifting can also help your recovery if the pain is controlled.
You may find that low-impact exercise, such as swimming or cycling, helps with long-term pain. A physiotherapist will also be able to suggest exercises that can help your strength and balance. Try to avoid activities that make the pain worse.
For some causes of knee pain, wearing inserts (orthoses) may change how weight is loaded on your knee, which might reduce pain. If you're overweight, it can help to lose weight so you don't put as much pressure on your knee joint. This pressure can also cause changes in the cartilage in your knee. Losing weight may also reduce inflammation, which could ease your symptoms, as well as slowing down the changes to the cartilage in your knee.
Physiotherapy for knee pain
Physiotherapy is an important treatment for many knee injuries. The aim is to reduce pain and help your knee recover strength, stability, range of movement and overall function. This might involve strengthening of the muscles in your legs, as well as your buttocks, abdomen, pelvis and back (your trunk muscles). A physiotherapist can also help you change the way you run (your running gait) if this is causing your knee pain.
A combination of approaches – such as taping, exercises and manual therapy – might help reduce pain. Your physiotherapist will work closely with you to create a programme that best suits your needs and could help prevent knee pain in the future.
Medicines for knee pain
The main groups of medicines you can take for knee pain are painkillers and anti-inflammatories. In the early stages, it's best to avoid anti-inflammatories as they can slow tissue healing.
Surgery for knee pain
If you have a severe injury to your knee or other treatments haven't worked, you may need surgery. You may need surgery if, for example, you've torn a ligament in your knee and are very physically active.
---
If you have a muscle, bone or joint problem, our direct access service aims to provide you with the advice, support and treatment you need as quickly as possible. If you're covered by your health insurance, you'll be able to get advice from a physiotherapist usually without the need for a GP referral. Learn more today.
Knee pain. MSD Manual. msdmanuals.com, last reviewed October 2021
Osteoarthritis: what is it? NICE Clinical Knowledge Summaries. cks.nice.org.uk, last revised October 2022
Knee pain. NICE Clinical Knowledge Summaries. cks.nice.org.uk, last revised August 2022
Jumper's knee. MedScape. Emedicine.medscape.com, updated 11 March 2019
Patellofemoral syndrome clinical presentation. MedScape. Emedicine.medscape.com, updated January 2023
Knee pain. Patient. Patient.info/doctor, last edited February 2022
Causes of knee pain. NICE Clinical Knowledge Summaries. cks.nice.org.uk, last revised August 2022
Gout and pseudogout. MedScape. emedicine.medscape.com, updated January 2023
Bursitis. Medscape. emedicine.medscape.com, updated September 2022
Osteoarthritis. NICE Clinical Knowledge Summaries. cks.nice.org.uk, last revised October 2022
Meniscal injury. MedScape. emedicine.medscape.com, updated November 2021
What is knee pain? Versus Arthritis. Versusarthritis.org, accessed January 2023
How does physiotherapy treat knee pain? Chartered Society of Physiotherapy. csp.org.uk, last reviewed March 2020
Anterior knee pain. Patient. Patient.info/doctor, last edited May 2021
Knee ligament injuries. Patient. Patient.info/doctor, last edited August 2022
Anterior cruciate ligament injury. BMJ Best Practice. bestpractice.bmj.com, last reviewed December 2022
Singh DP, Lonbani ZB, Woodruff MA. Effects of Topical Icing on Inflammation, Angiogenesis, Revascularization, and Myofiber Regeneration in Skeletal Muscle Following Contusion Injury. Front Physiol 2017;8:93. Doi: 10.3389/fphys.2017.00093
Barton CJ, Lack S, Hemmings S, Tufail S, Morrissey D. The 'Best Practice Guide to Conservative Management of Patellofemoral Pain': incorporating level 1 evidence with expert clinical reasoning. Br J Sports Med 2015;49:923-34. Doi:10.1136/bjsports-2014-093637
Vincent HK, Heywood K, Connelley J, Hurley JW. Weight Loss and Obesity in the Treatment and Prevention of Osteoarthritis. PM R 2012;4:S59-67. doi:10.1016/j.pmrj.2012.01.005
Nedunchezhiyan U, Varughese I, Sun AR, Wu X, Crawford R, Prasadam I. Obesity, Inflammation, and Immune System in Osteoarthritis. Front Immunol 2022;13:907750. doi: 10.3389/fimmu.2022.907750
Bliddal H, Leeds AR, Christensen R. Osteoarthritis, obesity and weight loss: evidence, hypotheses and horizons – a scoping review. Obes Rev 2014;15:578-86. doi: 10.1111/obr.12173
Collins NJ, Barton CJ, van Middelkoop M et al. 2018 Consensus statement on exercise therapy and physical interventions (orthoses, taping and manual therapy) to treat patellofemoral pain: recommendations from the 5 International Patellofemoral Pain Research Retreat, Gold Coast, Australia, 2017. Br J Sports Med 2018;52:1170-1178. doi: 10.1136/bjsports-2018-099397
Logan CA, Bhashyam AR, Tisosky AJ et al. Systematic Review of the Effect of Taping Techniques on Patellofemoral Pain Syndrome. Sports Health 2017;9:456-461. doi: 10.1177/1941738117710938
About our health information
At Bupa we produce a wealth of free health information for you and your family. This is because we believe that trustworthy information is essential in helping you make better decisions about your health and wellbeing.
Our information has been awarded the PIF TICK for trustworthy health information. It also follows the principles of the The Information Standard.
More discover articles...
Did you find our advice helpful?
We'd love to hear what you think. Our short survey takes just a few minutes to complete and helps us to keep improving our healthy lifestyle articles.
Legal disclaimer
This information was published by Bupa's Health Content Team and is based on reputable sources of medical evidence. It has been reviewed by appropriate medical or clinical professionals and deemed accurate on the date of review. Photos are only for illustrative purposes and do not reflect every presentation of a condition.
Any information about a treatment or procedure is generic, and does not necessarily describe that treatment or procedure as delivered by Bupa or its associated providers.
The information contained on this page and in any third party websites referred to on this page is not intended nor implied to be a substitute for professional medical advice nor is it intended to be for medical diagnosis or treatment. Third party websites are not owned or controlled by Bupa and any individual may be able to access and post messages on them. Bupa is not responsible for the content or availability of these third party websites. We do not accept advertising on this page.