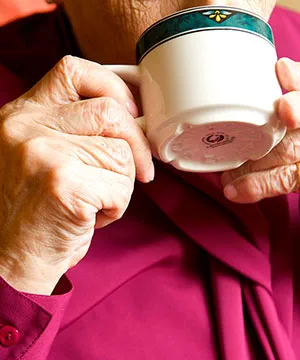 Growing older can be difficult, especially if your loved one develops a condition or illness. If everyday tasks start to become a struggle, you might want to consider their elderly care and support options.
Many people consider moving into a care home as a last resort. You might feel like you're suggesting your loved one loses some of their independence. Our care homes are designed to improve residents' quality of life. They're able to keep their freedom whilst our team are there to offer a helping hand when they need it.
It's important to understand the options available so you can find the best care. Residential care homes and nursing homes are both popular types of elderly care, but people commonly mistake the two.
Read our guide to understanding nursing and residential care to help you make the decision about the level of care your loved one needs.
What is a residential care home?
A residential care home is a secure and safe place where your loved one can receive 24-hour personal care and support. There are always trained staff around to look after residents day and night to make sure their personal needs are taken care of.
In a residential care home, your loved one's care will be tailored around their needs. You can ensure your loved one will be able to:
do the activities they enjoy
eat the foods they like
go to bed at their preferred time
Your loved one's comfort is our number one priority. The care home team will try their best to make sure residents don't have to make too many changes to their usual routine after moving in.
Residents are also encouraged to bring personal possessions and take part in group activities to help them feel at home. The care home team are there to provide support with:
meals
bathing
taking medication
While the staff are there to give personal support, they'll also respect residents' privacy. Our care homes were created with independence in mind to help our residents maintain their dignity and mobility.
What is a nursing care home?
Nursing care homes are similar to residential care homes, but with trained nurses on duty. You might want to consider a nursing home if your loved one has a condition that needs regular medical attention.
The staff will be there to give 24-hour support and personal care to take the edge off the everyday struggles that come with developing a condition. The nurses and carers make sure they get to know residents and treat them with respect to make their time at the nursing home as comfortable as possible.
If your loved one moves into one of our nursing care homes, we'll work with you both to create a personal care plan. This will recognise their individual needs and wishes to make sure their life in the home suits their personal preferences. The plan will also document the medical care they need.
There's normally a choice between long and short-term care options for residents.
Nursing homes often provide specialist care for specific conditions and events, such as:
dementia
Huntington's disease
Parkinson's disease
strokes
post-operative care
Choosing the right care home for your loved one's needs can be an emotional decision. Asking the staff questions about what to expect and any concerns you have will help you to understand what life in the home will be like for your loved one.
Working with the care home team to build a care plan will allow your loved one to carry on with their life as normally as possible.
Our team want to make moving into a care home as easy as they can for your loved one. They'll be able to give you advice on the things they need to bring, and provide a helping hand when they're settling in and making friends with other residents.
Find out more about the different types of elderly care we provide.