Helping your loved one with dementia in daily life
Your role in the life of your loved one may become more involved if their dementia advances. We understand that doing everything you can to help them maintain a level of happiness and independence is so important, for both you and your loved one.
Everyone's dementia journey will differ, but what is common in every case is that anyone can still live well with the right help.
We've put together a set of useful, actionable tips for each element of your loved one's daily routine, so that you'll feel prepared for whatever's around the corner.
How to help someone with dementia
The early stages of dementia might include changes in memory, emotion or concentration, which could impact everyday activity, while the more advanced stages could affect someone with dementia in physical ways too. This could include continence, weight loss due to changes in appetite, or mobility issues, depending on the severity and type of dementia. Small changes such as those detailed below can make a real difference in improving the quality of life for your loved one.
Facts and figures on dementia
An estimated 1 in 3 people will care for someone with dementia in their lifetime2
700,000
informal carers1
920,000
people with dementia in the UK 1
of carers are most worried about their loved one's safety3
Dressing
Establish a regular time for dressing each day, as this can provide comfort for your loved one.
Keep choices simple and specific, for example 'Would you like to wear trousers or skirt?' instead of 'What do you want to wear today?' Visual prompts can help with decision making.
Using zips or buttons may become difficult, consider adapting your loved one's clothes fastenings with easier fixtures such as Velcro or elastic.
Lay clothes out in a row in order of dressing e.g. underwear first. Jumper last.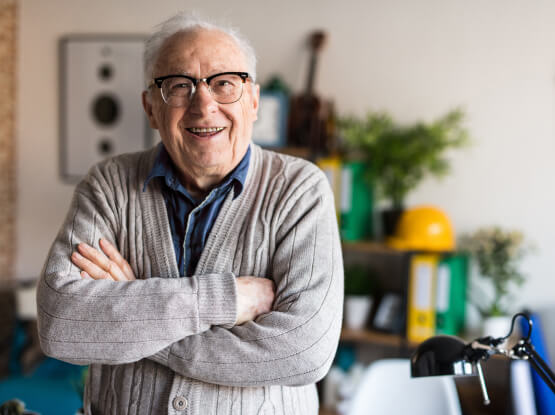 Washing
Let your loved one be involved in decisions, such as their preference for a bath or a shower, whether they would like to wash their hair today.
Explain everything you're doing while helping, so that they can stay involved even while they need assistance.
For washing hair, it may be easier to use a hand-held shower or to rinse it in a sink.
Their preferences might change from day to day; go with the flow as it will reduce any stress for both of you.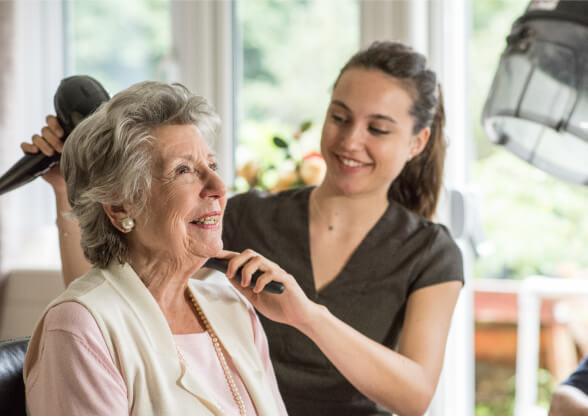 Eating and drinking
Allow your loved one to eat independently if possible – taking your time with gentle prompts might be enough encouragement.
Think about adding grips to cutlery for easier use, to avoid accidents and unnecessary stress.
You can also cut down on spills with non-slip placemats, plates and bowls with raised sides.
Visual or sensory clues can signal to your loved one that it's time to eat, such as setting the table or making them aware of the cooking aroma.
Encourage feelings of independence by focusing on the things your loved one can do.
Using the toilet
Keep the toilet door open, or help it stand out with written or visual signage.
Work out when you may need to step in and help and when to allow for privacy./li>
An assessor may recommend installing handrails, raised seats or a commode to make life easier.
If your loved one experiences continence issues, speak to the GP who can refer you to a continence advisor.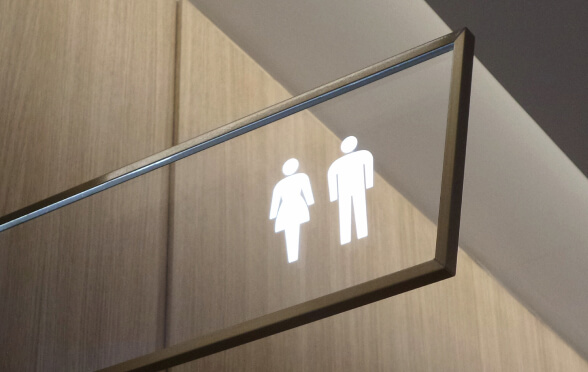 Having conversations
If your loved one finds background noise and large groups distracting, you could try small group activities and clubs or 1:1 conversation.
Speak slowly, use shorter sentences and give them time to reply.
Try to speak conversationally, using their name often.
Physical contact can be helpful e.g.: holding their hand if it feels right.
Ask closed questions, which can be answered with a yes or no, one at a time.