Lower back pain is very common – around 6 in 10 people will get it at some point during their life. In most cases, back pain gets better within a few weeks with some simple self-help measures. You may not need to have treatment. But sometimes, your pain may last longer and affect your daily life and work. You may feel low or emotional, which can make your pain feel worse.
Treatments for back pain can involve both physical and mental techniques. Here I'll explain how staying active and adopting a positive outlook can help you to manage your back pain and get better more quickly.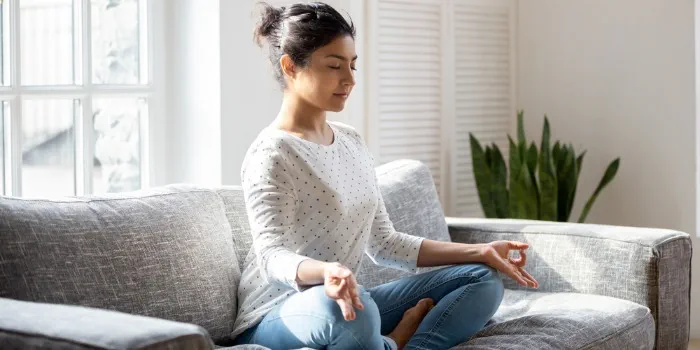 How do emotions affect back pain?
How you feel and respond to pain is a really complex process. There's the physiological process – what's happened in your body to cause the pain. And there's the psychological process – how your brain reacts to the pain. Your pain may be very real. But your perception of it (how bad it feels) and its impact on you are strongly influenced by your feelings, attitudes and beliefs.
For example, you may notice that your pain can feel worse if you focus on it or feel negatively about it. Your pain will also have a greater impact on your daily life if you're feeling stressed or low. If you avoid the activities that you think are related to your pain, this can make your recovery take longer.
There is plenty of research on certain things which can slow your recovery. Here are some examples.
Believing that pain and activity are harmful. These may be your own beliefs, but they can be reinforced by people who may be trying to protect you.
Negative actions can reinforce the belief that you're unwell – for example, staying in bed for a long time.
Having a low or negative mood, depression, anxiety or stress.
Having low expectations of how well treatment will work.
Relying too much on treatments that don't help you to slowly increase your physical activity levels and emotional resilience. Examples of these treatments include painkillers, hot and cold packs, massage and electrotherapy.
Managing your emotions and feelings to relieve back pain
Managing your feelings and beliefs about your back pain can help you to work through your pain and get back to normal. This is known as psychological therapy. There are different approaches to treatment, which may focus on the following areas.
Your behaviour and actions – looking at the things you're currently doing to manage your pain and how you may be able to improve this.
Your thoughts and feelings – aiming to identify and change the negative feelings you may have about your pain and how to deal with it.
Your body's response to pain – learning strategies to manage your body's reaction to pain, such as tension in your muscles.
Psychological therapy is more likely to help with your pain than just using standard medical treatments and physiotherapy alone.
How to start therapy for back pain
If your back pain continues, speak to a GP. They can advise what treatment is best for you. They will ask about your symptoms and how you're managing with your pain. A GP may recommend you try talking therapies, and physiotherapy. Who you'll see or where you'll go for this treatment will depend on the services available in your area.
A GP may be able to refer you to a pain clinic at your local hospital. Pain clinics involve teams of health professionals, including doctors, psychologists and physiotherapists. They often run specific group-based pain management programmes for people with similar problems.
Or, a GP may refer you to a physiotherapist who can provide a combination of both physical and mental treatments.
Types of talking therapies
Two examples of talking therapies are cognitive behavioural therapy (CBT) and acceptance and commitment therapy (ACT). Rather than focussing on trying to reduce pain, these can help you manage it.
In CBT, your therapist helps you to think differently about your pain and to develop strategies for carrying out your daily activities.
ACT is a development of CBT and includes mindfulness to help you accept the situation rather than living with pain and trying to avoid it. There is some evidence that it can make your pain feel less severe.
You can have either CBT or ACT individually or as part of a group.
What will happen in talking therapy for back pain?
During therapy such as CBT or ACT, you'll be taught to identify things that cause your pain or make it worse. Your treatment may involve one or more of the following.
Putting strategies in place to help you manage your back pain in a healthy way. This may involve removing unhelpful factors such as relying too much on painkillers. By focusing on increasing exercise instead can help you go back to your normal activities.
Identifying any negative beliefs and feelings you have about your pain. You can then work out how to change them.
Relaxation therapies, such a breathing techniques. These can help to reduce tension in your muscles and help with your pain.
Psychological therapy may not make your pain go away. But, it can help to reduce it. The therapy can also help you to manage your pain, so that you can recover faster.
---
If you have a muscle, bone or joint problem, our direct access service aims to provide you with the advice, support and treatment you need as quickly as possible. If you're covered by your health insurance, you'll be able to get advice from a physiotherapist usually without the need for a GP referral. Learn more today.
Back pain – low (without radiculopathy). NICE Clinical Knowledge Summaries. cks.nice.org.uk, last revised February 2022
Musculoskeletal lower back pain. BMJ Best Practice. bestpractice.bmj.com, last reviewed September 2020
Low back pain and sciatica. Patient. patient.info, last updated October 2020
Bartley EJ, Palit S, Fillingim RB, et al. Multisystem resiliency as a predictor of physical and psychological functioning in older adults with chronic low back pain. Front Psychol 2019; 10:1932. doi: 10.3389/fpsyg.2020.595827
Kamper SJ, Apeldoorn AT, Chiarotto A, et al. Multidisciplinary biopsychosocial rehabilitation for chronic low back pain. BMJ 2015, 350. doi: 10.1136/bmj.h444
Vinstrup J, Jakobsen M, Andersen LL. Perceived stress and low-back pain among healthcare workers: a multi-center prospective cohort study. Front Public Health, 2020; 8:297. doi: 10.3389/fpubh.2020.00297
Shipton EA. Physical therapy approaches in the treatment of low back pain. Pain Ther 2018; 7(2):127–37. doi: 10.1007/s40122-018-0105-x
Vitoula K, Venneri A, Varrassi G, et al. Behavioral therapy approaches for the management of low back pain: an up-to-date systematic review. Pain Ther 2018; 7(1):1–12. doi: 10.1007/s40122-018-0099-4
People living with pain. The British Pain Society. britishpainsociety.org, accessed March 2022
Wilson S, Chaloner N, Osborn M, et al. Psychologically informed physiotherapy for chronic pain: patient experiences of treatment and therapeutic process. Physiotherapy 2017; 103(1):98–105. doi: 10.1016/j.physio.2015.11.005
Taheri AA, Foroughi AA, Mohammadian Y, et al. The effectiveness of acceptance and commitment therapy on pain acceptance and pain perception in patients with painful diabetic neuropathy: a randomized controlled trial. Diabetes Therapy, 2020, 11(8): 1695-1708. doi: 10.1007/s13300-020-00851-9
Gomez-Perez MC, Garcia-Palacios A, Castilla D, et al Brief acceptance and commitment therapy for fibromyalgia Pain Research and Management, 2020. doi: 10.1155/2020/7897268
Low back pain and sciatica in over 16s: assessment and management. National Institute for Health and Care Excellence (NICE), nice.org.uk, last updated December 2020
Understanding and managing long-term pain. The British Pain Society. britishpainsociety.org, published October 2015
Participant information for pain management programmes. The British Pain Society. britishpainsociety.org, published November 2013
About our health information
At Bupa we produce a wealth of free health information for you and your family. This is because we believe that trustworthy information is essential in helping you make better decisions about your health and wellbeing.
Our information has been awarded the PIF TICK for trustworthy health information. It also follows the principles of the The Information Standard.
Did you find our advice helpful?
We'd love to hear what you think. Our short survey takes just a few minutes to complete and helps us to keep improving our healthy lifestyle articles.
Legal disclaimer
This information was published by Bupa's Health Content Team and is based on reputable sources of medical evidence. It has been reviewed by appropriate medical or clinical professionals and deemed accurate on the date of review. Photos are only for illustrative purposes and do not reflect every presentation of a condition.
Any information about a treatment or procedure is generic, and does not necessarily describe that treatment or procedure as delivered by Bupa or its associated providers.
The information contained on this page and in any third party websites referred to on this page is not intended nor implied to be a substitute for professional medical advice nor is it intended to be for medical diagnosis or treatment. Third party websites are not owned or controlled by Bupa and any individual may be able to access and post messages on them. Bupa is not responsible for the content or availability of these third party websites. We do not accept advertising on this page.