Expert reviewer Munet Hara, Cognitive Behavioural Therapist at Bupa
Next review due September 2023
Having a mental health problem does not stop someone with the relevant experience, skills and training being the right person for the job. The value added by people in the UK working with mental health problems is £226 billion of GDP per year.
If you're a manager, effectively supporting employees with mental health problems means you can retain them and let them work to their best.
"My mental health is part of what makes me. It's part of what makes a life – and in many cases it's part of what makes me good at the work I do." – Clare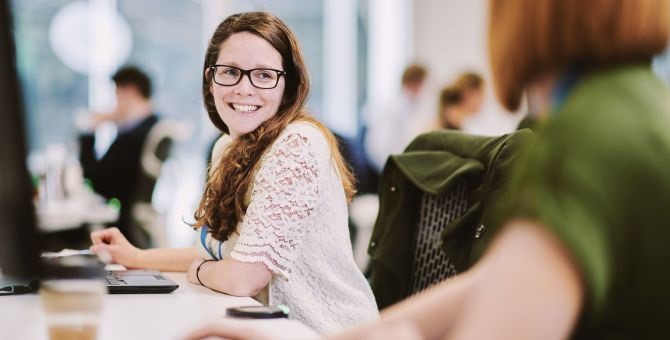 The business costs of poor mental health
If employees aren't given the right support, the business costs can mount up. Taking steps to prevent poor mental health developing is much more effective than waiting until people become ill.
Mental health problems are the leading cause of long-term sickness absence. Extended or repeated sickness absence can often be prevented by early intervention.
Employees who feel that their employers are not taking their mental health seriously are more likely to leave. This causes recruitment and training costs and loss of knowledge to the business. Increased absence and reduced productivity can see workloads grow for other colleagues, which may contribute to them having poor mental health.
If employees aren't supported to think and talk openly about mental health, they're less likely to seek support when they need it. It's estimated that reduced efficiency associated with unsupported mental health problems costs £17 to £26 billion a year.
"As a manager I would have found it helpful to understand the support mechanisms available to assist employees with mental health issues [to maintain] attendance when they are unwell rather than having to revert to sick leave, which may not be the right solution." – David A
What is our legal obligation?
Disability — either physical or mental — is a protected characteristic under the Equality Act 2010.
A problem is a disability if it has a substantial, adverse, and long-term effect on normal day-to-day activities.
A mental health problem is a disability if (without treatment or medication):
it has a medium or large effect on someone's everyday life
it makes things more difficult for them
it has lasted, or is likely to last, 12 months — or is likely to recur
A mental health problem meeting these criteria is legally recognised as a disability, regardless of whether the person actually considers it a disability.
Your organisation has a legal duty to provide reasonable adjustments to the job role or working environment, to help staff overcome any disadvantages resulting from a disability. As a manager, you may be involved in discussing these with your employer and submitting a formal request for the adjustments your employee needs.
It's illegal to ask questions about health during recruitment. It's up to candidates to decide whether they want to tell you about a mental health problem – they're not obliged at any point. If they do, employers must ensure they're treated fairly during recruitment. CIPD and Mind provide detailed guidance on fair recruitment and disclosure (PDF, 1.1MB).
You're also legally required to assess the risk of stress-related ill health and take measures to control that risk.
CIPD and Mind recommend that you take a flexible approach to reasonable adjustments. Try and offer reasonable support to all staff, whether they have a formal diagnosis or not.
What are reasonable adjustments for mental health?
A reasonable adjustment is a change to how your employee works to help them overcome any disadvantages they might face. Effective reasonable adjustments can support employees with mental health problems to work to their full capacity.
In this context, 'reasonable' is a legal term. Whether an adjustment is 'reasonable' or not depends on its effectiveness, practicality, cost, your organisation's resources, and whether any additional financial help is available. The Equality and Human Rights Commission provides more information on what counts as reasonable.
The need to make adjustments is not a legally valid reason not to promote or to dismiss an employee.
It can be difficult to know what kind of reasonable adjustments are appropriate for someone with a mental health problem. Sometimes it isn't even clear to the employee themselves what might help them.
As a manager it's important to have an open discussion about possible adjustments, with suggestions from both sides. This can help them think about what might work best for them.
Examples of reasonable adjustments
Allowing your employee to commute outside of rush hour. This may mean extending or adjusting flexible working hours.
Making changes to staff's working area. This may mean somewhere quieter or somewhere where they have more support around them.
Making a quiet room available for staff to take short breaks.
Allowing staff to take time off to attend appointments or treatment.
Changing an employee's working hours, for example to account for the short-term effects of medication.
Allowing staff to work from home sometimes, to avoid travel time or enable them to work in a more familiar environment.
Reallocating certain tasks at certain times. This may be a temporary need, for example, allowing staff to have time away from the phones sometimes.
Remembering to say 'thank you' and offer compliments on good work to prevent increased performance anxiety.
Providing written instructions for someone whose mental health problem affects their memory.
A Wellness Action Plan can help you start and structure this conversation. The better you know your staff, the easier this will be.
It's important to review reasonable adjustments regularly.
How should we manage underperformance?
Most organisations have procedures to help them deal with underperformance. But many employees feel unable to disclose a mental health problem and do not receive appropriate support. In these cases, your approach to underperformance may not recognise or deal with health factors.
You should explore health factors in underperformance before any formal processes. It may be that appropriate reasonable adjustments can address the problem. If the underlying causes of poor performance are not addressed, the problem is unlikely to go away through a formal underperformance management process.
Staff should not be forced to disclose any mental health problems. But they should be given space to talk about things they feel may be affecting their performance. Our information on dealing with disclosure may help when having this conversation.
If your employee does tell you about a mental health problem that they feel is contributing to their performance, you should set up a Wellness Action Plan and put reasonable adjustments in place before reviewing their performance further.
How should we manage absence as a result of mental health problems?
As with physical health, mental health related absence is sometimes unavoidable.
It's important to have clear policies and procedures in place. This helps to ensure managers have a consistent approach and employees know what to expect.
Our information on managing time off and supporting return to work has more information on how to support employees during absence.
Highly Commended in Wellbeing in the 2019 BMA Patient Information Awards
Did our information help you?
We'd love to hear what you think. Our short survey takes just a few minutes to complete and helps us to keep improving our health information.
About our health information
At Bupa we produce a wealth of free health information for you and your family. This is because we believe that trustworthy information is essential in helping you make better decisions about your health and wellbeing.
Our information has been awarded the PIF TICK for trustworthy health information. It also follows the principles of the The Information Standard.
Added value: mental health as a workplace asset. Mental Health Foundation. www.mentalhealth.org.uk, accessed May 2020
Health and wellbeing at work survey 2020. Chartered Institute of Personnel Development (CIPD). www.cipd.co.uk, accessed May 2020
Henderson M, Harvey S, Øverland S, Mykletun A, Hotopf M. Work and common psychiatric disorders. Journal of the Royal Society of Medicine. 2011;104(5):198-207. doi:10.1258/jrsm.2011.100231
de Graaf R, Tuithof M, van Dorsselaer S. et al. Comparing the effects on work performance of mental and physical disorders. Soc Psychiatry Psychiatr Epidemiol (2012) 47: 1873. doi:10.1007/s00127-012-0496-7
Stevenson, Farmer. Thriving at work; The Stevenson-Farmer review of mental health and employers: Cost to Employers. www.gov.uk, published October 2017
Equality Act 2010. www.legislation.gov.uk, accessed 10 July 2020
Management standards for tackling work related stress. Health and Safety Executive. www.hse.gov.uk, accessed May 2017
Advice and guidance: what do we mean by reasonable? The Equality and Human Rights Commission. www.equalityhumanrights.com, last updated 19 Feb 2019
People managers' guide to mental health. Chartered Institute of Personnel Development (CIPD). www.cipd.co.uk, published September 2018

Reviewed by Clare Foster, Freelance Health Editor, and Abbey Stanford, Specialist Health Editor, Bupa Health Content Team, September 2020
Expert reviewer, Munet Hara, Cognitive Behavioural Therapist at Bupa
Next review due September 2023
Legal disclaimer
This information was published by Bupa's Health Content Team and is based on reputable sources of medical evidence. It has been reviewed by appropriate medical or clinical professionals and deemed accurate on the date of review. Photos are only for illustrative purposes and do not reflect every presentation of a condition.
Any information about a treatment or procedure is generic, and does not necessarily describe that treatment or procedure as delivered by Bupa or its associated providers.
The information contained on this page and in any third party websites referred to on this page is not intended nor implied to be a substitute for professional medical advice nor is it intended to be for medical diagnosis or treatment. Third party websites are not owned or controlled by Bupa and any individual may be able to access and post messages on them. Bupa is not responsible for the content or availability of these third party websites. We do not accept advertising on this page.
For more details on how we produce our content and its sources, visit the About our health information section.
^We may record or monitor our calls