Expert reviewer, Glenys Jackson, Clinical Lead for Mental Health at Bupa UK
Next review due September 2023
Do you know how work can affect your mental health? How are things in your team right now? This information helps you to understand more about the current situation in your workplace.
Or download and print our quick guide for managers on mental health in the workplace.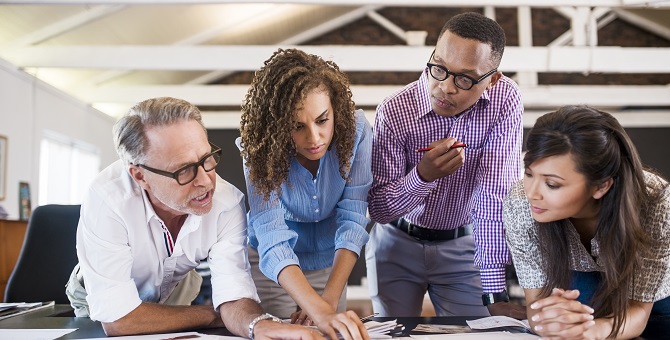 What affects our mental health at work?
Poor working practices can impact and affect our mental health, contribute to the development of specific problems and can make existing conditions worse.
Research suggests there are three broad overlapping areas that affect workplace mental health.
1. Lack of value and respect in the workplace
Workplace conflict/bullying can increase symptoms of depression, anxiety and stress-related problems.
Injustice in the workplace. If your workplace doesn't distribute resources and benefits fairly, there may be an increased likelihood of mental health problems among staff.
Lack of respect or lack of good information from management about workplace procedures are also linked to mental health problems.
Feeling underappreciated or under-rewarded. If employees feel that the reward they get for their work is lower than the effort they put in, they may be more at risk of common mental health problems and increased stress.
2. Imbalanced job design
Atypical working hours, particularly long working hours, are associated with symptoms of depression.
Job demands and control. Employees with low control over work and hours combined with a high workload and time pressure have an increased risk of mental health problems and reduced wellbeing.
Lack of social support in the workplace can make these problems worse.
3. Occupational uncertainty
Organisational change and job insecurity are both related to poor mental health.
Temporary contracts. There is also a link between temporary contracts and mental health problems.
Role stress or lack of clarity about a role. This means employees don't have enough information about the responsibilities and objectives of their role. It can lead to symptoms of depression.
The work environment may also play a part, so it's important to think about this too.
How are things in my team at the moment?
Managers play an important role in supporting staff wellbeing and promoting good mental health in the workplace. You can improve working practices, encourage your team to speak openly, and reassure them you will offer the support they need. Support and guidance is available to help you do this right.
Before you start, it's worth thinking about how things are right now in your team.
The questions below might help. A workplace mental health audit may also make things clearer.
What are the current levels of knowledge and awareness in the team?
What do you know about mental health, diagnosed conditions and the signs of poor mental health?
Do you think you, or other staff, would notice if someone else in the team was having difficulty with their mental health?
Do you and your team know about any mental health policies, support, advice and guidance the organisation has?
Do you hear staff using stigmatising language or making assumptions about people with mental health problems?
Do your team understand the importance of looking after their mental health?
Are any of the team currently having difficulties?
Are any of your team having difficulties with their mental health at the moment?
Do any of your team have a diagnosed mental health problem? How are they supported? Do you know how they're managing right now?
Would you know for sure if someone's sick leave was related to their mental health?
If anyone is off sick because of their mental health, are you confident in how to support them during their absence? Do you have a plan in place to support their return to work?
Do you talk about mental health or workplace difficulties within the team?
Do you feel your team members can approach you about problems and worries? How often do they actually do this?
Do you ask your team members how they're doing in one-to-one meetings?
Do you talk about mental health and wellbeing in team meetings?
What support is available?
Does your organisation have an employee advice/support programme (EAP)? Does anyone use it? Do you tell your staff about it?
Do you use Wellness Action Plans with your team?
Does your organisation have a mental health policy?
Do you offer regular one-to-ones and team meetings? How often do these actually take place?
Do you run any other initiatives to promote good mental health in the team or as part of the wider organisation? Do your team feel able to attend?
Does your organisation have trained Mental Health First Aiders?
How confident do you feel as a manager?
Have you had any training related to mental health?
Do you feel confident talking about your own mental health and how you look after it?
Do you feel confident asking your team for feedback about the support you provide?
Do you feel confident in supporting a staff member who disclosed a mental health problem to you?
How confident do you feel managing mental health related absence?
"As a manager, I would have found it helpful to understand the support mechanisms available to assist employees who have a mental illness. In particular, to assist such employees maintaining attendance when they are unwell rather than having to revert to sick leave, which may not be the right solution." – David
Most people find that there's still more to be done. Our information on improving mental health within your team might help.
Running a mental health and wellbeing audit
A good way of finding out about the mental health and wellbeing picture in your organisation is to run an audit.
An audit helps you get an accurate picture of the current situation in your workplace. It usually consists of a review of current policies and an anonymous staff survey. You may also choose to conduct confidential interviews with employees who've experienced mental health problems while working for you.
Some organisations will run an internal audit. Others will choose to employ an independent consultant to ensure confidentiality and impartiality for staff.
Why run an audit?
Even with the best intentions, senior management don't always have a clear picture of what's going on in their organisation. Everyone will have a different experience, and an audit helps managers understand the actual experience of mental health support on the ground.
Research by Business in the Community has shown that 39 per cent of employees have experienced poor mental health in work.
64 per cent of respondents to a Time to Change survey said they went into work even when experiencing poor mental health, with their performance being affected.
30 per cent felt that they wouldn't be able to talk openly with their line manager if they were feeling stressed, and only half knew where to find mental health policies or information on support.
A mental health audit or review can help you understand where the gaps in training, information and support really are. It can give staff a chance to share information about their mental health anonymously. It can also provide you with a baseline against which you can evaluate any measures you put in place.
Who will run the audit?
Will staff be comfortable with an internal audit? How will you ensure that anonymity and confidentiality are preserved? The charity Mind can help you set up an audit as part of their Workplace Wellbeing Index. Alternatively, you can employ an external consultant.
How will we gather information and what will we include?
A policy and procedures review
These are some helpful questions to include in a policy and procedures review.
Is stress included in your health and safety policy? The Health and Safety Executive has more information.
Do you have a separate mental health policy? Does this include promoting staff wellbeing as well as managing mental health problems?
Does the organisation have a mental health and wellbeing at work programme to support and promote effective mental health engagement?
What are current levels of sickness absence for mental health? Bear in mind that these may not be accurate if employees choose not to disclose.
Do you have guidance for managers about managing mental health, mental health-related sickness absence and return to work?
How are managers trained?
Do employees receive any training or guidance about managing mental health at work?
Does your organisation use Wellness Action Plans?
An anonymous (or confidential) staff survey
Think about how you'll ensure employees feel confident answering the survey. If you have employees who are not based at a computer, how will you ensure they have access to the survey? You may wish to ask some of the following questions.
Have you experienced stress, low mood or a mental health problem while employed at your organisation?
What affects your mental health at work?
Have you taken time off for stress, low mood or a mental health problem – and if so did you disclose the real reason?
Have you disclosed this to a manager – and if so, did you get the support you wanted?
Do you feel confident talking to your manager about your mental health?
Are you aware of or have you accessed existing policies and initiatives?
As a line manager, do you feel you've been given sufficient training and guidance on how to support your team?
Do you think the organisation supports employees with mental health problems?
Do you want to give any more information and/or would you be comfortable taking part in a confidential interview?
It may also help to provide a comments box where staff can submit anonymous written comments and experiences.
Confidential interviews
Interviews with staff who have experienced mental health problems can be a good way to help you understand employees' experiences in more detail. It's often easier to include interviews in your audit if you employ an external consultant.
Communicating with employees throughout the process
Your employees need to understand the benefits of taking part, what will be done with the information they provide, and how the results will be used. It's important that staff feel it's a worthwhile exercise and part of a wider commitment to mental health. You could consider making an organisational pledge as part of this commitment. But be careful not to force or coerce employees into participating.
Use the results to develop a clear action plan with timescales and ongoing 'temperature checks' to assess how things are going.
Show employees you're planning to take tangible action as a result of their feedback. Have a look at our information on what organisations can do to improve employees' mental health.
Show employees what action you have taken and how their involvement changed things for the better.
Highly Commended in Wellbeing in the 2019 BMA Patient Information Awards
Did our information help you?
We'd love to hear what you think. Our short survey takes just a few minutes to complete and helps us to keep improving our health information.
About our health information
At Bupa we produce a wealth of free health information for you and your family. This is because we believe that trustworthy information is essential in helping you make better decisions about your health and wellbeing.
Our information has been awarded the PIF TICK for trustworthy health information. It also follows the principles of the The Information Standard.
Harvey SB, Modini M, Joyce S, et al. Can work make you mentally ill? A systematic meta-review of work-related risk factors for common mental health problems. Occup Environ Med 2017; 74:301-310. doi:10.1136/oemed-2016-104015
How to take stock of mental health in your workplace. Mind. www.mind.org.uk, accessed May 2020
Mental health at work survey report. Business in the Community (2019) www.bitc.org.uk, published 29 October 2019
Creating mentally healthy workplaces, what employees say and how employers can improve. Time to Change. www.time-to-change.org.uk, published 2016

Reviewed by Clare Foster, Freelance Health Editor, and Natalie Heaton, Specialist Health Editor, Bupa Health Content Team, September 2020
Expert reviewer, Glenys Jackson, Clinical Lead for Mental Health at Bupa UK
Next review due September 2023
Legal disclaimer
This information was published by Bupa's Health Content Team and is based on reputable sources of medical evidence. It has been reviewed by appropriate medical or clinical professionals and deemed accurate on the date of review. Photos are only for illustrative purposes and do not reflect every presentation of a condition.
Any information about a treatment or procedure is generic, and does not necessarily describe that treatment or procedure as delivered by Bupa or its associated providers.
The information contained on this page and in any third party websites referred to on this page is not intended nor implied to be a substitute for professional medical advice nor is it intended to be for medical diagnosis or treatment. Third party websites are not owned or controlled by Bupa and any individual may be able to access and post messages on them. Bupa is not responsible for the content or availability of these third party websites. We do not accept advertising on this page.
For more details on how we produce our content and its sources, visit the About our health information section.
^We may record or monitor our calls