Living in lockdown is necessary to keep ourselves and others safe. But that's not to say it's easy. We're all feeling a sense of daily déjà vu. Life feels monotonous and it's hard to look forward to things. So how can we manage, cope and perhaps overcome it?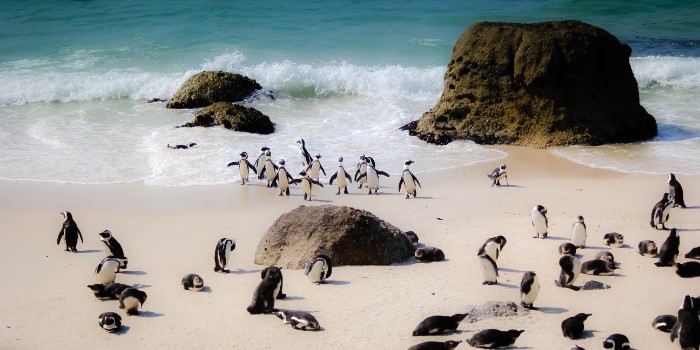 Among many things, one reason why we may be struggling is because lockdown has reduced our opportunity to feel a sense of awe. There is, of course, the bigger picture of months of uncertainty and being separated from loved ones that's taken its toll. But here I look specifically at awe and how it can help us feel better.
What is awe?
Awe is when you feel a sense of wonder at something. Some experts define it as 'vastness' – an experience that feels bigger than yourself. In basic terms, it's anything that goes beyond your normal level of experience.
What can induce feelings of awe?
There are so many different things that can make us feel awe. A beautiful painting or piece of music. An impressive building or inspiring speech. A hopeful sunrise or dramatic sunset. Watching the waves of the sea. Looking for shooting stars.
What effect does awe have on us?
Research has suggested that feeling a sense of awe can nurture and improve our sense of wellbeing in a variety of ways.
Physical effects
One study found that by simply looking at awe inspiring images, it activated parts of people's nervous system that control relaxation levels.
Another study found that when people listened to certain clips of film and music, they got goose bumps and described a feeling of 'being moved.'
Other research suggested a possible association between feeling a sense of awe and lower inflammation in the body.
Psychological effects
Research suggests that awe may make you feel less aware of yourself and move your focus away from your immediate and personal worries.
Awe has also been linked to feeling humble, kind and connected to others.
One study found that awe helped people have a more balanced view of their strengths and weaknesses. It can encourage critical thinking to think clearly and rationally.
Studies have also found links that awe may improve a sense of wellbeing, positive emotions and reduced stress.
It could also expand your sense of time. Scientists suggest this is because when you're lost in a moment, you're more able to savour the here and now. In this way, it's quite similar to mindfulness.
How does this relate to life in lockdown?
The study of awe is a relatively new area of research and it's important to know that these studies can't prove anything for certain. But it's reasonable to suggest we've not had the same chances to feel awe over the course of the pandemic. Our worlds have become smaller and more restricted in lockdown.
Many activities that encourage a sense of awe – seeing live music, going to art galleries or on holiday, for example – have had to be put on hold. The things we used to do to break up our day-to-day lives, to distract and delight us, aren't available for the time being. But that's not to say we can't find ways to bring a bit more awe into our current living situation. Here are a few ideas.
Go for an 'awe walk' in nature
Putting yourself in nature is one of the quickest ways to ignite a sense of wonder. Rediscover your local areas of natural beauty. Look at the trees, the water, the grass, the wildlife and the sky. Even a walk to your local park on your lunch break is a great way to connect with nature. Seek out a sunset or get up early to catch a sunrise.
Write down the things that catch your eye and capture little moments of awe.
Immerse yourself in greatness
Being inspired is another way to feel a sense of awe.
Lauren Gordon, Behavioural Insights Adviser, also has some great tips below.
Routine with variety
"We need routine to bring structure and purpose to our days. But make sure your routine has some flexibility to it, to include some all-important awe moments. Currently, we have limited options as to what we can do so it's about finding small tweaks to stop each day feeling the same.
"Try something new each week. This might be something small like walking a different route or cooking a new recipe, or something bigger like a new morning or evening routine. You might find a new hobby, such as painting, gardening or jigsaws."
Better boundaries
"Maintain boundaries between work and home life as much as you can.
A key way to do this is to keep a structure and routine during the working week that is different to the weekends.
Distinguish each day within the week, perhaps by having themed meals. For example, meatless Monday, Taco Tuesdays or Fish Fridays.
Have a weekly exercise schedule you can stick to.
Try simple things. Even wearing different clothes during the week and the weekend can make a difference. Why not wear something special on Saturday night?!"
Find purpose and meaning
"Finding purpose and meaning in our days is a psychological need and supports our mental health. Having something to focus on within your days will help you to cope during an otherwise uncertain time.
"One way to find meaning is to learn new skills and keep broadening your mental horizons. Whether it's an online course on a topic of interest, mastering a yoga movement that you find tricky, or learning how to play the piano.
"We can find awe in learning something new as it gives us a sense of meaning that's bigger than ourselves."
---
Do you know how healthy you truly are? Bupa health assessments give you a clear overview of your health and a view of any future health risks. You'll receive a personal lifestyle action plan with health goals to reach for a happier, healthier you.
The science of awe. The Greater Good Science Center at UC Berkley. ggsc.berkeley.edu, published September 2018
Sturm VE, Datta S, Roy ARK, et al. Big smile, small self: Awe walks promote prosocial positive emotions in older adults. Emotion 2020. Advance online publication. doi:10.1037/emo0000876
Coronavirus and your wellbeing. Mind. www.mind.org.uk, last updated 5 January 2021
Five ways to mental wellbeing. Government Office for Science. GOV UK. www.gov.uk, published 22 October 2008
Medically reviewed by Dr Naveen Puri, GP and Lead Medical Appraiser at Bupa
About our health information
At Bupa we produce a wealth of free health information for you and your family. This is because we believe that trustworthy information is essential in helping you make better decisions about your health and wellbeing.
Our information has been awarded the PIF TICK for trustworthy health information. It also follows the principles of the The Information Standard.
Did you find our advice helpful?
We'd love to hear what you think. Our short survey takes just a few minutes to complete and helps us to keep improving our healthy lifestyle articles.
Legal disclaimer
This information was published by Bupa's Health Content Team and is based on reputable sources of medical evidence. It has been reviewed by appropriate medical or clinical professionals and deemed accurate on the date of review. Photos are only for illustrative purposes and do not reflect every presentation of a condition.
Any information about a treatment or procedure is generic, and does not necessarily describe that treatment or procedure as delivered by Bupa or its associated providers.
The information contained on this page and in any third party websites referred to on this page is not intended nor implied to be a substitute for professional medical advice nor is it intended to be for medical diagnosis or treatment. Third party websites are not owned or controlled by Bupa and any individual may be able to access and post messages on them. Bupa is not responsible for the content or availability of these third party websites. We do not accept advertising on this page.