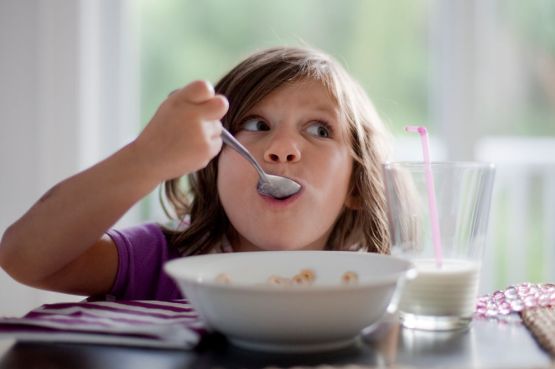 Worried that your child is eating too much sugar? Try these simple, healthier options.
Most of us eat too much sugar, so cutting down is a great idea. It helps your child keep a healthy weight, protects their teeth and sets up good habits for a lifetime.
Start off like you really mean it, with an 'out of sight, out of mind' approach. Make a clean sweep and get rid of any sugary treats in the house, and stop buying them. Then you can swap high-sugar foods for healthier options.
Another tactic is to avoid processed foods, which often contain hidden sugars. Giving your child home-made foods that are lower in sugar is easier than you might think, and it doesn't take a lot of time.
If your child is used to more sugar, it might not be plain sailing and they could resist at first. But they will adapt, so stick with it.
Easy swaps
Switching some of your child's usual meals, snacks and drinks can make a difference quickly and with minimum fuss. Try the following ideas.
Don't start the morning with sugary cereal. This only makes your child crave more sweets as the day goes on. Go for plain, whole wheat cereals and add some fresh fruit such as strawberries, raspberries, blueberries or bananas. This will count as one of their five-a-day too. Porridge, Bircher muesli, home-made cereal bars and smoothies are also easy to make and are lower in sugar.
Avoid sugary treats after school. Kids are often hungry when they come home, so opt for a protein-rich snack to keep them full until dinner time. Try apple slices with cheese or peanut butter, vegetable sticks, or pitta bread with hummus or avocado dip.
Water and milk are the best drinks for children. Natural fruit juice is high in sugar, but it does contain vitamins and minerals, and counts as one of their five-a- day. Save it for a special treat and keep the amount small (150ml). Serve juice with a meal and not on its own.
Avoid fizzy drinks. As an alternative treat, you could offer squash that's labelled 'no-added sugar'. Mix it with some sparkling water so it's still a fizzy drink.
Beware of added sugar in some dairy products. Dairy is an important part of a healthy diet for children. But flavoured milk and flavoured yogurts contain added sugar. Plain yogurt is better, and you can add fruit yourself. Greek yogurt is excellent because it's rich in protein too. Keep ice cream for special occasions.
Home-made foods
Kids love being involved in the kitchen, so take advantage of this and cook from scratch whenever you can.
That way you will be in charge of what goes into their food. For example, a ready-made pasta sauce could be loaded with sugar, but it's easy to make your own basic tomato sauce or pesto. Prepare these in large batches and pop them in the freezer – this can be a lifesaver for busy days when you need to cook in a hurry.
---
Here at Bupa we understand how important your family is. So with our
family health insurance
you can rest assured knowing that eligible treatment and support is available for your loved ones when you need it.
More diet related articles...
Health information
At Bupa we produce a wealth of free health information for you and your family. We believe that trustworthy information is essential in helping you make better decisions about your health and care.
Legal disclaimer
This information was published by Bupa's Health Content Team and is based on reputable sources of medical evidence. It has been reviewed by appropriate medical or clinical professionals. Photos are only for illustrative purposes and do not reflect every presentation of a condition.
The information contained on this page and in any third party websites referred to on this page is not intended nor implied to be a substitute for professional medical advice nor is it intended to be for medical diagnosis or treatment. Third party websites are not owned or controlled by Bupa and any individual may be able to access and post messages on them. Bupa is not responsible for the content or availability of these third party websites. We do not accept advertising on this page.
For more details on how we produce our content and its sources, visit the 'About our health information' section.