Radiofrequency denervation (also called facet rhizolysis or radiofrequency ablation) is a procedure to help treat back or neck pain that comes from your facet joints. Each of the bones in your spine has a set of facet joints, which stabilise your back and help your spine to move.
If you're thinking about radiofrequency denervation, it's important to make a decision that's right for you. This information is designed to do that.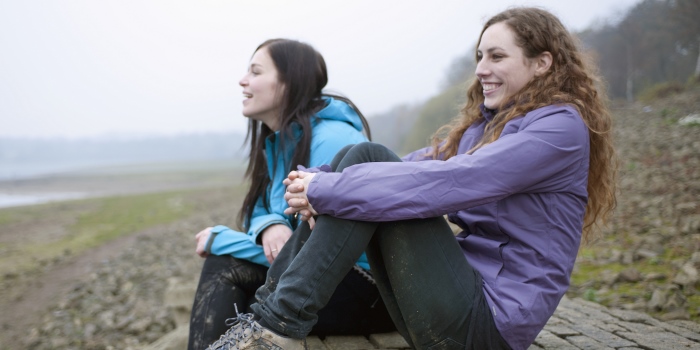 What is radiofrequency denervation?
Radiofrequency denervation is a treatment that uses heat to deactivate the nerves around your facet joints that are causing your pain. These nerves are called medial branch nerves and send pain signals to your brain if you've got inflammation in your facet joints.
Your doctor will use radiofrequency waves (a form of electricity) to heat the tip of a needle which is used to destroy the nerve endings. This aims to stop the nerves sending pain signals to your brain.
Open our infographic of exercises for low back pain.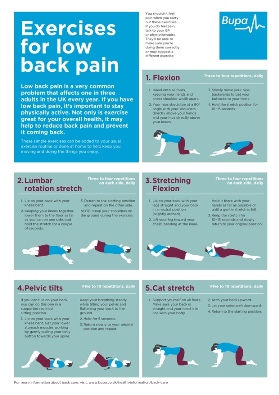 Why would I have radiofrequency denervation?
Radiofrequency denervation may help to treat neck or back pain that's caused by inflammation of your facet joints. This can happen if they've become worn down by conditions such as arthritis.
You'll only be offered radiofrequency denervation if you've had a facet joint injection that showed that your pain is definitely coming from your facet joints. The aim of radiofrequency denervation is to provide longer-term pain relief than a facet joint injection.
It isn't known for sure how well radiofrequency denervation works. There haven't been many good quality studies and the results of these varied so it's hard to tell if it will work for you. Some research suggests it may help to manage pain that starts in the facet joints that affect your:
neck (cervical region)
upper back (thoracic region)
lower back (lumbar region)
You'll usually have radiofrequency denervation as part of a wider treatment plan that includes other therapies, such as exercise and physiotherapy.
What happens during radiofrequency denervation?
You'll usually have radiofrequency denervation in hospital. You can have the treatment and go home the same day – you won't need to stay overnight.
You'll need to lie on your abdomen (tummy) while you have the procedure. Your doctor may give you a local anaesthetic to numb any pain while you're having it done. They may offer you sedation too, to help you relax. Your doctor will need to take X-rays to help them guide a needle to the right spot in your back. They may also need to inject a type of dye called contrast medium to help highlight where the needle needs to go.
Your doctor may pass a small electric current through the needle to help find the nerve that is causing the problem. They will then use radiofrequency waves to heat the tip of the needle and destroy the nerve endings. This will stop the nerve sending out pain. Your doctor may inject a steroid to help with any discomfort you might get after the procedure.
It will take about an hour to have radiofrequency denervation.
What to expect afterwards
You'll probably be able to go home on the same day as your procedure – usually between an hour and three hours afterwards. But don't drive yourself home – ask a relative or friend to go with you to hospital.
The area where you had the treatment may feel sore (similar to sunburn) or numb because of the local anaesthetic, but this shouldn't last long. As the procedure involves making small burns, the pain may last for a few days after the local anaesthetic has worn off.
It's important to realise that radiofrequency denervation doesn't work for everyone. Even if it does, it can take up to three weeks for you to feel the effect, and your pain may come back over time. It's a good idea to keep a pain diary as this can help your doctor see whether or not the treatment has worked for you.
Deciding on radiofrequency denervation
Pros
It's possible that radiofrequency denervation may help to reduce your pain. This can improve your quality of life and make it easier to get about and carry on with your normal daily activities.
If the procedure helps to reduce your pain, you may find it easier to do physiotherapy exercises. This may help to improve your condition in the long term.
Cons
You might not get any pain relief from radiofrequency denervation.
Any pain relief you get from radiofrequency denervation is likely to only last between six months and a year. It isn't a cure for your pain.
Your pain may get worse after the procedure because it involves making small burns in your tissues. But this won't last forever – they usually heal and the pain is better within a few days.
There are possible risks and complications linked to radiofrequency denervation, which include a headache, an allergic reaction, sensitive skin and nerve damage. Although these are unlikely, it's important to be aware that they could develop when deciding whether to have the injection.
Making your choice about radiofrequency denervation
Different things are important to different people. Have a think about how much you value each of the issues above when making your decision to have treatment or not. Next, together with your doctor:
review the list of pros and cons
rank each of the pros and cons from zero to five, with five being the most important to you
add up the total value for the pros and cons – the highest total value should indicate what's important to you
Your doctor can give you more advice and help you choose the right treatment for you.
Questions to ask your doctor
Have a think about any questions you would like to ask your doctor before you decide whether to have radiofrequency denervation or not. Here are some examples.
What else can I do to help relieve my pain?
Should I try other treatments first before having radiofrequency denervation?
What should I expect to happen after I've had radiofrequency denervation?
Will I be able to exercise after the procedure? What type of exercise is best?
Should I have physiotherapy after radiofrequency denervation?
How can I tell if radiofrequency denervation has worked?
About our health information
At Bupa we produce a wealth of free health information for you and your family. We believe that trustworthy information is essential in helping you make better decisions about your health and care. That's why our content is produced to the highest quality standards. Look out for the quality marks on our pages below. You can find out more about these organisations and their standards on The Information Standard and HON Code websites.
Standards of good practice for medial branch block injections and radiofrequency denervation for low back pain. British Pain Society and Faculty of Pain Medicine of the Royal College of Anaesthetists. www.britishpainsociety.org, published March 2014
Lumbar facet arthropathy. Medscape. www.emedicine.medscape.com, published 11 February 2015
Spinal injections. American Academy of Orthopaedic Surgeons. www.orthoinfo.aaos.org, published December 2013
Soloman M, Mekhail MN, Mekhail N. Radiofrequency treatment in chronic pain. Expert Rev Neurother 2010; 10(3):469–74. doi:10.1586/ern.09.153
Discogenic low back pain. BMJ Best Practice. www.bestpractice.bmj.com, published 19 November 2014
Commissioning guide: low back pain. Broad principles of the patient pathway. British Orthopaedic Association. www.boa.ac.uk, published November 2013
Low back pain (chronic). BMJ Best Practice. www.bestpractice.bmj.com, published 8 October 2010
Low back pain and sciatica. Medscape. www.emedicine.medscape.com, published 22 December 2014
Brummett CM, Cohen SP. Essentials of pain medicine. 3rd ed. Philadelphia: Elsevier Saunders, 2011:322–29
Burnham RS, Holitski S, Dinu I. A prospective outcome study on the effects of facet joint radiofrequency denervation on pain, analgesic intake, disability, satisfaction, cost, and employment. Arch Phys Med Rehabil 2009; 90:201–5. doi:10.1016/j.apmr.2008.07.021
Personal communication, Dr Dudley Bush, Consultant in Pain Medicine, Spire Leeds Hospital, 16 September 2015
Nath S, Nath CA, Petterson K. Percutaneous lumbar zygapophysial (facet) joint neurotomy using radiofrequency current, in the management of chronic low back pain: a randomized double-blind trial. Spine 2008; 33(12):1291–7. doi:10.1097/BRS.0b013e31817329f0
Stone JA, Bartynski WS. Treatment of facet and sacroiliac joint arthropathy: steroid injections and radiofrequency ablation. Tech Vasc Interv Radiol 2009; 12(1):22–32. doi:10.1053/j.tvir.2009.06.009
Low back pain. National Institute for Health and Care Excellence (NICE), May 2009. www.nice.org.uk
Lu K, Liliang P-C, Liang C-L, et al. Efficacy of conventional and pulsed radiofrequency for treating chronic lumbar facet joint pain. Formosan Journal of Surgery 2012; 45(4):107–12. doi:org/10.1016/j.fjs.2012.06.001

Reviewed by Rachael Mayfield-Blake, Freelance Health Editor, September 2015.
Has our health information helped you?
We'd love to know what you think about what you've just been reading and looking at – we'll use it to improve our information. If you'd like to give us some feedback, our short survey on the right will take just a few minutes to complete. And if there's a question you want to ask that hasn't been answered here, please submit it to us. Although we can't respond to specific questions directly, we'll aim to include the answer to it when we next review this topic.
Legal disclaimer
This information was published by Bupa's Health Content Team and is based on reputable sources of medical evidence. It has been reviewed by appropriate medical or clinical professionals. Photos are only for illustrative purposes and do not reflect every presentation of a condition.
The information contained on this page and in any third party websites referred to on this page is not intended nor implied to be a substitute for professional medical advice nor is it intended to be for medical diagnosis or treatment. Third party websites are not owned or controlled by Bupa and any individual may be able to access and post messages on them. Bupa is not responsible for the content or availability of these third party websites. We do not accept advertising on this page.
For more details on how we produce our content and its sources, visit the 'About our health information' section.