Your health expert: Mr Damian McClelland, Trauma and Orthopaedic Consultant, and Clinical Director for Musculoskeletal Services at Bupa
Content editor review by Rachael Mayfield-Blake, July 2023
Next review due July 2026
An Achilles tendon rupture is a tear of the tendon that connects your calf muscles to your heel bone. Achilles tendon rupture is a common injury that usually happens while playing sport or doing exercise. If you rupture your Achilles tendon, you'll find it difficult to walk, run, climb stairs, or stand on tiptoe.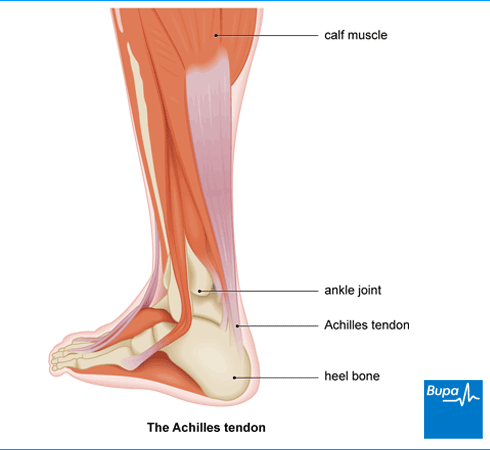 About Achilles tendon rupture
Tendons are strong and flexible tissues that connect muscles to other parts of your body, usually bones. Your Achilles tendon is the strongest tendon in your body. It helps you to lift your heel, which allows you to walk, run, and jump.
Your Achilles tendon is most likely to rupture (tear) if your foot is suddenly forced upwards or you push off the ground with force, like when you jump.
Although you can rupture your Achilles tendon at any age, an Achilles tendon injury is most common in people aged 30 to 50 who occasionally play sport.
Causes of Achilles tendon rupture
Achilles tendon rupture is most likely to happen when you play sports where you need to push off forcefully from your foot. Examples include football, gymnastics, running, basketball, and tennis.
It can also be caused by an injury from a fall where your foot is suddenly forced into an upward-pointing position, which overstretches your tendon. Less commonly, an Achilles tendon injury can be caused by direct trauma, such as a deep cut over the tendon.
Some things can increase your risk of rupturing your Achilles tendon, which include:
getting older
having tendinopathy (damage to your tendon, usually from overuse)
not warming up properly
doing more exercise than you're used to, or increasing the amount you do too quickly
taking steroids and some antibiotics
certain health conditions, including gout, rheumatoid arthritis and diabetes
Symptoms of Achilles tendon rupture
If you rupture your tendon, you're likely to have a sudden, sharp and severe pain in the back of your leg. It might feel like you've been kicked or hit in the back of your leg. You might also hear a snap or pop sound when it happens. Usually, the pain then settles into a dull ache. Although not everyone who ruptures their Achilles tendon feels pain.
You may also have:
some swelling in your calf
difficulty walking and you might not be able to put your full weight on your leg or stand on tiptoe
some bruising on your lower leg
If you have these symptoms, see a doctor urgently. It's best to start treatment for a ruptured Achilles tendon as soon as possible. If you can't see your GP, go to your nearest urgent treatment centre (minor injuries unit).
Diagnosis of Achilles tendon rupture
Your doctor will ask you about your symptoms and how you think the Achilles tendon injury happened. They may ask you to walk around or move your foot or leg, to see how you move. They'll examine your leg, heel and ankle to check for any swelling and bruising. They may also ask you to lie down and squeeze your calf muscle to check the movement of your foot.
Usually, an examination on its own will tell your doctor if your Achilles tendon is ruptured. But if they aren't sure, you may need to have an MRI or ultrasound scan.
If your GP thinks you may have ruptured your Achilles tendon, they may refer you to an orthopaedic surgeon for further assessment. This is a doctor who specialises in conditions that affect your muscles, bones and joints.
Treatment of Achilles tendon rupture
Achilles tendon rupture can be treated with either surgery or conservative (non-surgical) measures. Your doctor will let you know what treatment is best for you. This will depend on several things, including your age, your general health and how active you are.
You'll usually need to wear a brace or cast on your leg to protect it from further injury while you wait for treatment. You might not be able to put weight on your leg during this time. Your doctor will talk to you about the risk of developing deep vein thrombosis (DVT) while your leg is immobile. They may offer you medicines to reduce your risk of developing DVT.
Non-surgical treatment
Your doctor may be more likely to suggest conservative (non-surgical) treatment if you:
are older
have other health problems
aren't particularly active
This usually involves wearing casts or a brace to support your lower leg while the tendon heals. You may need to take over-the-counter painkillers while your tendon heals.
Compared to surgery, non-surgical treatment has a smaller chance of complications. But there's a greater chance of having another rupture in the future.
Casting
Casts are usually from your knee downwards and are put on with your foot in a fully bent downwards position. You may have to wear a cast for 6 to 12 weeks, although the cast may change to gradually move your foot into a more neutral position. You may not be able to put your full weight on your leg at first and will need crutches to move around.
Brace
A brace is a rigid type of boot with straps to adjust it. It usually fits from your knee downwards. Once the brace is on, it's adjusted several times over a few weeks to lift your foot up. You can walk and put weight on your leg while you wear the brace, and you can also remove it to move your ankle joint.
Surgery
Your doctor may be more likely to suggest surgery if:
you're young and active
you're a competitive athlete
there's been a delay in treating the rupture
you keep rupturing your Achilles tendon
There are different types of surgery to repair an Achilles tendon injury but they all involve bringing the torn ends of your tendon back together. You may have open surgery, which involves making a cut into your ankle to fix the tendon. Or you can have keyhole (minimally invasive) surgery, where your surgeon will make smaller cuts to reach the tendon.
If you have surgery rather than non-surgical treatment, your tendon is less likely to rupture again. But surgery has a greater chance of complications, including infection of the wound and development of scar tissue. The chance of these risks may be lower with keyhole surgery. Your surgeon will explain the different options, so you can decide what's best for you.
After your operation, you'll need to wear a cast or an adjustable brace on your leg to help the tendon heal.
Rehabilitation
Whether you had surgery for your Achilles tendon or not, you'll need a period of rehabilitation to heal after your initial treatment. You should see a physiotherapist, who will give you exercises to increase the range of movement and strength in your ankle and lower leg. You'll start with gentle exercises and build these up over time. Your physiotherapist will give you advice on what low-impact exercise you can do during this time, such as cycling, jogging or swimming.
Recovery from Achilles tendon rupture
How long it takes to recover from an Achilles tendon rupture is similar whether you have surgery or not. You can expect to be back to normal activities, including low-impact sports, within four to six months, whichever treatment you have. But it can take longer to get back to high-impact sports, such as football, squash or tennis.
Most people can return to the type of activity that they did before their injury. But if you play sport at a professional level, you may find some limitations in what you can do. It might take a year or more to get back to your previous level of performance. Your physiotherapist or doctor will give you more advice specific to you.
You may need to take time off work to allow the tendon to heal. How long you need to take off will vary depending on a number of things. These include the type of treatment you've had, how mobile you were previously, what job you do and any restrictions at your workplace. You may not be able to drive for three months. Your doctor will give you specific advice about what you can and can't do.
Prevention of Achilles tendon rupture
There's not always much you can do to prevent an Achilles tendon rupture. But you may be able to reduce your risk by making sure you stretch and warm up well before you exercise. It's also important to build up the amount or intensity of your exercise gradually.
Looking for physiotherapy?
You can access a range of treatments on a pay as you go basis, including physiotherapy.
To book or to make an enquiry, call us on 0370 218 6528∧
Did our Achilles tendon rupture information help you?
We'd love to hear what you think. Our short survey takes just a few minutes to complete and helps us to keep improving our health information.
This information was published by Bupa's Health Content Team and is based on reputable sources of medical evidence. It has been reviewed by appropriate medical or clinical professionals and deemed accurate on the date of review. Photos are only for illustrative purposes and do not reflect every presentation of a condition.
Any information about a treatment or procedure is generic, and does not necessarily describe that treatment or procedure as delivered by Bupa or its associated providers.
The information contained on this page and in any third party websites referred to on this page is not intended nor implied to be a substitute for professional medical advice nor is it intended to be for medical diagnosis or treatment. Third party websites are not owned or controlled by Bupa and any individual may be able to access and post messages on them. Bupa is not responsible for the content or availability of these third party websites. We do not accept advertising on this page.
Achilles tendon ruptures. British Orthopaedic Foot and Ankle Society. www.bofas.org.uk, accessed 19 June 2023
Shamrock AG, Varacallo M. StatPearls Publishing. Achilles tendon rupture. www.ncbi.nlm.nih.gov/books, last updated 19 March 2023
Achilles tendon injuries. Medscape. emedicine.medscape.com, updated 15 September 2022
Achilles tendinopathy. NICE Clinical Knowledge Summaries. cks.nice.org.uk, last revised June 2020
Achilles tendinopathy and rupture. Patient. patient.info, last updated 21 March 2022
When to visit urgent treatment centres (urgent care services). NHS. www.nhs.uk, last reviewed 20 September 2021
Park SH, Lee HS, Young KW, et al. Treatment of acute Achilles tendon rupture. Clin Orthop Surg 2020; 12(1):1–8. doi: 10.4055/cios.2020.12.1.1
Venous thromboembolism in over 16s: Reducing the risk of hospital-acquired deep vein thrombosis or pulmonary embolism. National Institute for Health and Care Excellence (NICE). www.nice.org.uk, last updated 13 August 2019
Costa ML, Achten J, Marian IR, et al. Plaster cast versus functional brace for non-surgical treatment of Achilles tendon rupture (UKSTAR): A multicentre randomised controlled trial and economic evaluation. Lancet 2020; 395(10222):441-48. doi: 10.1016/S0140-6736(19)32942-3
Personal communication, Mr Damian McClelland, Trauma and Orthopaedic Consultant, and Clinical Director for Musculoskeletal Services at Bupa, 25 July 2023