Family health insurance
Bupa Family+ is healthcare for all of family life. Pay for one child and we'll cover every other child for free.
Bupa Family Health Insurance, support for every stage of family life
Whether it's the big things, the little ones, or the unexpected, being a parent can be overwhelming. But with our family health insurance, you don't have to do it all on your own.
From checking symptoms and support for every stage of family life, to getting treatment and help around the clock, someone's always there with Bupa family health insurance. An extra pair of hands, always going that extra mile for you and your family.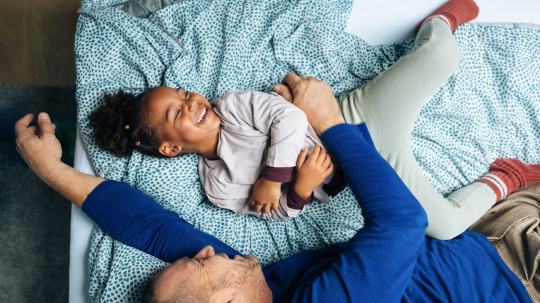 Cover all your kids for the price of one
With our Family+ offer, you can cover all your children for the price of one.
When you add more than one child under 20 years old to your policy, you'll only pay for the eldest, no matter how many children you add.†
What's more, a family policy costs 10% less for joint cover compared to the price of separate policies for each family member.††
More than just-in-case family health insurance
Access to leading health and wellbeing services that look after those most important to you.
Speak to a doctor anytime, anywhere
No waiting rooms. No childcare needed. Our digital GP service is the stress-free way to speak with a doctor from wherever you are, day or night.‡
Help and advice whenever you need it
Our Anytime HealthLine connects you to a qualified nurse, whenever you need to speak to someone. Get expert help with late night worries, even at 2am.
Mental health support for your family
If you, or a family member, are feeling out of sorts, we're only ever a call away. Our specialist mental health team are here to listen and support your family.
Expert help for all of family life
Watch experts explore the biggest family topics – answering questions, sharing advice, and giving you the best tips for getting the whole family feeling better, moving more, and living life to the full.
Getting active as a family
Exercise is a great way to bring the family together and help young people to build healthy habits. Dr Zoe and fitness expert and founder of StrongLikeMum, Shakira Akabusi, share advice and ideas on getting the family active.
As a child, playing outside forms such an important part of growing up and it's really important for a child's development as well, both their physical development and actually developing things like independence and resilience. But for working parents in particular, it can be really difficult to try and find the time to play outdoors with your child. So today I'm joined by Shakira Akabusi, founder of Strong Light Mum. I'm gonna have a little chat about some of the benefits of exercise outdoors as a family and also how, as a parent, you can encourage your children to get outdoors and play. So Shakira, let's start off with what are some of the benefits of exercising for children and actually for the whole family?
So I think being outside gives us this really amazing opportunity where we can bond and play away from other distractions from technology and screens, you know, getting outside and doing something in the open air. And there's so much research behind the benefits of exercising outdoors, being outdoors together, and even just the colour green, how that can boost our mood and our wellbeing. And for children, being able to feel the floor underneath your feet can really help them to grow and develop with things like coordination and balance and just exploring the natural world. So it's just a really part, a good part of their overall wellbeing and growth.
And I once learned that if you ask a person their first childhood memory, the first thing they can remember, the majority of people will say something about when they're outdoors-
That's interesting.
because we tend to be happy when we're outdoors. So are your kids ever really reluctant to go outside and play? And if they are, how do you overcome that?
Yeah, so absolutely, I mean, all of my children enjoy being outside once they're there, but I think you hit the nail on the head, how do we get them out of the door. And so for me, I just set them a small little commitment. So I'll say to them something like, "We'll go outside for five minutes and then we can come indoors and get snugly," and then we can come indoor. Once they're outside, they're in the moment, they're enjoying themselves, more often than not, we're likely to stay outside for longer once we're there. And also, really encouraging them by making it adventurous, making it fun. You know, my children love treasure hunts. I can write little clues down or I'll say something like, "Let's go and climb a tree and see how high we can get. Can we get to the moon?" or, you know, and doing all these kind of games.
Making it high energy, making it exciting. Are there any other types of sort of games or activities that you recommend families can try or actually the children, we can encourage them to go out on their own-
To do it on their own.
have a go out.
So I think the more imaginative and creative, we can make an exercise. You know, maybe it's not a plank, maybe it's a train tunnel, you know, for children. And my middle son actually came up this great idea the other day. He said to me, "Mama, I want to do planet yoga," and he took us through all the different planets, and on the moon, we were jumping around and then we spanned like the rings on Saturn and, you know, bringing that creativity into movement and activity to make it fun for them and make it an adventure.
That's kind of imagination as well, isn't it? 'Cause I think, often children now, they are immersed in a video game or they're looking at a screen. and actually, for the brain to develop, using our imagination is really, really important. And it's not just about children, it's about us as well. There are loads of benefits for us as adults to exercising outside. Is that something you like to do and how do you find the time, having four children, to get outdoors and exercise yourself?
Yeah, absolutely. I mean, for me, being able to exercise as a mom, that's really where this deep love for exercise grew even more for me because often, you know, you mentioned I have four children, it can be busy, it can be noisy, there's a lot of demand on my time, and being able to get outside, whether it's just for a five minute stretch or a 20 minute walk around the block, it just allows me to sort of decompress and release some of those stresses that I feel, and then I can go back into parenting often feeling much more positive than I did before.
I can only imagine, four children, young children, how much noise and chaos that must be so...
It can be noisy, yes. You know, as for fitting in the time and when can we do it, for me, there's certain times of the day where I'll feel more energetic or, I love early mornings, so I can get up half an hour early. And I know, even though we might think exercise is gonna drain our energy, it can actually give us energy. So if I can get outside and go for a walk or a jog for half an hour, I'm gonna feel much more fueled and prepared for the day ahead.
Yeah. No, you're right, it does give you more energy but there's no way I'm getting outta bed a minute earlier than I absolutely need to. That wouldn't work for me. But I think, for me, you know, being busy being a mum of one, I'm very, very busy. I don't know how you do it. For me, I've had to make it a non-negotiable. I've had to make sure that exercise and spending some time outdoors go to the top of the list because it's so easy for that self-care to slip to the bottom of the list. But I know that if I'm doing that, even if it is a 10 minute walk around the block, like you say, it's not just good for me, it's actually good for everyone else who's around me as well.
Absolutely. And if you can't, you know, find the time to get outside without your children, go out as a family and have that time all together.
Yeah, brilliant advice. Thank you.
How to encourage teenagers to get active
Exercise is a great way to bring the family together and help young people to build healthy habits. Dr Zoe and fitness expert and founder of StrongLikeMum, Shakira Akabusi, share advice and ideas on getting the family active
Exercise is so important for young people to thrive when they're young, but also we know that being active when you're young means you're more likely to be an active adult. Today I'm joined by Shakira Akabusi, founder of Strong Like Mum, and we're gonna be talking about some tips for how parents can encourage their children to be active and engage with exercise. So, Shakira, why is exercise so important for young people and also how can families benefit from being active together?
So I feel like this is a really crucial time, because this is where we're gonna lay those healthy habits that we're gonna take forwards with us into adulthood. And this is for the whole family to engage in exercise. It's not only a bonding experience, but actually, it also allows us to have a goal, achieve something, learn about focus, persistence, getting that hard work ethic in, and particularly now for young adults, teenagers, getting that sense of community outside of the home in a new sporting environment can be really confidence boosting and a great way for them to explore a little bit of independence as well.
Yeah, I think there's something about exercise. Obviously it's great for physical health, it's really important for mental health too but it can build that resilience, it can build character. I know for me as an individual, I think, getting into exercise really helped with confidence and actually becoming competitive has a knock-on effect that it really helped me with my academics as well. And we know that being active can help children focus and concentrate and therefore help them attain better goals.
Absolutely, and it's great, it also helps us sleep better and achieve this better sleep pattern. And that's gonna help us feel more energised, more focused throughout the day, particularly if you're looking at exams for example, being able to relieve that physical tension that we might have. And also just to boost our brain focus and our energy is always fantastic.
It's also been linked to less challenging behaviour. So I think I can get all the kids through.
So how can parents encourage their children and teenagers and I think teenagers in particular, often they just wanna say no to whatever their parents are suggesting. So how can parents overcome that and, I guess, support their youngsters to get active?
So, firstly, I think, a lot can be done just by having these healthy habits and demonstrating these healthy habits ourselves.
So, role modelling.
Role modelling it, yeah. And just using positive language around sports. So focusing maybe on how it makes you feel and not referring it to yourself as being boring or draining or, "Oh, I've got to go to the gym." You're making it seem fun and exciting when you're discussing it in front of your children, and then I think we can help to encourage them in so many other ways by letting them explore what they're passionate about. Often we can have a sport we really enjoy, and try to push that onto our children, but actually letting them explore their natural, where they naturally want to go with it and giving them that freedom.
I think part of the, and what can be a really challenging part of parenting teenagers is that sort of stepping back from being the problem solver and the giving ideas and coming up with the solutions and letting them come up with their own solutions and ideas and really supporting them with that. It's a really important part of them growing up, becoming more independent and making decisions for themselves.
That's it. So what are some good ideas then of, I guess, things that the kids and teenagers can actually do to be active?
So there's so many great ways we can keep active as a whole family. You might want to create a rounders game. We did that all the time growing up playing family rounders. It was so much fun and really brought the fun into it for me. And then it might be that you can be a little bit competitive within your family and maybe that's gonna motivate some people and trying different things. Maybe we can incorporate being active into a hobby that your child already has. So if they're into gaming, maybe we're gonna get a game where we're standing up and we're being physical with it. If they are interested in painting, maybe you can hike with them to a beautiful view so that they can paint something from a different perspective. And just finding different ways to bring movement into their day-to-day.
I think sometimes it's a bit about planning as well, isn't it, wherever you're going. Say for example, you're going for a day out as a family and you're gonna stop in a field and have a picnic, just for an example, making sure there is a ball or a Frisbee or something there, that enables that physical activity in a fun way.
Exactly.
All right, well thank you so much. I think the key message here is that it's so incredibly important for young people to be active and that's what encourages them to become active adults as well. And sometimes it's about thinking outside the box, but really, really encouraging and supporting them when they are being active.
Absolutely.
Is stress impacting your sleep?
Struggle to switch off at night? You're not alone. Bupa customers said 'stress and anxiety' was the number one thing keeping them awake. Dr Zoe Williams and Professor Jason Ellis give some practical advice to help improve your sleep.
(gentle music)
As a busy working parent, we know
that you're spinning loads of plates all the time
and this can make it really difficult to switch off
at night and get to sleep.
In fact, a survey of Bupa customers,
half of people said they wished they slept better,
saying that stress and anxiety was the number one thing
that prevented them from sleeping well.
So I'm here with Professor Jason Ellis
who is a sleep expert and who specialises
in helping people get a better night's sleep.
So Jason, why does stress and anxiety stop us from sleeping?
Why is it that we can't just switch off and go to sleep?
Wouldn't that be lovely.
Wouldn't it?
There's two main issues going on here.
The first, you've had a really busy day,
you've had a lot of tension.
If you haven't got rid of that tension,
you're gonna take it into the bedroom.
You're not gonna get comfortable,
you're not gonna be able to fall asleep very easily.
The other thing of course is that mental tension.
Lots and lots of thoughts.
The challenge is of course
when you go to bed at night, you have some quiet time.
Yeah.
And it's usually the only quiet time you get.
And so those thoughts are gonna invade,
could I have done something different?
What could I do about this situation?
And again, they're gonna prevent you getting off to sleep.
I know, I know.
I get into bed and it's often the first chance
I've had to think about the next day,
like is it tomorrow that he's meant to wear pyjamas
to nursery and is this gonna happen?
Have I booked the taxi?
And then there's that temptation to get the phone out
and start doing stuff, which is devastating.
So what advice would you give to somebody then
who is really busy, lots going on in their life
and they're struggling with this switching off at nighttime?
Believe it or not, you already got there.
Except we should be doing it a couple of hours earlier.
Right.
If we give ourselves an opportunity to put the day
to bed before we go to bed,
then we're gonna be more in control.
So all those things like, well, what did I do today?
What have I got to do tomorrow
and the things I need to put in place tomorrow,
like sort out the pyjamas.
If you wrote those down a couple of hours beforehand,
you're gonna have so much more control.
The other thing I would say is give yourself
some time to worry as well.
Sounds odd, but giving yourself some contained time
to worry isn't going to translate it back into the bedroom.
Okay, yeah I often think,
we almost feel like we're not meant to worry.
We're meant to have it all together.
But actually accepting that, yeah,
this is quite anxiety provoking.
There are things to worry about
doing it not just when you're about to go to sleep.
That sounds like a good idea.
Jason, you are an expert
in cognitive behavioural therapy for insomnia.
Can you tell us a little bit about CBTI?
Yeah, so CBTI is a range of techniques that we use
mainly to identify and challenge any dysfunctional beliefs
around sleep.
For example, I need eight hours
otherwise I'm not gonna function tomorrow.
We don't really necessarily.
No, and sometimes we'll get seven hours
and feel fabulous and have a great day.
Sometimes when we eight, things don't go so well.
So it's identifying any of those attitudes
or beliefs that may be helping keep the insomnia alive.
Okay.
Then we talk about behavioural techniques.
One of the challenges
is that it's quite logical and rational.
If you're not sleeping well, go to bed early, have a lie in.
They actually tend to fragment the sleep process itself.
Right.
And so what we have to do
within CBTI is find the optimal sleep window for you.
Try to keep it consistent,
really ensuring a deep, good quality sleep.
So it's like it's back
to that regular bedtime and wait time.
Yep.
Even at the weekends.
Sadly so.
(people laughing)
Okay, obviously with CBTI,
ideally it's a therapeutic process where you ideally have
a professional guiding you,
but are there some sort of proven strategies
and sort of tips
and advice you can give us based on that
that that most of us could perhaps think
about incorporating into our sleep routine?
I would certainly think about something
called stimulus control,
which is one of the powerful aspects of CBTI.
Two general rules, only use the bedroom for sleep and sex.
And really if you are in bed and you're awake,
get out of bed.
Because what we start to do is we start to get angry.
We start to get frustrated, we start to get miserable.
They're not conducive to sleep.
Let's take those out of the bedroom,
go and do something quiet.
Go back to bed when you're sleepy and tired again.
Let's break that association
with the bedroom being a combat zone.
The other thing I would always say is about effort.
Don't try to sleep.
Again, sounds very strange, doesn't it?
But normal sleepers don't try to sleep.
Right.
They get into bed and they do it.
The more that you actually try to sleep and not achieve it,
the more physically tense and anxious.
See, I'm doing it now as I'm doing it.
You're making me feel tense.
Thinking about the stress of getting into bed
and knowing you're not gonna sleep
and then trying to, you know, do various things
to get yourself off, which don't work.
Don't try, it'll happen naturally.
Your body's designed for it to happen naturally.
It's not happening.
Out.
Get out.
Okay, well that's really helpful.
Thank you so much and I hope
that you found that just as helpful
and maybe got some tips that you can take away
to help you sleep better tonight.
(gentle music)
Parental burnout
The pressure of being a parent can leave some at risk of burnout. This is a state of emotional, mental and physical exhaustion. Dr Zoe and Dr Rebecca discuss how to spot the warning signs and minimise stress before it becomes a bigger problem.
Burnout is so common, and I really don't think we talk about it enough. So Rebecca, what is burnout and what does it look like?
Burnout is the result of long-term stress, and it manifests itself as emotional, mental, and physical exhaustion. We all know that stress is a natural part of life, and actually it can be very motivating. You know, those external pressures like a work presentation or having a very busy day can really motivate us to get through. But if it happens for too long or in too high amounts, then that can lead to burnout. And the symptoms of burnout can be very general. They can problems sleeping, problems concentrating. But if you're experiencing parental burnout, actually it might mean that you're snapping at your children more than you used to, things like feeling very guilty about your own parenting ability, and doubting your own ability to be a parent, or even not wanting to spend time with your children, about kind of feeling resentful about spending an amount of time with them. The reason why it's so important to manage is because if it goes unchecked, it can lead to long-term consequences. Physically, it can lead to high blood pressure, cardiovascular disease, but also emotionally, it can lead to depression and anxiety, and also those unhealthy coping mechanisms that you might develop because of stress, such as, you know, drugs or alcohol or smoking can become really entrenched.
And I think importantly, it can really impact on your relationships as well, so that can be your relationships with your children, like you say, me snapping and then feeling really guilty about it, or with your partner, you might sometimes feel resentful of them if they're having an easy time. It can affect your sex drive.
Yeah.
But also with family and friends, you might not want to go out and do the things you used to enjoy doing, and that can be another sign that there's something, that you're not coping so well.
Yeah, it's about really understanding how have I changed from normal? Like where's the old me gone?
Yeah, yeah. I think that's a really good way of thinking about it. And what would you say are some of the main contributors when it comes to burnout?
Well, for people with young families, they're trying to juggle everything, aren't they?
Yeah.
You know, things are busy at home.
We know.
We know. Things are busy at home, they're often working as well, and they're feeling like they can't drop any of those balls.
Yeah.
And I think the lines between work and home life have become completely blurred as people work from home.
Yeah.
You know, they're trying to put washers on in between teleconference calls and running off to-
Feels it.
Running off to get the kids. And that means that stresses can build up, these kind of small stresses that used to be manageable can suddenly build up and become really overwhelming.
I think that sometimes it's just the thought, the fear of, you know, if my child isn't well and can't go to their childcare, and how am I gonna cope with that? We're juggling so many things, like you say. And I think trying to be perfect at the same time, trying to keep a tidy house. And so, what are some of the things people can do to alleviate some of this stress and manage their lives to avoid burnout?
So there are personal things that you can do, like going back to basics in terms of making sure that you're getting enough sleep. I know that's really hard for people with young children. You know, making sure that you're eating well, so that means not eating the leftovers or getting a takeaway when the kids have gone to bed, but maybe trying to carve out time where you can all make a nice meal together, so that you're getting good nutrition. Making sure that you have exercise, I'm a really big believer in that. And that you're getting outside to get daylight every day. But also, you know, maybe keeping a journal, jotting down your worries, taking time to do self care, time like breathing exercises, even in the middle of a busy day. But then there's external things. You know, you mentioned the house. Actually, it doesn't have to be tidy all the time. So it's really about prioritising the things that you can drop.
Yeah.
And take off your plate, just until the kind of volume of those other stresses has reduced.
And I think also asking for help, because often people are willing to help. So asking for that help and expecting it and not feeling like you have to be superwoman and do everything by yourself, or superman.
Yeah, yeah. Exactly. Exactly.
And I think if people are really struggling and even, you know, putting some of those things in place, they feel they are approaching burnout, then getting some professional help.
Yeah, and I think a great place to start is your GP.
Absolutely.
They're really used to talking to people about these kinds of issues, and about signposting people to the right kind of help, whether that be talking therapy, or maybe even some other referrals or treatment if that's necessary.
Anxiety and your teen
Life changes and social pressures can be difficult for teenagers. And the resulting anxiety can be hard to notice. Dr Zoe and Dr Rebecca Rohrer discuss spotting symptoms and how you can support your teenager.
So Rebecca, we're gonna talk about anxiety especially thinking about teenagers 'cause of course it can affect people of all ages. What's the difference between anxiety and normal feelings of anxiousness that we all get from time to time?
So we all get feelings of being worried or fearful in response to particular triggers. Where it starts to become anxiety is where you are getting those feelings in the absence of triggers, and where those feelings are giving you either physical symptoms or they're starting to change your behaviour to the extent that it's impacting your day-to-day life.
Right, so with teenagers specifically, what are some of the main causes or triggers of anxiety?
Being a teenager is a really difficult time because you're still exposed to life events like a bereavement, even things like changing school or moving house, that can be really disruptive. But in addition to that, family conflict or conflict within friendship groups can be very difficult for people to weather. And they're often at an age where they're starting to embark on their first romantic relationships and that again takes a huge amount of adjustment. I think they're different to their parents' generation in terms of the social pressures that they're exposed to now, and that's something that it's difficult for our generation to understand.
Social media constant 24/7 exposure to things that might make us feel terrible.
Yeah, and they're doing that whilst trying to revise for GCSEs A levels university exams it's a lot for them to balance.
Yeah. it's pressure from all angles I suppose, isn't it? And there's no off switch, it's constant. So what might be some of the signs that a parent could look for if they were worried about their child and anxiety?
So the signs can be a change in their behaviour maybe becoming more irritable or more tearful also potentially more withdrawn than normal.
Yeah.
So they may not be wanting to engage with you as a family or with their friendship group.
Spending a lot of time in their room is often a big one, isn't it?
Yeah, it really can be. And in addition to that, some of those physical symptoms that people may not necessarily associate with anxiety, palpitations, feeling on edge, feeling restless, some difficulty concentrating, all can be signs.
And I think as older adults we're more able to articulate and say what's wrong or have an argument often with teenagers they haven't quite developed that skill yet, so it can come out as outbursts of anger or just bursting into tears and their sort of things to look out for as well, I think, can't they? So how about supporting a teenager then? I mean, first and foremost it's really important to raise the topic. How can you do that and then offer support?
So it's really important to be able to talk to your teenager and it's about how you broach the subject. It may not be a single conversation over a dinner table it may be a number of conversations in different settings until you can kind of understand what's at the heart of the matter. And it may also be that you are not the right person for them to speak to. You know, is there another trusted adult in their life who might be a good person to talk about their concerns too.
I think there's something around recognising with this age group that you know whilst you are the parent and you kind of used to being able to fix their problems and offer solutions and the temptation may be to do that. Whereas actually we have to recognise that they are an expert in themselves and some of the solutions for their specific needs are probably more likely to come from within than them. And our job is more to facilitate that, be there for them, be a partner, let them feel like they're not on their own but guide them towards finding their own solutions.
I think that's such an important point Zoe. You know, they may have spoken to their peer group, they may have had friends who have been through similar experiences. So actually they might come to the conversation with ideas for what might help them. And actually I think that allows you to build a really trusted relationship to try and to test and learn different techniques that might help them. That might be exercise, diet, those sorts of things. But it also could be deep breathing exercises, trying meditation or even trialling things like cognitive behavioural therapy.
And if you need additional support from there where's the best place to go?
So there's lots of support for teenagers. Good place to start is the school. The teacher might be able to provide additional insights into what's happening. You might be able to come up with a joint strategy to address it. There's also often school pastoral support, counselling support that you can access. At university, you can often sign posts to a university counselling service as well. And I think if you want additional support, either with that or after that, then the GP is a great place to go. They're very used to talking to young people about some of their concerns and can often support you
Why do teenagers need so much sleep?
During puberty, there are so many changes taking place in the brain and body that mean teenagers need more sleep than adults. Professor of Sleep Science, Jason Ellis, explains what is going on when a teenager sleeps.
(bright music)
Did you know that kids need more sleep
when they're teenagers than when they're adults?
And the reason for this is that starting from puberty,
there's lots of changes in the brain and the body,
which they need this extra sleep for
in order to help them develop and grow.
A lot of these developments
that they're going through actually relate
to their performance,
as well as their academic work,
and so it's vital for them
to get a good amount of deep, good-quality sleep.
So what is actually going on here?
Firstly, let's talk about the brain.
We're supporting critical thinking and problem solving,
which are really important to help us
in our day-to-day academic work.
We're also functioning
in terms of our social and emotional health,
and some of those changes that are occurring,
which need more sleep, help us develop emotionally,
and so we're more resilient
and able to focus and feature in terms of our wellbeing.
Another core feature, of course, is our impulsivity.
Our teenagers can be quite impulsive
because of their hormones,
and it's actually sleep that helps start
to help us regulate those particular parts of the brain,
which help us become less impulsive over time.
We can't forget the impact it has on the body as well.
This is a time that we are growing physically,
and so we need a lot of deep, good-quality sleep
in order to produce growth hormone to help us grow stronger,
fight infections, and get all of our hormones in check.
So let's talk about what we can do to help
and support our teenagers.
The first is supporting them
to establish a good sleep routine.
It's important because when the body clock
and the drive to sleep work in tandem,
you end up feeling refreshed and able to manage the day,
so it's really good.
It's important for them to feel that the bedroom
is a comfortable environment,
and one of the challenges is, especially with our teenagers,
is that they want to use the bedroom
as an environment where they do lots of other activities,
as well as sleep.
A really good tip is if you could encourage them
to demarc different spaces in their bedroom.
There's a space for them to go to bed,
and maybe a space for them to do their homework
or indeed do their other activities.
That way, if you're separating out the day and the night,
it'll be easier for their bodies
and their brains to start to associate the bed of sleep,
and maybe their desk is somewhere they can work.
Getting our teenagers to talk about stress, anxiety,
and the things that bother them
can also be very, very helpful.
What we're doing here is we're gonna try
to release that stress and anxiety before they get into bed
because, of course, it's gonna prevent them
from getting a good-quality sleep.
So let's talk about electronics.
One of the challenges is that they contain blue light,
and that can inhibit the production of melatonin,
which is the hormone which tells us it's time to go to bed,
and this is critical for teenagers,
so we might want to encourage them
to leave their electronics
out of the bedroom an hour or so before bedtime.
Finally, I would say set a really good example.
Talk positively about sleep.
It's very interesting.
A lot of parents will talk about sleep
as, "Oh, I'm so tired.
"I didn't sleep very well."
Children, and teenagers especially, feed into that.
They understand it.
We don't want them
to start to develop anxiety about sleep themselves.
I'm Professor Jason Ellis.
Thank you so much for watching,
and I hope those hints and tips will be really helpful
in supporting your teenager's sleep.
(bright music)
Learn more about family health insurance
Our guides are here to help you understand more about health insurance. You can also read about health topics such as looking after yourself as a parent and taking care of your children's health.
Get a health insurance quote now
Our health insurance is designed to suit you. You can get a personalised quote by chatting to us and answering questions about your health and lifestyle.
Call us
0808 250 7825
We may record or monitor our calls. Lines are open Monday to Friday 8am to 8pm.
* Please be aware that information you send to this email address may not be secure unless you send us your email through Egress. Find more information and sign up for a free Egress account here. You will not be charged for sending secure emails to a Bupa email address using the Egress service.
† Add more than one child under 20 years old to your policy and you'll only pay for the eldest child, no matter how many more children you add. Children aged 20 or over cannot receive free cover or count as an 'eldest child' for this offer. Cover must include at least two children aged 19 or under. You'll still receive our 10% family discount if you have free child cover. Children do not have to live at the same address as the main member. This offer may change or be unavailable when you renew.
†† Families pay 10% less for a joint policy compared to the price of separate policies for each family member. Cover must include at least one adult and one or more children. Children do not have to live at the same address as the main member. This offer applies to our Bupa By You Comprehensive and Treatment and Care health insurance policies. This offer may change or be unavailable when you renew.
These offers apply to our Comprehensive and Treatment and Care policies. We may remove or change these offers when you renew. See full Terms and Conditions (PDF, 0.07MB).
‡ Customers who live on the Isle of Man, or have a Bupa Standard, Bupa Premium or Bupa Your Choice policy, do not have access to Bupa Blua Health, but can access GP24 provided by HealthHero. Some corporate schemes don't include access to Bupa Blua Health or GP24, so please check your scheme documents or give us a call.
† As of February 2023, this comparison to other products in the market is based on Bupa's and Defaqto's interpretation of the differences between Bupa's Bupa By You, SME Select and Corporate Select health insurance products and other health insurance products offering mental health cover. The comparison excludes any special offers or promotions which may temporarily alter the cover offered. Cover comparison information is for personal use and guidance only and does not constitute any contractual representation, warranty or obligation by either Bupa or Defaqto about the completeness, accuracy, reliability, suitability or availability of the comparison. Neither party accepts any liability for errors, omissions, direct or consequential loss in relation to this comparison.
See PDF How we compare: Individuals (PDF 0.9MB)
See PDF How we compare: Small business (PDF 1.3MB)
See PDF How we compare: Corporate business (PDF 1.0MB)
Bupa Blua Health is provided by Bupa Insurance Services Limited, registered in England and Wales with number 3829851. Digital GP services are powered by Babylon Healthcare Services Limited, registered in England and Wales with number 09229684, registered office: 1 Knightsbridge Green, London SW1X 7QA.
Bupa Anytime HealthLine, Bupa Blua Health and Rewards by Bupa are not regulated by the Financial Conduct Authority or the Prudential Regulation Authority.
Rewards by Bupa is promoted by Bupa Investments Limited, 1 Angel Court, London EC2R 7HJ. Terms and conditions can be found at bupa.co.uk/rewards
Bupa Investments Limited will use your information for the purposes of the administration of Rewards by Bupa. For details of how your information will be processed by Bupa, please visit: bupa.co.uk/privacy.
Bupa health insurance is provided by Bupa Insurance Limited. Registered in England and Wales No. 3956433. Bupa Insurance Limited is authorised by the Prudential Regulation Authority and regulated by the Financial Conduct Authority and the Prudential Regulation Authority. Arranged and administered by Bupa Insurance Services Limited, which is authorised and regulated by the Financial Conduct Authority. Registered in England and Wales No. 3829851. Registered office: 1 Angel Court, London, EC2R 7HJ.