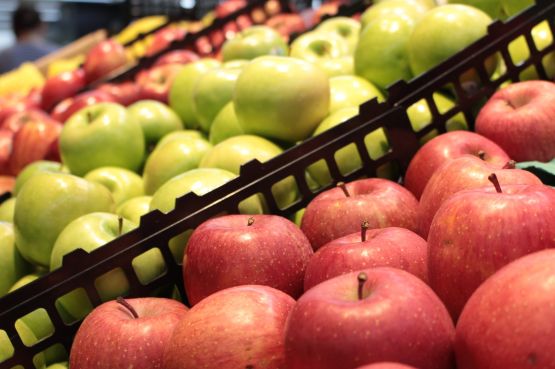 Here's our list of 50 healthy food swaps, whether you're making brunch choices at your local café, ordering takeaway food, or cooking at home.
It's amazing how small changes can make a big difference to your health. For example, it's always a good idea to replace any less-than-ideal eating habits with healthier versions. That way, you'll consider it a change, as opposed to something you've been forced to give up altogether.
How can these food swaps help? We've recommended swaps that:
increase the nutritional value of the meals you eat
don't contain as many calories (useful if you're trying to manage your weight)
may be more beneficial to your long-term health
Meat in stews – swap for lentils
Sour cream – swap for low-fat Greek yoghurt or low fat crème fraiche
Fruit juice – swap for a piece/portion of whole fruit or have half fruit juice and half water.
Crisps – swap for unsalted popcorn
Full-fat cheddar – swap for low-fat cottage cheese or a low-fat cheddar
Chicken wings or drumsticks – swap for skinless chicken breast
Chocolate bar – swap for dark chocolate-coated strawberries
Mayonnaise – swap for avocado or make your own dressing using olive oil, herbs and spices
Sunflower oil – swap for rapeseed oil
Apple pie – swap for stewed apple with oat crumble
Potato – swap for sweet potato
Chocolate biscuit – swap for a homemade muesli slice
Two-minute noodles – swap for rice noodles
Full-fat latte – swap for skinny latte
Takeaway pizza – swap for thin-crust pizza
Salted nuts – swap for unsalted nuts such as almonds, walnuts
Soy sauce – swap for reduced-salt soy sauce
Salami – swap for turkey or chicken breast
Sweets – swap for fresh dates or handful of fruit such as grapes or strawberries
Chocolate milkshake – swap for low-fat chocolate milkshake
Frozen fish in breadcrumbs – swap for fresh or frozen fish
Sugar used in baking – swap for artificial sweetener or half sugar/half sweetener products
Tempura – swap for raw fish or veggie sushi roll
Sugary cereal – swap for porridge or wholegrain wheat cereal, or wholemeal toast with peanut butter
Creamy pasta sauces – swap for tomato-based sauces
Ice cream – swap for a frozen blended banana
Ice lollies – swap for frozen grapes
Butter – swap for olive oil-based spread
Cheese and biscuits – swap for crudités (vegetable sticks such as carrots, celery, peppers) and a dip such as low-fat humus or salsa
Caesar salad – swap for a build-your-own garden salad
White rice – swap for pearl barley or brown rice
French fries – swap for oven-baked potato wedges or sweet potato wedges
Sugar – swap for stevia or artificial sweeteners
Creamy salad dressing – swap for olive oil and balsamic vinegar
Bacon and egg focaccia – swap for poached eggs on multigrain toast
Coconut milk – swap for light coconut milk or light evaporated milk with coconut essence
Spring rolls – swap for rice paper rolls
Sweet chilli sauce – swap for homemade dipping sauce
Carbonated drinks – swap for diet or zero carbonated drinks, no added sugar squash or sparkling or still water
Bacon – swap for smoked salmon
Blueberry muffin – swap for one slice of raisin toast
Gyoza (Japanese dumplings) entrée – swap for edamame, which are a type of soy bean
Pretzels – swap for rice crackers
Salt – swap for herbs and spices
Tinned fish in brine – swap for tinned fish in spring water such as mackerel, salmon and sardines
Hot chocolate – swap for warm, low-fat milk with cinnamon
Pancakes with lemon and sugar – swap for pancakes served with fresh fruit
Quiche – swap for frittata or omelette
Hamburger – swap for grilled chicken salad sandwich or wrap
Pappardelle pasta – swap for courgette ribbons
Try to make these easy, healthy swaps in your everyday life and see how you feel!
---
Even healthy people become unwell sometimes. Health insurance can help you get prompt access to the treatment and support you need to help you get back on the road to recovery. Learn more with our useful guide to understanding health insurance.
More diet related articles...
Health information
At Bupa we produce a wealth of free health information for you and your family. We believe that trustworthy information is essential in helping you make better decisions about your health and care.
Legal disclaimer
This information was published by Bupa's Health Content Team and is based on reputable sources of medical evidence. It has been reviewed by appropriate medical or clinical professionals. Photos are only for illustrative purposes and do not reflect every presentation of a condition.
The information contained on this page and in any third party websites referred to on this page is not intended nor implied to be a substitute for professional medical advice nor is it intended to be for medical diagnosis or treatment. Third party websites are not owned or controlled by Bupa and any individual may be able to access and post messages on them. Bupa is not responsible for the content or availability of these third party websites. We do not accept advertising on this page.
For more details on how we produce our content and its sources, visit the 'About our health information' section.