We are #TeamHealth
Follow two people on very different but equally important personal health journeys – both supported by Bupa over 12 months.
Episode 2:
#Team Health conquer the 02 arena
In partnership with ParalympicsGB, our #TeamHealth series follows proud mum, Julie, and thriving para-athlete, Emmanuel on their quest to achieve their health goals.
In the second episode of our #TeamHealth Journey, the team unite for a thrilling ascent of the 02 arena.
Watch as the duo display the ultimate lesson in team spirit proving that through determination and unity, you can achieve your goals, no matter what your health challenges are.
I mean, I'm not afraid of heights, but I might be today.
We are all aiming for personal bests in life.
But whether you are aiming to become a Paralympic athlete, or getting fit in your fifties, there's always certain things you need to succeed.
Determination, effort.
But more importantly, the strength of a brilliant team behind you.
Two people have very different goals, but share a burning desire to take control of their physical and mental wellbeing over the next year.
and we're here to support and cheer them on.
Hi, I'm Richard Whitehead Paralympic gold medalist.
Together Bupa and ParalympicsGB are on a mission to make health a team sport for us all.
Welcome to Team Health.
Come on.
My name is Emmanuel Oyinbo-Coker.
I'm a para-athlete And I also mentor kids at primary schools.
I had a setback, so I didn't qualify for the Tokyo Games.
This year I need to qualify for the Paris 2024 Games and come back with a gold medal.
My health is important to me because staying in shape is the key to achieving success in my sport.
My biggest supporters are my mum, Olu, and my younger brother, Ayomide.
My name is Julie Vivash.
I'm a financial administrator at a Bupa Care Home.
My big goal is to get fit, to get healthier, to get my BMI down.
I want to do this now because I've always done things for other people and I think this is my time.
At 53.
My biggest supporters are my husband, my family, my children, and my best friend, Louise.
It's good to meet you.
Let's go.
I'm always a big fan of new challenges.
So, yeah.
Bit scared?
A little bit, you know, you've always got to have a little bit of that scared feeling, because you don't know what to expect.
I'm anxious, but I'm going to love it.
Whatever we do, I'm going to love it.
The aim is as long as we both finish the challenge together.
That's the most important thing.
I'll help you if you help me.
I reckon it's that.
What have we signed up for?
Oh, look.
That's pretty awesome.
Wow.
Are you a hugger?
I'm a hugger.
Absolutely.
Emmanuel, you're definitely a hugger.
Oh, yeah, yeah, yeah.
Welcome to the O2.
What are your first thoughts?
It's beautiful, actually.
It's high.
So today we're going to take on challenge, and this is going to be the start of your Team Health journey.
We're going to be going over to base camp and we're going to be climbing the O2.
Oh, my god.
Oh, this is steep.
This isn't going to be easy, but I'm not going to quit.
Oh my.
Oh.
It's amazing.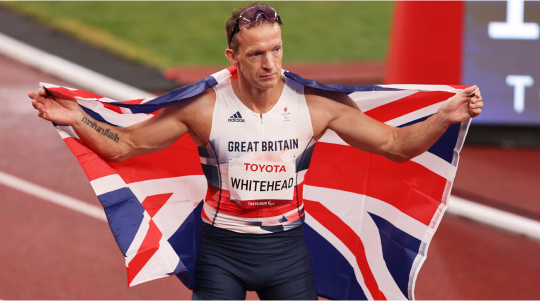 Our #TeamHealth mentor
From Paralympic gold in 2012 to breaking records at Tokyo 2020, Richard Whitehead MBE is a decorated athlete.
Seeing sport as the great unifier and leveller, Richard now uses his time and profile to encourage all kinds of different people to have greater belief in themselves. This passion and outlook makes him the perfect #TeamHealth mentor.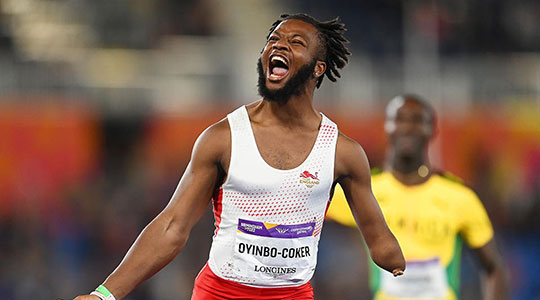 Chasing the Paralympic dream
At 21 years old, athlete Emmanuel Oyinbo-Coker is already showing huge promise, with aspirations to achieve the world record in his para classification of T47.
However, Emmanuel narrowly missed out on a Paralympic debut in Tokyo when he failed to register the qualifying time he needed. It was a huge setback but now he's working hard to raise his game with his heart set on the Paris 2024 Paralympic Games.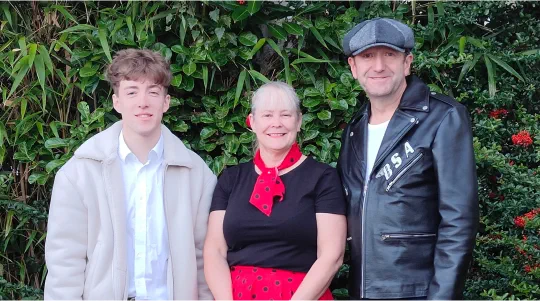 Time to put her health first
Julie's journey hasn't been short of turbulent moments. With a family history of bowel cancer, lung cancer, her husband's tumour scare, and her daughter's complex kidney surgery, she's had her fair share of worries. But now Julie is determined to embrace a healthier lifestyle.
At 53, Julie wants to reach a healthy BMI and finally focus on herself. That's where Bupa and our #TeamHealth mentor, Richard Whitehead MBE, come in. Supporting her with simple, sustainable diet and lifestyle changes as she aims to reach the incredible milestone of living to 100.
Working together to champion inclusive workplaces
As the Official Healthcare Partner of Paralympics GB, we're proud to be working together to make workplaces more inclusive for disabled people.
We want to create more opportunities for businesses to play their part to champion change.
Join us and get involved
Start your own journey
Our health experts and ParalympicsGB athletes are here to help support your journey to a healthier, happier you.
Exercise and fitness
Whether you're a beginner or an enthusiast, we've got a range of information and articles to help.
Diet and nutrition
Eating well is essential to staying healthy. Our information can help you to enjoy a balanced and varied diet.