The health assessment experience
Find out what happens before, during and after a Bupa health assessment
Your health assessment includes Bupa staying with you for a full year
Our health checks aren't just a one-off event. Using what we discover before and during your appointment, we'll tailor a 12-month plan of support for you − helping you to make lasting changes.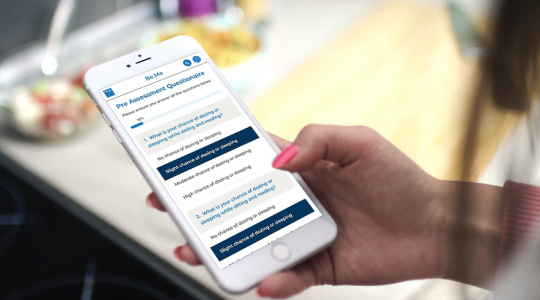 Before your health assessment
We'll ask you to complete a physical and mental health questionnaire either online or via the Bupa Be.Me app. If you can't complete it digitally, please arrive 15 minutes early for your appointment so you can fill in a paper version.
Avoid a heavy meal before your check-up, but do drink plenty of water (and no caffeine for three hours beforehand). If you're on medication, keep taking it. Wear comfortable clothes in case we ask you to do some gentle stretching. And please plan for any childcare, as we don't have facilities for under-18s.
During your health assessment
We'll have emailed you in advance to let you know what will happen on the day, what time to arrive, and what to bring with you. That way, you'll know what to expect and you'll feel more relaxed.
If you're paying for your assessment yourself, we'll take payment on the day. Please note, we no longer accept cash at our centres.
00:03 At Bupa health centres,

00:05 we've taken the following precautions

00:07 highlighted in this video

00:08 to ensure the safety and wellbeing

00:10 of our customers and staff.

00:13 After booking an appointment,

00:14 you'll receive a confirmation email

00:16 with a questionnaire link.

00:18 Please make sure this is completed

00:19 before your appointment.

00:21 This helps to limit

00:22 any handling of paperwork in the centre.

00:27 If you're asked to visit the health centre,

00:29 you'll receive a Symptom Check email and text message

00:31 24 hours before your face-to-face appointment.

00:36 If you're not experiencing any symptoms,

00:38 then you'll be clear to attend

00:39 your appointment at the centre.

00:44 When you arrive,

00:45 the doors will be locked

00:47 and you'll be greeted by a receptionist

00:49 who will ask that you apply a mask and hand sanitiser.

00:52 You can then head to reception to check-in.

00:57 For the safety of both

00:58 our receptionists and customers,

01:00 we have installed protective screens at our desks,

01:03 where there will also be hand sanitiser available.

01:06 And we have also introduced new one-way corridor systems.

01:10 During check-in,

01:11 we will check for COVID symptoms

01:13 by taking your temperature

01:14 using a handheld device.

01:17 If you're not experiencing any symptoms,

01:19 we'll walk you through to a consulting room.

01:22 One of our health advisors

01:24 will enter your room wearing PPE

01:26 and will carry out the first part of your assessment.

01:29 They will socially distance wherever possible.

01:31 For example, when not carrying out any test.

01:36 Your health advisor will also schedule

01:38 your behaviour phone call

01:39 to check-in with you after your appointment.

01:43 Once the relevant tests have been

01:45 completed by the health advisor,

01:46 they'll leave your room.

01:51 If your visit includes time with one of our doctors,

01:54 they will then enter your room

01:55 to carry out the second part of your assessment.

01:59 Our doctors will also be wearing PPE at all times 02:02 and socially distance themselves

02:04 when not carrying out any tests.

02:06 No oral or nasal examinations

02:09 will take place during your appointment.

02:12 Once your assessment is finished,

02:140 we'll walk you back to reception

02:16 where you can pick up any referral

02:18 or prescription paperwork.

02:20 If you need to pay for your assessment,

02:22 we will only be accepting card payments.

2:25 You'll then be show to the exit by our receptionist.

02:28 They'll advise you how to remove your PPE safely

02:31 in the bins provided

02:33 where you'll also be asked to apply hand sanitiser.

02:36 Alongside our centres being continually

02:39 wiped down every two hours,

02:41 each of our rooms are cleaned thoroughly

02:43 after every appointment,

02:44 ready for our next visitor.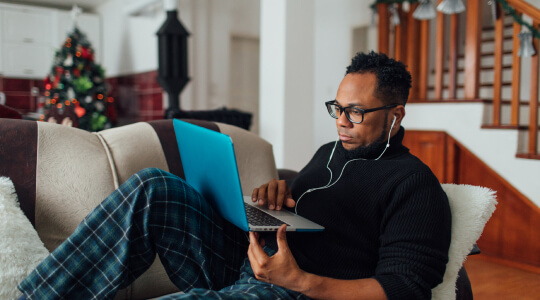 After your health assessment
You'll receive your personal health and wellbeing plan report via our secure online portal. Over the following 12 months you'll also have access to:
Two follow-up coaching calls
The Bupa Be.Me app
Health information and videos tailored to you
Calls to a Bupa nurse via our 24/7 Anytime HealthLine
Access to online mental wellbeing programmes provided by SilverCloud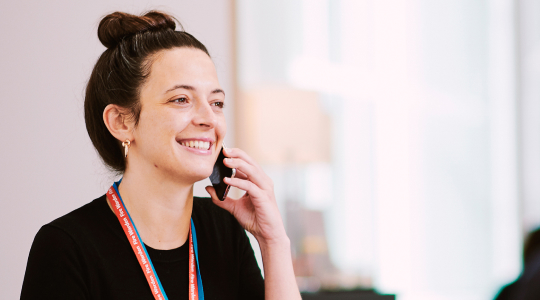 What if you can't make your appointment?
If you need to cancel or rearrange your health check, do let us know at least five working days beforehand. Otherwise, we'll have to charge you £75 to cover the cost of preparing your tests.
If you provide less than 24 hours' notice of cancellation, or you don't turn up, we'll have to charge you the full price.
Before your home health assessment
Your appointment will be at least 17 days after you book, to give us time to send out your remote testing kit and get your blood sample back.
We'll email when your kit's on its way. There's a blood sampling device, a tape measure, and a blood pressure monitor to keep.
You'll need to send off your blood sample within 48 hours of taking the sample.
You'll complete your health questionnaire via our app or online.
Two days before your appointment, you'll fill in your mental health questionnaire the same way.
You'll need to measure your height and weight within a few days before the call, and have the results with you.†
45 minutes with a health adviser by video
You'll discuss your blood test results, and then you'll use your kit to measure your waist and take your blood pressure. Your health adviser will also review your mobility and flexibility, and talk to you about your mental wellbeing. You'll also agree on a lifestyle goal, with targets to work towards and an action plan to help you get there.
If you've chosen Be.Healthy at Home Plus
You'll then move on to see the GP via video call. You can talk to them about your health check results or anything else that's on your mind, and you'll discuss your mental health in more detail.
After your home health assessment
You can access your personal health and wellbeing plan by logging into our secure online portal. For the next 12 months, you'll also get:
Two follow-up coaching calls to help keep you on track
The Bupa Be.Me app, including tips for meeting your goals.
Health information and videos, tailored to your needs.
Access to our Anytime HealthLine, so you can talk to a Bupa nurse 24/7.
Access to SilverCloud's online mental wellbeing programmes.
What if you need to cancel or change your appointment?
If you need to change the date of your appointment, rather than cancelling, please give us a call as some fees may apply.
If you want to cancel, we'll need to treat your appointment separately from your home testing kit. Please note that the maximum cancellation fee will never be more than the cost of the home health assessment you booked.
Your appointment
Charges vary according to when you cancel:
More than 72 hours in advance − no cancellation charge.
72 to 24 hours in advance − a cancellation charge of £75.
Less than 24 hours beforehand − the charge is 100% of the cost of your health assessment.
Your home testing kit
We can only refund the cost of the testing kit, which is £35, if you return the kit with the seal intact. Returning it is simple: just call us and we'll arrange for a courier to collect it.
Find out which health assessment is right for you
We now offer the choice of five health assessments, which vary according to your needs, your goals, and where you want to have your health check. You can either come to one of around
50 Bupa health centres
across the UK, or do your health check from home.
Call us
0370 218 8330
Lines are open Monday to Friday 8am to 8pm and Saturday 9am to 5pm. We are closed on Sundays. We may record or monitor our calls.
† If you don't have access to scales to measure your weight, you can visit a local chemist.
‡ Please be aware that information you send to this email address may not be secure unless you send us your email through Egress. For more information and to sign up for a free Egress account, go to https://switch.egress.com. You will not be charged for sending secure emails to a Bupa email address using the Egress service.
Bupa health assessments, Bupa Be.Me app and Bupa Anytime HealthLine are provided by Bupa Occupational Health Limited. Registered in England and Wales No. 631336. Registered office: 1 Angel Court, London EC2R 7HJ. Bupa Occupational Health Limited provides Bupa Be.Me app by working together with Wellpoint Group Limited.
Bupa Occupational Health Limited provides Online Mental Wellbeing Programmes by working together with SilverCloud Health Limited. Registered address: 1 Stephen Street Upper, Saint Peter's, Dublin 8, Ireland D08 DR9P. Bupa Occupational Health Limited will be the controller of your information for these purposes and any other purposes.