Anal fissure
An anal fissure is a small tear or ulcer (open sore) in your skin around the opening of your bottom. It can be very painful and sometimes bleed, usually after you go to the toilet (to pass faeces). About one in 10 people get an anal fissure at some point in their life.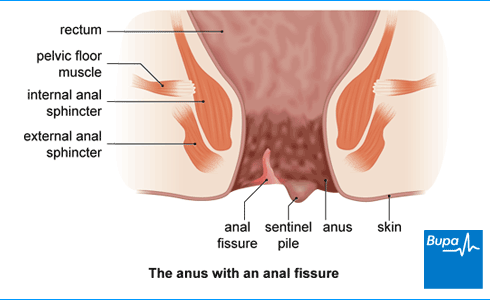 About anal fissure
Your anus is the area at the very end of your bowel. Anal fissures usually develop at the part of your anus towards your back – in line with the cleft of your buttocks. You can sometimes get one at the front of your anus, or even both together.
An anal fissure will usually heal within six weeks, and it's called an acute anal fissure. If it lasts for longer than six weeks, it's known as a chronic anal fissure.
You can get an anal fissure at any age, but it's most common in people aged 15 to 40.
Symptoms of anal fissure
If you have an anal fissure, you may have the following symptoms.
A sharp, searing or burning pain in, or around, your bottom, which can last for a couple of hours after you go to the toilet. Some people describe the pain of an anal fissure as like passing broken glass.
Spasms in your anus.
Bleeding. After you go to the toilet, you might see blood on the toilet paper or drops of blood in the toilet bowl.
A sentinel pile. This is a tag of skin that can develop on the edge of your anus below the fissure. This can develop after you get the fissure.
These symptoms may be caused by something other than an anal fissure. One condition they're often confused with is piles (haemorrhoids), for example. If you have any of these symptoms, contact your GP.
Diagnosis of anal fissure
Your GP will ask about your symptoms and your medical history. They may examine the area too. They'll ask you to lie on your side with your knees bent towards your chest and part your buttocks to do this. They'll be able to see if there's a fissure.
If your symptoms haven't improved with treatments (described below) after about six to eight weeks, your GP may refer you to see a colorectal surgeon. This is a surgeon who specialises in bowel conditions. At the hospital, they'll examine your bottom carefully and suggest a plan for treatment.
You may also need to have some other tests to rule out other bowel problems, such as a proctoscope test. This involves using a narrow tube to look at the inside of your rectum and large bowel. Or you might have an ultrasound scan. This uses sound waves to produce an image of the inside of your anus.
Self-help
To help an anal fissure heal, it's important to keep your faeces soft when you go to the toilet. This will help to stop you stretching your anus, and with the pain caused by the fissure.
If you make some changes to your diet and lifestyle, it can help prevent constipation and make your faeces softer, and therefore easier to pass. You can do this by:
eating a healthy balanced diet with lots of fibre
taking a fibre supplement (bulk-forming laxative), such as sterculia (Normacol) or ispaghula husk (Fybogel)
drinking enough fluids so you don't become dehydrated
doing regular exercise
It may help to sit in a warm bath (10–15 minutes) after you go to the toilet to relieve any discomfort.
Treatment of anal fissure
Sometimes an anal fissure will heal within a week or two without any treatment. An anal fissure often heals if you make some changes to your diet and take medicines, or use creams. If it doesn't get better, you may need to have surgery.
Medicines
Always read the patient information leaflet that comes with your medicine and if you have any questions, ask your doctor or pharmacist for advice.
Medicines to prevent constipation
Your GP may prescribe you a laxative, such as lactulose syrup, to soften your faeces. You can buy laxatives over the counter from a pharmacist without a prescription too. But, it's important to talk to a pharmacist or your GP before you try laxatives because there are different types that work in different ways.
Medicines for pain relief
If you need pain relief, you can take over-the-counter painkillers such as paracetamol or ibuprofen. If these don't help, have a chat with your pharmacist about other options.
Medicines to relieve anal spasm
The opening and closing of your anus is controlled by your internal (inside) and external (outside) anal sphincter muscles. These muscles surround your anus and relax and contract to control your bowel movements when you go to the toilet. You can voluntarily control your external anal sphincter yourself, but not your internal anal sphincter. If you have an anal fissure, your internal anal sphincter often goes into spasm (tenses). This reduces the blood supply to your fissure and prevents it healing.
Your GP may prescribe you the following medicines to relieve the spasm of an anal fissure. It's important to take these for the full time your doctor recommends to get the best results.
Local anaesthetic (eg, lidocaine). This ointment will block pain from your bottom.
Glyceryl trinitrate (GTN). This is an ointment that helps the internal sphincter muscle to relax. It reduces the spasm and improves blood flow to your bottom to help the fissure heal.
Calcium-channel blockers (eg, diltiazem cream). These medicines work by relaxing part of the sphincter to reduce the spasm and pressure in your anus. Calcium-channel blockers aren't licensed in the UK to treat anal fissures yet, but your doctor may prescribe one to you 'off-label'. Doctors can legally prescribe outside the licence if they think the medicine will work for you.
Easing the anal spasm with medicines can help the fissure heal, usually over about six to eight weeks. But your anal fissure might come back. You may need to take them alongside painkillers.
Injections to relieve anal spasm
Botulinum A toxin (eg, Botox) is being used more and more by surgeons to treat anal fissure. In this procedure, your surgeon will inject botulinum A toxin into your internal sphincter muscle to help it relax. If you have a sentinel pile, your surgeon may remove it during the procedure to help the healing process.
The effects of the treatment last around three months, by which time it's hoped the fissure will have healed. Like calcium-channel blockers, the use of botulinum A toxin is off-label.
Surgery
If treatment with botulinum A toxin doesn't work, you may need surgery to relax your sphincter muscle or to remove the damaged skin.
There are a number of operations to treat an anal fissure. For more information about what's involved, see Related information.
Causes of anal fissure
There are lots of reasons why you may get an anal fissure. It's often caused by a hard or painful bowel movement, which damages the surrounding skin.
Other reasons why you get an anal fissure include:
straining when you go to the toilet – sometimes because you're constipated
having diarrhoea
inflammatory bowel disease, such as Crohn's disease
having an infection in the skin around your anus, such as a sexually transmitted infection
taking certain medicines, such as painkillers that contain opiate
trauma – for example, through having anal sex
giving birth
Prevention of anal fissure
You can reduce your risk of developing an anal fissure by preventing constipation. This is really important if you've had an anal fissure in the past. You can prevent constipation by eating a healthy balanced diet that contains plenty of fibre, fruit and vegetables, drinking enough fluids, and exercising regularly.
If you have another health condition that increases your risk of getting an anal fissure, speak to your doctor. They will talk you through how to best manage your condition and reduce your risk of having an anal fissure.
FAQ: Will my anal fissure get worse if I exercise?
It's important to continue to exercise as usual. Exercise helps to increase blood flow, which may help your anal fissure heal.
Exercise raises your heart rate, which increases blood flow around your body. This may help an anal fissure to heal. Being regularly active also helps to keep food moving through your digestive system, which helps to reduce constipation.
Remember, keeping physically active is great for your overall health – it can prevent major illnesses such as heart disease, diabetes and bowel cancer. See Related information for tips and advice about keeping fit.
If your anal fissure is painful when you exercise, see your GP as this may be a sign that you have another condition.
FAQ: What's a sitz bath?
A sitz bath is a type of bath – derived from the German word 'sitzen' meaning 'to sit'. You sit in water that only covers your hips and buttocks – a bit like a portable bidet. They're sometimes used to relieve pain and muscle spasms.
The warm water may help relieve any discomfort when you go to the toilet. Sitz baths also help to promote good anal hygiene, can decrease anal sphincter spasm and will improve blood flow to your anus. If you use a warm sitz bath for 10–20 minutes after going to the toilet, it may help to relieve the pain from an anal fissure. But there isn't any scientific evidence to prove that they work yet.
FAQ: What's the difference between fissures and piles?
Anal fissures and piles have similar symptoms and causes, but they're different conditions.
Both anal fissures and piles can make you bleed after you go to the toilet and can be uncomfortable. But you don't usually get the same level of pain with piles as you do with an anal fissure. Some people describe the pain of an anal fissure as like passing broken glass.
Although some of the symptoms are similar, the conditions are quite different. An anal fissure is a small tear or ulcer (open sore) in your skin around the opening of your anus. Whereas piles, also known as haemorrhoids, are swollen veins and muscle around your anus or in your anal canal. Your anal canal is a short, muscular tube with blood vessels. It connects your rectum (back passage) with your anus.
Both anal fissures and piles can result from straining when going to the toilet. This can happen if you have constipation, so it's important to eat a healthy diet that contains enough fibre, and to drink plenty of fluids.
Details
Anal fissure treatment on demand

You can access a range of our health and wellbeing services on a pay-as-you-go basis, including anal fissure treatment.

We'd love to know what you think about what you've just been reading and looking at – we'll use it to improve our information. If you'd like to give us some feedback, our short form below will take just a few minutes to complete. And if there's a question you want to ask that hasn't been answered here, please submit it to us. Although we can't respond to specific questions directly, we'll aim to include the answer to it when we next review this topic.

Sources

Anal fissure. BMJ Best Practice. bestpractice.bmj.com, last updated 27 April 2016
Chronic anal fissure: botulinum toxin type A injection. National Institute for Health and Care Excellence (NICE), 25 June 2013. www.nice.org.uk
Anal canal anatomy. Medscape. emedicine.medscape.com, updated 25 February 2015
Anal fissure. PatientPlus. www.patient.info/patientplus, last checked 23 June 2015
Anal fissure. NICE Clinical Knowledge Summaries. cks.nice.org.uk, last revised November 2012
Joint Formulary Committee. British National Formulary (online) London: BMJ Group and Pharmaceutical Press. www.medicinescomplete.com, accessed 6 June 2016
Constipation. BMJ Best Practice. bestpractice.bmj.com, last updated 25 January 2016
Anal fissure. Medscape. emedicine.medscape.com, updated 16 December 2015
Chronic anal fissure: 0.2% topical glyceryl trinitrate ointment. National Institute for Health and Care Excellence (NICE), 26 March 2013. www.nice.org.uk
Chronic anal fissure: 2% topical diltiazem hydrochloride. National Institute for Health and Care Excellence (NICE), 22 January 2013. www.nice.org.uk
Prescribing guidance: prescribing unlicensed medicines. General Medical Council. www.gmc-uk.org, published 25 February 2013
Anal fissure. American Society of Colon and Rectal Surgeons. www.fascrs.org, accessed 6 June 2016
OSH colorectal surgery. Anorectal disorders (online). Oxford Medicine Online. oxfordmedicine.com, published October 2011
Brown SR, Haboubi N, Hampton J, et al. Colorectal disease. Position statements: management of anal fissure management of acute severe colitis. Colorectal Disease 2008; 10(Suppl 3):1–7. doi: 10.1111/j.1463-1318.2008.01682.x
Anal fissure. The MSD Manuals. www.msdmanuals.com, last full review/revision July 2014
Physical activity: brief advice for adults in primary care. National Institute for Health and Care Excellence (NICE), May 2013. www.nice.org.uk
Understanding constipation. American Gastroenterological Association. www.gastro.org, published January 2013
Stedman's Medical Dictionary. Lippincott Williams & Wilkins. www.medicinescomplete.com, accessed 7 June 2016
Nelson RL, Thomas K, Morgan J, et al. Non-surgical therapy for anal fissure. Cochrane Database of Systematic Reviews 2012, Issue 2. doi: 10.1002/14651858.CD003431.pub3
Haemorrhoids. BMJ Best Practice. bestpractice.bmj.com, last updated 28 January 2016

Reviewed by Rachael Mayfield-Blake, Bupa Health Content Team, July 2016.
Peer reviewed by Mr Simon M Phillips, Consultant Colorectal Surgeon.
Next review due August 2018.
About our health information
At Bupa we produce a wealth of free health information for you and your family. We believe that trustworthy information is essential in helping you make better decisions about your health and care. Here are just a few of the ways in which our core editorial principles have been recognised.
Information Standard

We are certified by the Information Standard. This quality mark identifies reliable, trustworthy producers and sources of health information.

HONcode

This site complies with the HONcode standard for trustworthy health information:
verify here.
What our readers say about us
But don't just take our word for it; here's some feedback from our readers.
"Simple and easy to use website - not alarming, just helpful."
"It's informative but not too detailed. I like that it's factual and realistic about the conditions and the procedures involved. It's also easy to navigate to areas that you specifically want without having to read all the information."
"Good information, easy to find, trustworthy."
Meet the team
Nick Ridgman
Head of Health Content
Dylan Merkett – Lead Editor
Graham Pembrey - Lead Editor
Laura Blanks – Specialist Editor, Quality
Michelle Harrison – Specialist Editor, Insights
Natalie Heaton – Specialist Editor, User Experience
Fay Jeffery – Web Editor
Marcella McEvoy – Specialist Editor, Content Portfolio
Alice Rossiter – Specialist Editor (on Maternity Leave)
Our core principles
All our health content is produced in line with our core editorial principles – readable, reliable, relevant – which are represented by our diagram.
The '3Rs' encompass everything we believe good health information should be. From tweets to in-depth reports, videos to quizzes, every piece of content we produce has these as its foundation.
Readable
In a nutshell, our information is jargon-free, concise and accessible. We know our audience and we meet their health information needs, helping them to take the next step in their health and wellbeing journey.
Reliable
We use the best quality and most up-to-date evidence to produce our information. Our process is transparent and validated by experts – both our users and medical specialists.
Relevant
We know that our users want the right information at the right time, in the way that suits them. So we review our content at least every three years to keep it fresh. And we're embracing new technology and social media so they can get it whenever and wherever they choose.
Our accreditation
Here are just a few of the ways in which the quality of our information has been recognised.
The Information Standard certification scheme

You will see the Information Standard quality mark on our content. This is a certification programme, supported by NHS England, that was developed to ensure that public-facing health and care information is created to a set of best practice principles.

It uses only recognised evidence sources and presents the information in a clear and balanced way. The Information Standard quality mark is a quick and easy way for you to identify reliable and trustworthy producers and sources of information.

Certified by the Information Standard as a quality provider of health and social care information. Bupa shall hold responsibility for the accuracy of the information they publish and neither the Scheme Operator nor the Scheme Owner shall have any responsibility whatsoever for costs, losses or direct or indirect damages or costs arising from inaccuracy of information or omissions in information published on the website on behalf of Bupa.

British Medical Association (BMA) patient information awards

We have received a number of BMA awards for different assets over the years. Most recently, in 2013, we received a 'commended' award for our online shared decision making hub.
Contact us
If you have any feedback on our health information, we would love to hear from you. Please contact us via email: healthinfo@bupa.com. Or you can write to us:
Health Content Team
Battle Bridge House
300 Grays Inn Road
London
WC1X 8DU
Find out more
Close
Legal disclaimer
This information was published by Bupa's Health Content Team and is based on reputable sources of medical evidence. It has been reviewed by appropriate medical or clinical professionals. Photos are only for illustrative purposes and do not reflect every presentation of a condition.
The information contained on this page and in any third party websites referred to on this page is not intended nor implied to be a substitute for professional medical advice nor is it intended to be for medical diagnosis or treatment. Third party websites are not owned or controlled by Bupa and any individual may be able to access and post messages on them. Bupa is not responsible for the content or availability of these third party websites. We do not accept advertising on this page.
For more details on how we produce our content and its sources, visit the 'About our health information' section.
ˆ We may record or monitor our calls.