Kidney infection (pyelonephritis)
An infection in your kidney is called pyelonephritis. When you have a kidney infection, you can feel generally unwell with a fever, sickness and back pain. How severe a kidney infection is can vary from mild to life-threatening. An infection can be acute (last for a short time) or chronic (last for a long time). The information we're covering here is about acute kidney infection.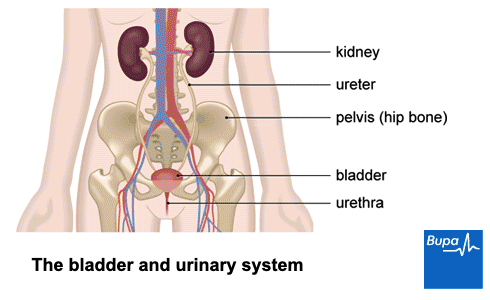 About your kidneys
Your kidneys do a number of important jobs, including controlling your blood pressure and the amount of fluid in your body. They also 'clean' your blood by filtering out water and waste products to make urine. Urine is produced in your kidneys and passed down two tubes (called ureters) to be stored in your bladder. Urine is then passed out of your body through your urethra (the tube that carries the urine from your bladder and out of your body) when you go to the toilet.
Symptoms of kidney infection
The symptoms of a kidney infection vary from mild to severe. Symptoms can develop over a few hours or over the course of a day and may include:
pain in your back, abdomen (tummy) or sides (it may be only on one side)
fever (a high temperature)
feeling sick or vomiting (being sick)
confusion (in older people)
You may also have symptoms of a lower urinary tract infection. This is an infection in your bladder and urethra and the symptoms may include:
blood in your urine
needing to go to the toilet to pass urine urgently and often
a burning or stinging feeling when you pass urine
If you have any of these symptoms, contact your GP.
Diagnosis of kidney infection
Your GP will talk to you about your symptoms and medical history. They will examine you and ask you to give a urine sample. The urine sample can be tested to see if you have an infection. This is sometimes called a 'dipstick' test. A urine sample may also be sent to a laboratory to find out which type of bacteria is causing the infection.
If you have a severe kidney infection, you may go to hospital for more tests, including:
blood tests
scans, such as a renal ultrasound, or a scan called a CT urogram
A CT urogram is a type of X-ray that looks at your kidneys, bladder and ureters. Scans are used to check for any other problems such as blocked tubes or kidney stones.
Treatment of kidney infection
Self-help
It's important to stay well hydrated so make sure you drink plenty of fluids, like water. One way to tell if you're hydrated is to check the colour of your urine – it should be pale-coloured. But some vitamins and medicines can affect the colour of your urine, so this might not always be the best way to check if you're hydrated enough. If you feel tired and generally unwell, make sure you get plenty of rest.
Medicines
If you need pain relief, you can take over-the-counter painkillers such as paracetamol. Always read the patient information leaflet that comes with your medicine and if you have any questions, ask your pharmacist for advice.
You will be given antibiotics to take if your GP thinks you have a kidney infection. You will probably need to take these for one to two weeks. It's important to take the antibiotics as they have been prescribed, even if your symptoms clear up before you finish them. This helps to stop the infection from coming back.
Hospital treatment
If antibiotics haven't begun to work within 24 hours of starting them, you may need to go into hospital for treatment. You may also need to go to hospital for treatment if you:
are pregnant
have a high fever
are being sick and can't drink or take medicines
develop septicaemia (blood poisoning)
are at risk of developing complications or have other health problems such as diabetes or kidney disease
In hospital, you're likely to need to have a drip inserted into a vein in your hand or arm to give you fluids and antibiotics.
Surgery
If tests show that you have a blocked ureter or kidney, if you have a kidney stone for example, you may need an operation to remove it.
Causes of kidney infection
A kidney infection is sometimes caused by bacteria, such as Escherichia coli (E. coli) which usually live in your bowel. The bacteria can spread from your anus to your urethra, and then up to your bladder, ureters and kidneys. Bacteria can also get into your kidneys from your bloodstream.
You're more likely to develop a kidney infection if:
you have an abnormal kidney or urinary tract
you have a catheter (tube) that takes urine out of your body from your bladder
your ureter or kidney is blocked, for example by a kidney stone or an enlarged prostate gland
you're pregnant
you have diabetes
your immune system is weakened, for example if you have HIV/AIDS
you have a urinary tract infection (UTI)
you have urinary incontinence
Complications of kidney infection
Kidney infections are usually uncomplicated and you should get better with treatment after a few days or weeks. However, sometimes an infection can become serious and even life-threatening. Complications include:
an abscess (a collection of pus) in your kidney
your kidneys not working properly, which can lead to kidney failure
scars, which are permanent, developing on your kidneys
septicaemia (blood poisoning) – this can happen if bacteria get into your blood
You're more likely to develop complications if you:
have a severe infection
have type 1 or type 2 diabetes
are over 65
have lots of kidney infections or a long-term infection
already have kidney disease
have a catheter (tube) that takes urine out of your body from your bladder
have a weakened immune system – for example, if you have HIV/AIDS (which reduces your ability to fight infection)
have kidney stones
If you're pregnant and you develop a kidney infection, it can lead to complications for you and your baby. These include your baby being born early and being born small. If you have any of the symptoms of a kidney infection and you're pregnant, you should see your GP or midwife as soon as possible.
Prevention of kidney infection
If you're getting regular kidney infections or urinary tract infections (UTIs), your doctor may suggest you to take antibiotics over a longer period of time. How long you need to take them for will depend on your personal circumstances.
To help stop UTIs from developing you can try these self-help tips.
Drink more fluids, such as water.
Go to the toilet to pass urine as soon as you feel you need to go.
Go to the toilet to pass urine after you have sex.
Some people drink cranberry juice or take cranberry supplements to prevent UTIs. Cranberries have a substance in them that can stop bacteria from sticking to the walls of your bladder, and it's thought this may help prevent a UTI. Overall, the research into this isn't conclusive but it may be something you want to try to see if it helps. If you do, it's suggested that high-strength supplements might be better than juice and more convenient to take.
FAQ: Am I likely to get a kidney infection if I'm pregnant?
When you're pregnant, your body goes through a lot of changes. This can affect how well it gets rid of urine and how easy it is for an infection to develop. This can increase your risk of getting a bladder or kidney infection.
There are a number of reasons why you may be more likely to develop a kidney infection if you're pregnant. Some of the main ones are listed below.
As your baby gets bigger, your uterus (womb) grows and pushes against your bladder and ureters (tubes that carry urine from your kidneys to your bladder). This can reduce the flow of urine and this can cause an infection.
There is more sugar in your urine, which can help bacteria to grow.
Changes in your hormones make it harder for your body to fight infections.
You'll be offered a urine test early on in your pregnancy to check for infection. If you have an infection, getting treatment quickly can help to prevent any problems with your pregnancy.
FAQ: What is a UTI or cystitis?
You might hear your GP or nurse use the term UTI, or urinary tract infection. It means an infection of any part of your urinary system – your kidneys, bladder, ureters or urethra.
A lower UTI is sometimes called cystitis and is an infection in your bladder. An upper UTI is an infection of your kidneys and your ureters (the tubes that carry urine from your kidneys to your bladder).
The symptoms of a lower urinary tract infection include cloudy, dark or strong smelling urine and problems passing urine. For example, you may pass small amounts of urine more often than usual, or find you need to get to the toilet very quickly (urgency). You may also find that when you do pass urine, it stings or burns, or it may have blood in it. Sometimes though, the symptoms may not be so obvious. For example, older people may feel confused, and young children may have a fever as the only symptom.
If you have any of these symptoms, contact your GP.
Details
Kidney treatment on demand

You can access a range of our health and wellbeing services on a pay-as-you-go basis, including kidney treatment.

Sources

Acute pyelonephritis. BMJ Best Practice. bestpractice.bmj.com, last updated June 2016
Kidney anatomy. Medscape. emedicine.medscape.com, updated October 2013
Acute pyelonephritis. Medscape. emedicine.medscape.com, updated August 2015
Pyelonephritis. PatientPlus. patient.info/patientplus, last checked April 2016
Renal medicine and urology. Oxford handbook of General Practice (online). Oxford Medicine Online. oxfordmedicine.com, published April 2014
Management of suspected bacterial urinary tract infection in adults. Scottish Intercollegiate Guidelines Network (SIGN), 2012. sign.ac.uk
Pyelonephritis – acute. NICE Clinical Knowledge Summaries. cks.nice.org.uk, last revised June 2013
Jepson RG, Williams G, Craig JC. Cranberries for preventing urinary tract infections. Cochrane Database of Systematic Reviews 2012, Issue 10. doi:10.1002/14651858.CD001321.pub5
Urinary tract infections in pregnancy. Medscape. emedicine.medscape.com, updated May 2015
Antenatal care for uncomplicated pregnancies. National Institute for Health and Care Excellence (NICE), 2016. www.nice.org.uk
Urinary tract infections in adults. PatientPlus. patient.info/patientplus, last checked April 2016
Urinary tract infections (lower) – women. NICE Clinical Knowledge Summaries. cks.nice.org.uk, last revised July 2015
Urinary tract infection in children. PatientPlus. patient.info/patientplus, last checked April 2016

We'd love to know what you think about what you've just been reading and looking at – we'll use it to improve our information. If you'd like to give us some feedback, our short form below will take just a few minutes to complete. And if there's a question you want to ask that hasn't been answered here, please submit it to us. Although we can't respond to specific questions directly, we'll aim to include the answer to it when we next review this topic.

Reviewed by Natalie Heaton, Specialist Health Editor, Bupa Health Content Team, May 2016.
Peer reviewed by Professor Raj Persad, Consultant Urological Surgeon.
Next review due May 2019.
About our health information
At Bupa we produce a wealth of free health information for you and your family. We believe that trustworthy information is essential in helping you make better decisions about your health and care. Here are just a few of the ways in which our core editorial principles have been recognised.
Information Standard

We are certified by the Information Standard. This quality mark identifies reliable, trustworthy producers and sources of health information.

HONcode

This site complies with the HONcode standard for trustworthy health information:
verify here.
What our readers say about us
But don't just take our word for it; here's some feedback from our readers.
"Simple and easy to use website - not alarming, just helpful."
"It's informative but not too detailed. I like that it's factual and realistic about the conditions and the procedures involved. It's also easy to navigate to areas that you specifically want without having to read all the information."
"Good information, easy to find, trustworthy."
Meet the team
Nick Ridgman
Head of Health Content
Dylan Merkett – Lead Editor
Graham Pembrey - Lead Editor
Laura Blanks – Specialist Editor, Quality
Michelle Harrison – Specialist Editor, Insights
Natalie Heaton – Specialist Editor, User Experience
Fay Jeffery – Web Editor
Marcella McEvoy – Specialist Editor, Content Portfolio
Alice Rossiter – Specialist Editor (on Maternity Leave)
Our core principles
All our health content is produced in line with our core editorial principles – readable, reliable, relevant – which are represented by our diagram.
The '3Rs' encompass everything we believe good health information should be. From tweets to in-depth reports, videos to quizzes, every piece of content we produce has these as its foundation.
Readable
In a nutshell, our information is jargon-free, concise and accessible. We know our audience and we meet their health information needs, helping them to take the next step in their health and wellbeing journey.
Reliable
We use the best quality and most up-to-date evidence to produce our information. Our process is transparent and validated by experts – both our users and medical specialists.
Relevant
We know that our users want the right information at the right time, in the way that suits them. So we review our content at least every three years to keep it fresh. And we're embracing new technology and social media so they can get it whenever and wherever they choose.
Our accreditation
Here are just a few of the ways in which the quality of our information has been recognised.
The Information Standard certification scheme

You will see the Information Standard quality mark on our content. This is a certification programme, supported by NHS England, that was developed to ensure that public-facing health and care information is created to a set of best practice principles.

It uses only recognised evidence sources and presents the information in a clear and balanced way. The Information Standard quality mark is a quick and easy way for you to identify reliable and trustworthy producers and sources of information.

Certified by the Information Standard as a quality provider of health and social care information. Bupa shall hold responsibility for the accuracy of the information they publish and neither the Scheme Operator nor the Scheme Owner shall have any responsibility whatsoever for costs, losses or direct or indirect damages or costs arising from inaccuracy of information or omissions in information published on the website on behalf of Bupa.

British Medical Association (BMA) patient information awards

We have received a number of BMA awards for different assets over the years. Most recently, in 2013, we received a 'commended' award for our online shared decision making hub.
Contact us
If you have any feedback on our health information, we would love to hear from you. Please contact us via email: healthinfo@bupa.com. Or you can write to us:
Health Content Team
Battle Bridge House
300 Grays Inn Road
London
WC1X 8DU
Find out more
Close
Legal disclaimer
This information was published by Bupa's Health Content Team and is based on reputable sources of medical evidence. It has been reviewed by appropriate medical or clinical professionals. Photos are only for illustrative purposes and do not reflect every presentation of a condition.
The information contained on this page and in any third party websites referred to on this page is not intended nor implied to be a substitute for professional medical advice nor is it intended to be for medical diagnosis or treatment. Third party websites are not owned or controlled by Bupa and any individual may be able to access and post messages on them. Bupa is not responsible for the content or availability of these third party websites. We do not accept advertising on this page.
For more details on how we produce our content and its sources, visit the 'About our health information' section.
ˆ We may record or monitor our calls.