Portion size
A healthy, balanced diet means eating the right types of food, and also making sure you're getting the right amounts. Eating too much or too little of any of the major food groups can be bad for your health.
Here we recommend portion sizes for the key food groups that will meet an average person's nutritional and energy requirements. Different people need different amounts, depending on how old you are, whether you're male or female, and how active you are. If you're trying to shed some pounds, you'll need to be particularly careful about portion control. You may need to eat smaller or fewer portions than we suggest here.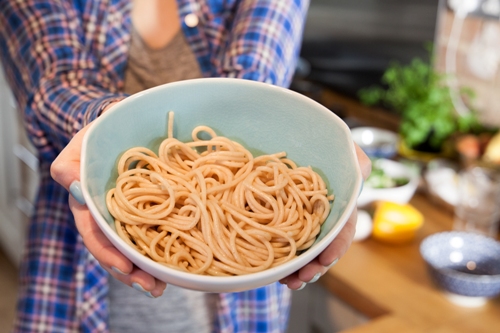 Starchy foods
Starchy foods are our most important source of energy. It's recommended that you include healthy, wholegrain starchy foods at every meal – they should make up just over a third of your diet.
Here are some suggested amounts that you might aim for at each meal, based on an average adult looking to maintain their weight. Opt for wholegrain, less-processed versions when you can, with less added fat, salt or sugar. This will help you to make sure you get enough fibre, and feel fuller for longer.
40g of cereal (about 6 tablespoons)
Two slices of bread/toast
One bread roll or bagel
One pitta bread
Five to six new (egg-sized) potatoes
75g of uncooked rice or pasta (about 5–6 tablespoons when cooked)
One medium baked potato (with skin)
Unsure what some of these look like?
It can be difficult to know how much you should be having sometimes, below are some photographs that show you what some of these suggested amounts look like.
This is what 40g of bran flakes looks like in a cereal bowl. You'll see it's a bit smaller than what's often advertised on the front of cereal boxes!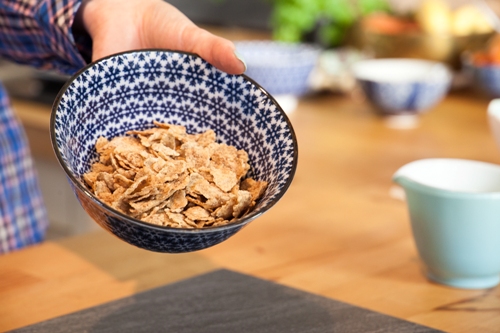 Pasta can be very tricky to gauge, especially spaghetti. 75g is the recommended serving of dry pasta – but what does that look like? Admittedly it can seem like a small amount, but appearances can be deceiving.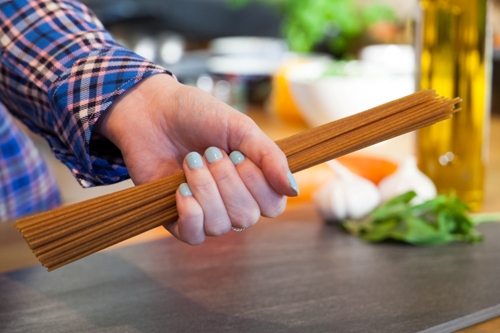 Because when it's cooked (see below), you can see there's certainly enough to fill a plate for a satisfying meal.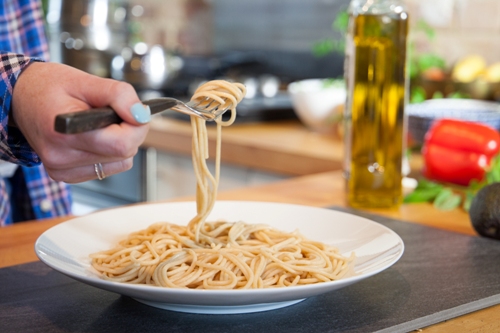 The same goes for rice – an uncooked serving of 75g can seem meagre, but as you can see it expands in size dramatically once cooked.
It's tempting to pick the biggest baked potato at the supermarket, but when we say a medium-sized baked potato – this is what we mean. Not too small, not too big.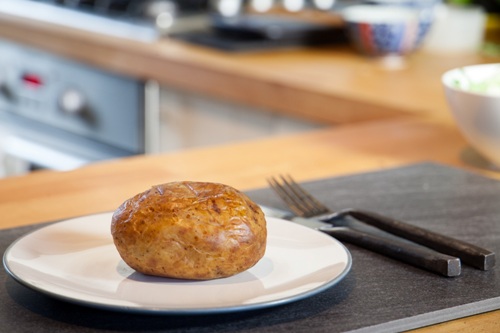 You can spread the starchy food you eat over the course of a day, as shown in the examples below.
| | | | |
| --- | --- | --- | --- |
| | Breakfast | Lunch | Dinner |
| Day 1 | 40g of low-sugar cereal | 2 slices of wholegrain bread for a sandwich | 5–6 small boiled potatoes |
| Day 2 | 2 slices of wholegrain toast | 1 medium baked potato | Pasta (75g when uncooked) |
| Day 3 | 40g porridge | 1 large pitta bread | Rice (75g uncooked) |
You can adjust these amounts to suit your needs. If you're trying to lose weight, the amount you have at each meal will need to be smaller. If you're very active, you may need larger portions than this. And if you decide to include most of your day's quota of starchy foods in one meal, just cut down throughout the rest of the day.
Meat, fish, beans, eggs and other non-dairy proteins
Proteins are important for your body because they're involved in growth and repair. As well as meat and fish, proteins can come from sources like beans and pulses. Include moderate amounts of protein in your diet – a couple of portions throughout the day should be enough to give you what you need.
Here's what counts as a portion.
60–90g of cooked meat (about the size of a deck of a cards)
140g of cooked fish (the size of the palm of your hand)
Two medium-sized eggs
A small (200g) tin of baked beans
Four tablespoons of lentils
One tablespoon of peanut butter
A handful of nuts
What does this look like?
This is a roasted chicken breast about the same size as a pack of playing cards.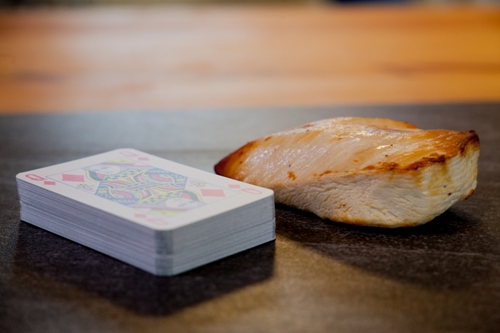 It can be difficult to judge exactly what a 'handful' is – here's what a mix of almonds and unsalted cashews looks like.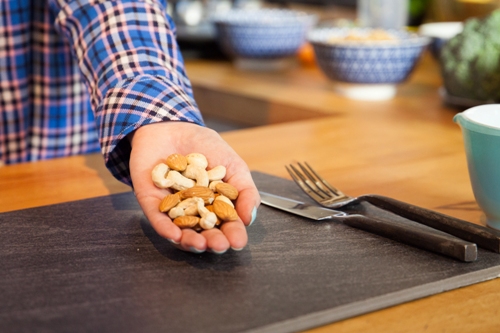 Here are some examples of how you might incorporate protein into your diet.
| | | | |
| --- | --- | --- | --- |
| | Breakfast | Lunch | Dinner |
| Day 1 | | A portion of baked beans on your baked potato | Chicken or lentil-based curry |
| Day 2 | 2 scrambled eggs | Slices of chicken in your sandwich | |
| Day 3 | | Lentil-based soup | Salmon with dinner |
Try to have two portions of fish a week, one of which should be oily fish.
If you eat a lot of red and processed meat, try to limit the amount to 70g per day. If you know your portion sizes tend to be larger than this, you may find it easier to cut down by making sure you only eat red meat two or three times a week. Red meats include beef, pork, and lamb; processed meats include bacon and burgers. These can be high in saturated fat and salt, which can increase your risk of heart disease. Eating high amounts of red and processed meats can also increase your risk of bowel cancer.
Dairy and dairy-free alternatives
You also need to include some dairy foods in your diet (or dairy-free equivalents if you don't eat dairy). These foods are an excellent source of calcium, which you need for healthy bones and teeth, as well as being another good source of protein. Have moderate amounts of dairy – two or three portions a day, based on the amounts below should be enough.
Here's what counts as a portion.
A 200ml glass of milk (or fortified soya, rice or oat milk)
A carton of yoghurt or fortified soya yoghurt (125ml)
30g of hard cheese (about the size of a matchbox)
What does this look like?
When eating cheese and crackers it can be very easy to have much more than you realise. Here's what a matchbox- sized portion of cheese looks like.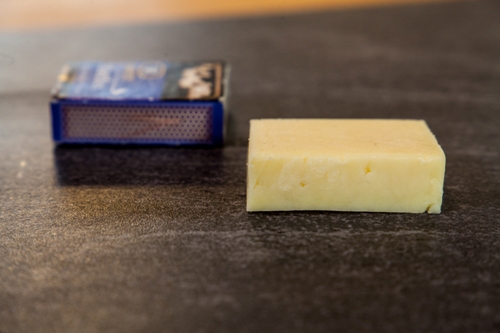 Be mindful about what size glass you choose. For example if you choose a pint glass it can be tempting to fill it up. This is what 200ml of milk looks like.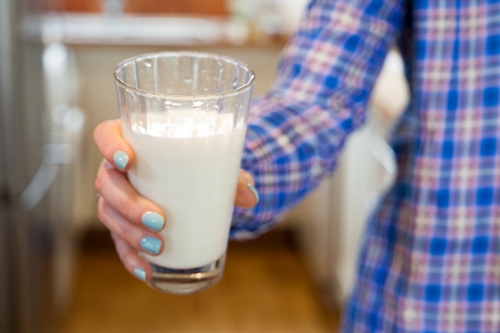 If you decant yoghurt from a large tub, this is about the right amount that you're aiming for (125ml).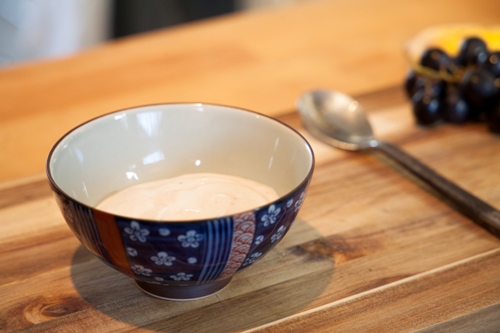 | | | | |
| --- | --- | --- | --- |
| | Breakfast | Lunch | Dinner |
| Day 1 | Milk on cereal | Low-fat cheese on a baked potato | |
| Day 2 | Milk added to porridge | | Yoghurt with curry |
| Day 3 | Yoghurt-based smoothie | | Grated cheese added to a pasta dish |
Remember that the milk on your cereal and in your tea all counts. Go for lower-fat options when you can, such as low fat cheese or yoghurts, and skimmed or semi-skimmed milk. Check to see if non-dairy alternative products are fortified with calcium.
Fruit and vegetables
Aim to eat at least five portions of fruit and vegetables a day. The amount of fruit and veg you eat should make up just over a third of your diet – most of us don't eat enough.
One portion is 80g of any fresh fruit or vegetable, 30g of dried fruit or 150ml of fruit juice or smoothie. Fruit juices and smoothies only count as a maximum of one portion a day.
Here are some examples of what a portion looks like.
One medium fruit, such as an apple, orange, pear or banana.
Two small fruits, such as kiwis, satsumas or plums.
A few slices of a larger fruit, such as pineapple or mango.
A large handful of grapes or berries.
Three heaped tablespoons of peas, sweetcorn or carrots.
A dessert bowl of salad.
150ml of fruit juice or smoothie (only counts as maximum of one per day).
30g of dried fruits.
Three heaped tablespoons of beans or lentils (only counts as a maximum of one per day).
What does this look like?
A handful of grapes makes a good snack.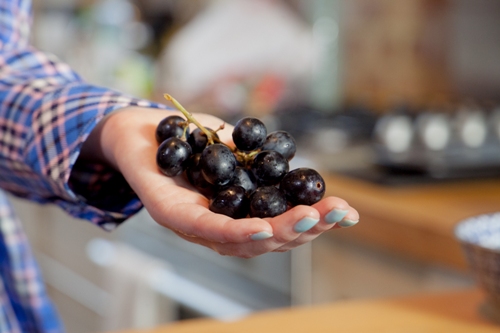 This is what 150ml of fruit juice looks like in a glass. Remember, fruit juice or smoothie can only count as one of your five-a-day.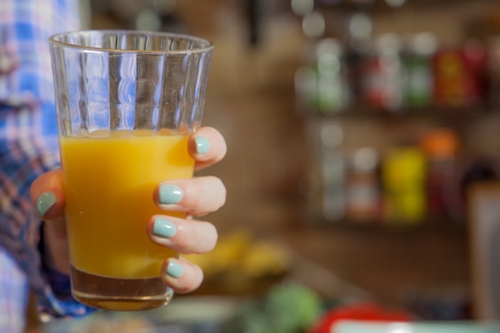 With dried fruit, it's a good idea to use a handful as your guide rather than eating straight out of a packet. That way you know you're eating the right amount.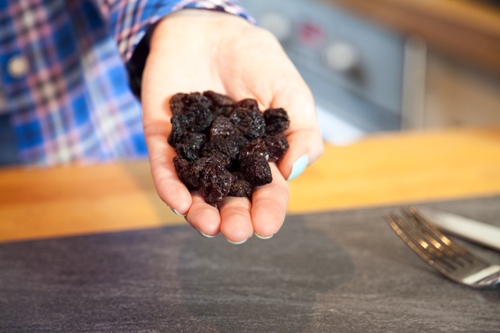 Mixed veg is great for adding colour to your meal. This is three heaped tablespoons of mixed veg.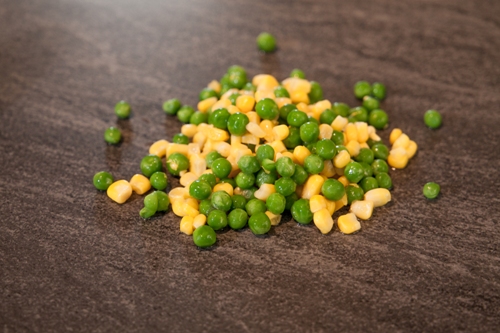 This is what two slices of pineapple looks like when diced.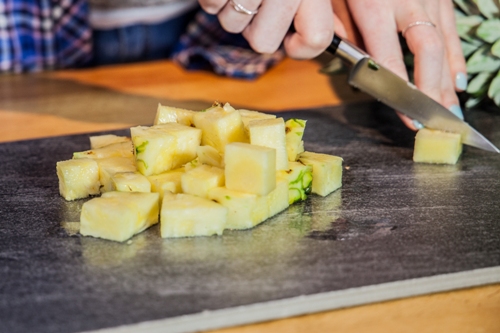 | | | | |
| --- | --- | --- | --- |
| | Breakfast | Lunch | Dinner |
| Day 1 | Berries or banana on your cereal | Salad leaves in a sandwich; an apple | A tomato-based pasta sauce, with side salad |
| Day 2 | Half a grapefruit with breakfast | Baked beans with baked potato for lunch; two satsumas | Two portions of vegetables with dinner |
| Day 3 | Glass of orange juice with breakfast | Carrot, cucumber and pepper in a wrap; a handful of dried fruit | Spinach added to curry; strawberries with yoghurt for dessert |
Oils and spreads
We need some fat in our diets, but this should mainly come from unsaturated fats. These include sunflower, rapeseed and olive oils, and spreads made from these oils. Aim to have oils, or lower-fat spreads based on these oils, in place of saturated fats when you can. You still only need limited amounts of these in your diet.
Tips for cutting down portion sizes
If you're looking for better portion control, try these tips a try to retrain your brain (and stomach).
Weigh the portions that you're used to eating every day – whether it's cereal, pasta, meat or veg – and compare it to this guide. It may be a bit of an eye-opener and can give you an idea what you need to focus on.
Use smaller plates or bowls for your meals. A small plate full of food is much more cheerful than a large plate that's half empty.
If your plate is looking a bit sparse, fill it up with vegetables. And if you're craving a mid-morning snack, go for a piece of fruit.
Try a spray oil to help cut down on the amount you use. You should use a lot less.
Try not to eat while doing something that can distract you, such as working, reading or watching TV. This might make you eat more, as you don't realise you're full and may eat larger portions.
Pay more attention to what you're eating, making sure you chew each mouthful slowly and thoroughly.
Have a break after your meal before you have dessert. It takes time for your brain to recognise that your stomach is full. So wait about 15 to 20 minutes before deciding if you need that extra course.
Drinking alcohol stimulates your appetite and will encourage you to drink more. Alcoholic drinks are also high in calories. Cut down on alcohol if you're trying to watch your portion sizes.
Details
An overview of your health

Find out how a Bupa health assessment can help you understand your health, identify future health risks, and offer practical advice for a healthier you.

Sources

A healthy balanced diet. British Nutrition Foundation. www.nutrition.org.uk, last reviewed October 2016
Portion sizes. British Dietetic Association. www.bda.uk.com, last reviewed September 2016
Dietary reference values and food-based dietary guidelines. Oxford handbook of nutrition and dietetics. Oxford Medicine Online. oxfordmedicine.com, published December 2015
Nutrient requirements. British Nutrition Foundation. www.nutrition.org.uk, last reviewed December 2016
The Eatwell Guide. Public Health England, July 2016. www.gov.uk
Macronutrients and energy balance. Oxford handbook of nutrition and dietetics. Oxford Medicine Online. oxfordmedicine.com, published December 2015
Nutrition requirements. British Nutrition Foundation. www.nutrition.org.uk, last reviewed October 2017
Government recommendations for energy and nutrients for males and females aged 1–18 years and 19+ years. Public Health England, August 2016. www.gov.uk
Beans, pulses, fish, eggs, meat and other proteins. British Nutrition Foundation. www.nutrition.org.uk, last reviewed November 2016
Calcium counts! British Nutrition Foundation. www.nutrition.org.uk, last reviewed September 2014
Fruit and vegetables. British Nutrition Foundation. www.nutrition.org.uk, last reviewed October 2016
Obesity – Examples of behaviour strategies for weight reduction. Oxford handbook of nutrition and dietetics. Oxford Medicine Online. oxfordmedicine.com, updated December 2015
Oils and spreads. British Nutrition Foundation. www.nutrition.org.uk, last reviewed December 2016
Understanding satiety: feeling full after a meal. British Nutrition Foundation. www.nutrition.org.uk, last reviewed July 2017
Weight loss. British Dietetic Association, February 2016. www.bda.uk.com
McCance and Widdowson's composition of foods integrated dataset. Public Health England www.gov.uk, published 25 March 2015

We'd love to know what you think about what you've just been reading and looking at – we'll use it to improve our information. If you'd like to give us some feedback, our short form below will take just a few minutes to complete. And if there's a question you want to ask that hasn't been answered here, please submit it to us. Although we can't respond to specific questions directly, we'll aim to include the answer to it when we next review this topic.

Reviewed by Pippa Coulter, Freelance Health Editor, January 2018
Expert reviewer, Mr Paul McArdle, Registered Dietitian
Next review due January 2021
About our health information
At Bupa we produce a wealth of free health information for you and your family. We believe that trustworthy information is essential in helping you make better decisions about your health and care. Here are just a few of the ways in which our core editorial principles have been recognised.
Information Standard

We are certified by the Information Standard. This quality mark identifies reliable, trustworthy producers and sources of health information.

HONcode

This site complies with the HONcode standard for trustworthy health information:
verify here.
What our readers say about us
But don't just take our word for it; here's some feedback from our readers.
"Simple and easy to use website - not alarming, just helpful."
"It's informative but not too detailed. I like that it's factual and realistic about the conditions and the procedures involved. It's also easy to navigate to areas that you specifically want without having to read all the information."
"Good information, easy to find, trustworthy."
Meet the team
Nick Ridgman
Head of Health Content
Dylan Merkett – Lead Editor
Graham Pembrey - Lead Editor
Laura Blanks – Specialist Editor, Quality
Michelle Harrison – Specialist Editor, Insights
Natalie Heaton – Specialist Editor, User Experience
Fay Jeffery – Web Editor
Marcella McEvoy – Specialist Editor, Content Portfolio
Alice Rossiter – Specialist Editor (on Maternity Leave)
Our core principles
All our health content is produced in line with our core editorial principles – readable, reliable, relevant – which are represented by our diagram.
The '3Rs' encompass everything we believe good health information should be. From tweets to in-depth reports, videos to quizzes, every piece of content we produce has these as its foundation.
Readable
In a nutshell, our information is jargon-free, concise and accessible. We know our audience and we meet their health information needs, helping them to take the next step in their health and wellbeing journey.
Reliable
We use the best quality and most up-to-date evidence to produce our information. Our process is transparent and validated by experts – both our users and medical specialists.
Relevant
We know that our users want the right information at the right time, in the way that suits them. So we review our content at least every three years to keep it fresh. And we're embracing new technology and social media so they can get it whenever and wherever they choose.
Our accreditation
Here are just a few of the ways in which the quality of our information has been recognised.
The Information Standard certification scheme

You will see the Information Standard quality mark on our content. This is a certification programme, supported by NHS England, that was developed to ensure that public-facing health and care information is created to a set of best practice principles.

It uses only recognised evidence sources and presents the information in a clear and balanced way. The Information Standard quality mark is a quick and easy way for you to identify reliable and trustworthy producers and sources of information.

Certified by the Information Standard as a quality provider of health and social care information. Bupa shall hold responsibility for the accuracy of the information they publish and neither the Scheme Operator nor the Scheme Owner shall have any responsibility whatsoever for costs, losses or direct or indirect damages or costs arising from inaccuracy of information or omissions in information published on the website on behalf of Bupa.

British Medical Association (BMA) patient information awards

We have received a number of BMA awards for different assets over the years. Most recently, in 2013, we received a 'commended' award for our online shared decision making hub.
Contact us
If you have any feedback on our health information, we would love to hear from you. Please contact us via email: healthinfo@bupa.com. Or you can write to us:
Health Content Team
Battle Bridge House
300 Grays Inn Road
London
WC1X 8DU
Find out more
Close
Legal disclaimer
This information was published by Bupa's Health Content Team and is based on reputable sources of medical evidence. It has been reviewed by appropriate medical or clinical professionals. Photos are only for illustrative purposes and do not reflect every presentation of a condition.
The information contained on this page and in any third party websites referred to on this page is not intended nor implied to be a substitute for professional medical advice nor is it intended to be for medical diagnosis or treatment. Third party websites are not owned or controlled by Bupa and any individual may be able to access and post messages on them. Bupa is not responsible for the content or availability of these third party websites. We do not accept advertising on this page.
For more details on how we produce our content and its sources, visit the 'About our health information' section.
ˆ We may record or monitor our calls.